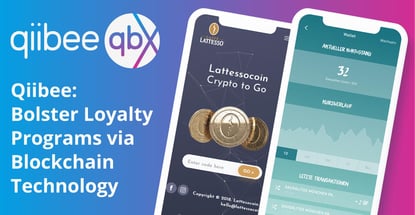 credit card news
Our experts and industry insiders blog the latest news, studies and current events from inside the credit card industry. Our articles follow strict editorial guidelines.
In a Nutshell: Customer loyalty programs abound these days. Companies vie with one another to get their loyalty programs in front of consumers. At the same time, consumers can be overwhelmed with the number of loyalty programs out there and the learning curve associated with each. qiibee offers a solution for businesses and consumers in its blockchain-based platform. With qiibee, tokens take the place of loyalty points, and transactions are securely recorded onto the blockchain. And customers can use their tokens interchangeably among companies that choose to partner with each other. Qiibee was recently accepted into the Startup with IBM program, which will provide the company with resources to help it scale quickly to reach a larger audience.
Consumer-facing companies often maintain loyalty programs that are intended to bring in more business over time with incentives like points, discounts, and rewards.
And as a consumer — sure, that's great.
But think about how many different businesses you interact with over the course of a week. At some point, your wallet can't hold any more loyalty cards or the loyalty apps on your phone are so abundant you forget which ones you have and which ones you don't.

Personally, I only participate in a handful of store loyalty programs for this reason. I simply can't keep track of them all.
On the other hand, businesses are still vying for their customers to use their programs.
qiibee recognized the problems parties on both sides of the loyalty program were facing. And the company offers a solution in its blockchain-based platform.
"We saw that the bigger brands we were talking to all wanted to have their own loyalty system," said qiibee Co-Founder and CEO Gabriele Giancola. "They weren't interested in having a multibrand loyalty system. They want to have all their own branding and data, and so on."
But Giancola said that not only are consumers tired of keeping track of numerous loyalty programs, they also don't want to have to learn how each of them works.
qiibee solves these problems with a platform that allows companies to maintain their own loyalty programs and branding, and is connected via the blockchain to other loyalty programs. That means customers can access multiple loyalty programs through one blockchain-based wallet and their points are interoperable between businesses that partner together.
How qiibee Works to Increase Customer Lifetime Value and Decrease Management Costs
The company admits that its technology is complex but breaks it down into more easily digestible categories — blockchain, API, dashboard, and wallet for businesses to understand.
"The permission-based qiibee blockchain communicates with the public Ethereum chain via the cross-chain bridge, providing a trustless, secure and provable way to issue loyalty tokens based on QBX," according to the company website.
Giancola said it's important for companies to understand the value of using blockchain technology for their loyalty systems, and how blockchain is not synonymous with cryptocurrency.
And using qiibee's API, businesses can easily connect their existing loyalty systems to the qiibee infrastructure, or they can choose to set up a completely new loyalty program on the blockchain.
"Plus, there's no blockchain know-how required, so developers can use their preferred programming language and drastically decrease integration time," according to the company.
Businesses also gain access to a dashboard which they can manage the program.
"The qiibee dashboard is an interactive and user-friendly application that incorporates all functionalities available on the API," according to the company website. "Businesses can create their own branded loyalty tokens in minutes and analyze the performance of those loyalty systems in real-time."
Giancola explained how this process looks for a company that wants to begin using qiibee.
"The first step is creating a loyalty token for every point that you have in the existing loyalty system," he said. "Second, you connect to our API, which is a matter of a few hours, so it's done very quickly."
Let's take, for example, a company that sells coffee. Once the company is connected to the API, each time a customer buys a cup of coffee, he or she will receive tokens and the transaction is stored on the blockchain. Giancola added that integrating blockchain technology in this way also enhances security for the companies.
Finally, if companies choose, they can make their loyalty tokens exchangeable with other programs that they select to work with.
The Platform Makes Engaging in Loyalty Programs Easier and More Flexible for Consumers
Giancola said qiibee's platform offers a smoother and more convenient loyalty experience for customers of the businesses that implement the platform.
Part of this is due to how much more flexible the qiibee system is for customers, he said. They can easily interchange loyalty tokens with partner businesses, much like how consumers can trade in credit card points for perks from partner organizations.
Customers also get the benefits of blockchain technology without the risks, according to the company, and decentralization protects customer data.
qiibee proposes that its platform's impact can be seen through several key performance indicators, such as the potential to increase sales by as much as 63% and increasing loyalty program traffic by as much as 57%.
The company reports that the first campaign with the first customer generated more than 12,000 qiibee wallets in less than two months. qiibee also discovered that 80% of users prefer crypto rewards.
Scaling Up as Part of the IBM Startup Program
In August, qiibee announced that it had been selected to participate in the Startup with IBM program.
The program provides monetary support and expertise to startups to help them scale their businesses and to possibly become an IBM partner upon graduating from the program.
"The collaboration enables us to reach the huge network of IBM and improves the access to technical resources helping us to scale on an even greater level and further disrupt the loyalty industry," wrote qiibee's Marketing and PR Lead Jacqueline Bieri in an announcement.
Participants receive $120,000 in free IBM Cloud credits to help put their businesses on the path to transformative growth, according to IBM. The startups can use the IBM Cloud credits to access more than 130 services, including the AI-powered helper, Watson; access to the IBM Blockchain; access to IBM Analytics; and IBM Security.
"We are very excited to be accepted for the 'Startup with IBM Premium Program' and can't wait to make use of, and access more than 130 unparalleled services by IBM and benefit from their great network," wrote Bieri.
The program also provides resources to help individuals increase their personal knowledge with self-paced learning paths, code patterns to jumpstart development, and tutorials to give users tips, tricks, and support.
"Whether you started a business to disrupt an industry or to create meaningful solutions that actually change people's lives, IBM is here to help you do just that," according to IBM. "We are committed to providing access to our technology, our startup community across local and global ecosystems, and expert support so you can focus on growing your business."
Focusing on Entering the U.S. Market
Clearly, with its entrance to the Startup with IBM program, qiibee is a company on the rise. And Giancola said it is critical for the company to understand which opportunities are the most valuable for the future of the company and focus on them.
This includes expanding its markets, which so far have been primarily focused on Europe.
"Our initial focus on Europe was an organic thing since we are from Switzerland," Giancola said. "It was much easier to get a certain amount of traction and build a particular network."
qiibee was recently accepted as one of six startups to comprise the Oregon Enterprise Blockchain Venture Studio in Portland. And Giancola said this connection is one of qiibee's first steps to understanding more about the U.S. market and learning about the opportunities the country holds for the platform.