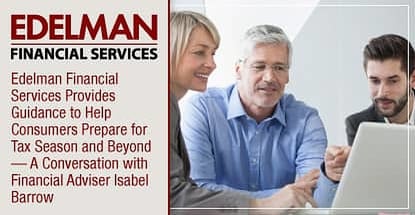 credit card news
Our experts and industry insiders blog the latest news, studies and current events from inside the credit card industry. Our articles follow strict editorial guidelines.
Around the US, the month of April brings warmer temperatures and a reprieve from the winter months that kept our noses running and plants begging for mercy. For most adults, it also represents one of the most dreaded times of year — tax season.
But smart savers don't wait until April to get on top of their taxes. For them, tax season is an everyday preparation that makes the filing, and likely paying, of your annual dues to the government a lot easier.
Recently, CardRates.com sat down with Isabel Barrow, a financial adviser at Edelman Financial Services to get some tips and insight into tax season.
How does someone know if they need a tax preparer vs. simple online software?
"Many people who are single, or married with no kids, and who don't have any complicating factors such as a home, or a small business, can probably use online software to complete their taxes versus going to a tax preparer. However, anyone who is uncomfortable with the ins and outs of their taxes, or who doesn't have the time or knowledge to do it on their own should consider using a tax preparer."
There's a belief that getting a tax refund is bad. How so?
"If you are getting a refund, it means you are getting back money that you overpaid to the government. If you made monthly investments of that money instead, either into your retirement plan at work, an IRA, savings, or by paying down debt, you would have either reduced your interest costs or increased your savings for your future.
Many people like getting a tax refund because it is a forced savings, or it feels like a bonus they can use on a trip or a big purchase. Instead, try allocating monthly allowances to your savings, and correcting your withholdings so you are creating better habits. You can give yourself that bonus or trip anytime you want instead of waiting for the IRS."
What are some common deductions that are often missed?
"Are you adding to a 529? Do you have a dependent family member living with you? Did you pay property taxes for a car or other personal property that you may be able to deduct? Do you rent out a basement apartment or own a rental property?"
There's a misconception that financial planners and tax preparers are only for the ultra-wealthy. Why isn't that true?
"I tend to think it's sometimes the opposite. The wealthier you are, the less help you need planning how to become wealthy – you've already done it. However, the more you have, the more complex certain components of your planning may be – like managing your investments. Bottom line – the people who need help the most are often those who haven't the desire, time, nor knowledge to do it on their own – regardless of how much money they have."
Are there specific qualities in a tax preparer/company one should look for?
"First, check their qualification and their history. Do they have experience? Do they have any disciplinary actions? Are their licenses up to date? The IRS actually has a directory to help you find a preparer with specific qualifications. Once you've found a qualified preparer, find out their process and how much their fees are. Do they e-file? Are they going to have the bandwidth to complete your taxes with you prior to the tax filing deadline?"
What resources does Edelman offer to help consumers this tax season?
"Our website, www.EdelmanFinancial.com, offers many articles and video clips that help you understand what to consider regarding your taxes as part of your overall financial planning. If you feel you need to discuss your overall financial situation in depth, and it involves more than the preparation and review of your taxes, we can help with a Financial Planning review. Call us at 888-Plan-Ric."