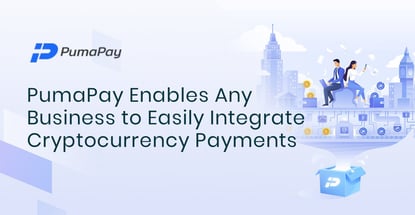 credit card news
Our experts and industry insiders blog the latest news, studies and current events from inside the credit card industry. Our articles follow strict editorial guidelines.
In a Nutshell: PumaPay is a cryptocurrency solution provider available to all types of businesses. It easily integrates with a merchant's payment system to enable cryptocurrency payments and participate in the burgeoning cryptocurrency market. PumaPay transactions carry no fees and are decentralized on a blockchain for maximum security and privacy.
With the current cryptocurrency market valued at $267 billion, businesses that can't accept cryptocurrency payments are missing out on a huge opportunity. PumaPay seeks to remedy this problem by offering convenient cryptocurrency solutions to any business. And, because cryptocurrency is strictly electronic, it effectively bypasses concerns about infected banknotes during the Covid-19 pandemic.
PumaPay provides liquidity to cryptocurrency holders by allowing them to pay for purchases or transfer money directly, without first converting to regular (or "fiat") currency.
Not only does this make it easier to use cryptocurrency, but it also delivers the benefits of blockchain technology, including lower costs, better data integrity, and enhanced privacy. Privacy is an especially important requirement in many industries, from art auctions to adult entertainment.
"We are finding that our services have become ever more popular within the adult industry due to the enhanced security and privacy that our platform offers," explained Yoav Dror, CEO of PumaPay. "Also, with our zero transaction fees and eliminated chargebacks, our clients in these high-risk industries can save significantly on payment processing fees when compared to traditional fiat transactions."
Founded in 2017, PumaPay offers its own cryptocurrency — the PumaPay PMA token — and a blockchain-based payment protocol known as PullPayment. In 2018, it became the first company to support recurring cryptocurrency payments. It has since integrated with several businesses in a variety of industry sectors.
PumaPay Beats Credit Cards with Lower Costs, Distributed Authority, and Greater Privacy
Credit cards are a convenient way to make purchases and pay for them over time. The major payment networks — Visa, Mastercard, American Express, and Discover — act as intermediaries for credit card transactions and extract fees for their services.
While this structure enables the whole system to work, it also leaves a lot of power in the hands of these credit card networks, allowing them to control the rates for everyone. PumaPay presents a competing model.
"PumaPay's solution is based on blockchain technology, meaning there is no middleman," said Dror. "Our transactions are peer-to-peer, and the costs are minimal to allow the best solution for our users. This structure is much more efficient and robust, serving the interests of the merchants and their customers, not of itself. We do not facilitate transactions; we simply enable them."
For the merchant, this means quick, cheap, and irreversible transactions. For the customer, PumaPay can provide better privacy and improved security.
The means by which merchants can start accepting PMA coins is the PumaPay Business Console. It's essentially a one-stop solution that allows businesses to register with PumaPay, create their billing models, and accept PMA-based payments.
PumaPay is less expensive than traditional credit card payments because transactions that take place over its technical protocol are free. PumaPay creates blockchain transactions that are final and unchangeable, thereby eliminating chargebacks.
PumaPay helps customers comply with Anti-Money Laundering (AML) legislation and Customer Due Diligence (CDD) requirements. New customers onboarding with PumaPay must undergo a Know Your Customer (KYC) process. The company has streamlined this process, which includes a step-by-step verification procedure to comply with AML and CDD requirements. PumaPay also meets the Payment Card Industry Data Security Standard and the General Data Protection Regulation.
PumaPay Crypto Wallet Provides Flexible PullPayment Billing Models
Users store their PMA coins in the PumaPay Crypto Wallet. "The unique advantage of this wallet is that it can understand the merchant's billing models and sync with its Business Console," said Dror. "The result is that any PMA payments made to the merchant can be paid directly to a specified Crypto Wallet."
The Crypto Wallet is available as a mobile IOS or Android app. Consumers can store, send, receive, and exchange PMA coins and a variety of other tokens on the app, including BTC, LTC, ETH, DASH, and all ERC20 tokens.
It also supports the PumaPay PullPayment Protocol, which lets consumers authorize any of the five different billing models offered. These models are pull-based, meaning that once authorized, the merchant can pull payments from the consumer's Crypto Wallet, as opposed to the consumer pushing the payment to the merchant.
The five PullPayment models are:
Single: Allows merchants to pull a one-time payment from the consumer.
Dynamic Single: Similar to a single-pulled payment, but the merchant can dynamically set the price per case.
Subscription: Allows the business to create recurring fixed charges at predefined intervals.
Single Subscription: The merchant accepts a single-pull payment followed by recurring payments via a subscription.
Auto Top-Up: Automatically charge the consumer whenever the account falls below a specified threshold.
Naturally, the consumer must authorize any type of PullPayment before the merchant can execute it. PullPayment transactions contain an embedded Quick Response (QR) Code. The Crypto Wallet reads and interprets the QR Codes created by the system.
PumaPay Fiat Settlement Layer Eliminates Uncertain Currency Conversion Rates
PumaPay worked with its associate, Kemix Ltd., to develop the Fiat Settlement Layer (FSL).


"The FSL is a service that allows the merchant and the customer to lock the PMA token rate at the point of the transaction," said Dror. "After which Kemix can guarantee the crypto-to-fiat settlement for the merchant, eliminating the hassle associated with liquidating tokens at exchanges."
Here is an example of how this works: A customer subscribes to a monthly recurring billing model of $10 per month, the PMA rate at the moment the transaction is initiated (e.g. 1 PMA = $0.01). Once the transaction is approved, 1,000 PMA tokens can be pulled from the customer's wallet by the merchant.
Kemix's job is to guarantee the merchant that they will receive $10 for the 1,000 PMA tokens paid by the customer, regardless of the prevailing spot rate or the fluctuation of the price.
The result of using the FSL is zero volatility and 100% liquidity by locking the cryptocurrency-to-fiat conversion rate at the time of the transaction. Merchants receive the specified amount of fiat directly into their bank accounts rather than first liquidating the cryptocurrency on an exchange.
PumaPay is constantly improving its payment solution by adding new and exciting features for both merchants and customers.
"In the upcoming weeks, we expect to announce some major improvements for our Mobile Wallet app and our Merchant Business Console as well," said Dror. "We are also working on a solution that will improve our transaction settlement speed and reduce the gas fees to practically zero. Stay tuned!"