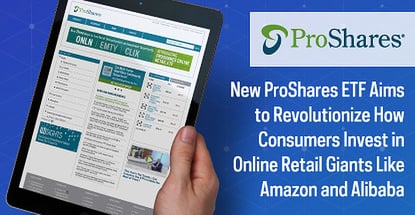 credit card news
Our experts and industry insiders blog the latest news, studies and current events from inside the credit card industry. Our articles follow strict editorial guidelines.
In a Nutshell: Investors have turned to Exchange Traded Funds (ETFs) for nearly 30 years to diversify their individual portfolios or fuel their retirement savings. Rather than investors choosing individual companies, these funds collect the top performers from specific sectors into one holding that investors transact with as they would any other stock. ProShares has spent the last 12 years cementing itself as a leader in the ETF space and proved its innovative standing when it recently unveiled its ProShares Online Retail ETF (ONLN). This fund tracks the ProShares Online Retail Index, which measures the performance of publicly traded companies that principally sell online or through other non-store channels. Current ONLN holdings include Amazon, Alibaba, eBay, Wayfair, and 18 others.
Exchange Traded Funds (ETFs) have been a popular diversification tool for casual and professional investors alike since their introduction to the market in the early 1990s.
Today, individual portfolios and retirement accounts all over the globe include such funds, which trade like typical stocks but feature multiple holdings within individual sectors. Investors can purchase ETFs that pull the top companies within the S&P 500 into one holding, as well as ETFs that cover industries such as technology, healthcare, biotechnology, and utilities, among most other fields.
Well, almost any field.
Until this month, none of the ETF providers had crafted an index that strictly followed online retailers. With the meteoric rise of companies such as Amazon and Alibaba, ProShares decided that the time was right to create its latest offering.
And it was only fitting that the company launched its ProShares Online Retail ETF (ONLN) on Amazon's popular Prime Day.
"When you take the retail universe, it splits out into legacy brick-and-mortar retailers and online retailers," said Simeon Hyman, ProShares' Global Investment Strategist. "The first thing we do is make sure we've isolated just the online retailers. Then we make sure we've isolated the retail piece of online companies."
ONLN tracks the ProShares Online Retail Index. The index measures the performance of publicly traded companies that principally sell online or through other non-store channels — such as mobile or app purchases — rather than through brick-and-mortar store locations. The ProShares Online Retail Index constituents may include US and non-US companies that are listed on a US stock exchange.
Focusing the ETF's holdings solely on retail is particularly important and relevant in light of Facebook's recent precipitous drop following a weak earnings report and questions about its future earning potential.
"This is not an internet-at-large exercise," Hyman said. "It's only internet retailers. We acknowledge that the ETF needs to be focused on the largest and most important players, so it's a modified, market-cap weighted approach."
That approach means that the index the ETF tracks will monitor the market cap of all online retailers and shift its holdings as companies grow or contract. At launch, Amazon accounted for approximately 24% of the index and Alibaba, the multinational technology conglomerate co-founded by the Chinese business magnate Jack Ma, made up about 15%. The remaining 61% includes 20 well-known online retailers, among them Groupon, Wayfair, Etsy, eBay, and Netflix.
"We think the index is well-constructed, therefore the ETF is well-constructed to give investors the opportunity to very efficiently and cleanly invest in what we think is the early innings of retail disruption and the growth of online retail," Hyman said.
Online Retail is Still in the Early Stages of Market Disruption
Although investors have reaped substantial gains from the tremendous growth of Amazon, Alibaba, and other online brands, Hyman thinks the ceiling is still well above these companies' current market valuations.
"When we look at the environment, there are so many indications that this is in the early innings, even though online retailers are currently doing very well," Hyman said.

Hyman noted that online retailers currently represent only 10% of global retail volume, which points to potential future growth.
"That number should, at the very least, double over the next few years time," he said. "We're still very early in that regard."
And even Amazon has room to grow as it moves into new markets and strengthens its hold on current trends.
"Amazon is still only about one-third the size of Wal-Mart — which was the original retail disruption story," Hyman said. "That puts things into perspective if you're sitting back and wondering if the rise of Amazon and other similar companies can keep going."
ProShares Continues to Push the ETF Envelope
ProShares has been a key player in the growth of ETF funds since 2006. The company currently holds more than $30 billion in assets spread across an extensive list of ETFs it offers investors. The company focuses on dividend growth and other strategies that increase investors' holdings over time.
Moving forward, ProShares aims to help consumers diversify their portfolios by strategically investing in funds that hold multiple stocks instead of the riskier method of buying into individual companies.

That approach continues with the introduction of the innovative online retail ETF, ONLN.
"We think this is only the beginning," Hyman said. "Some of the legacy retailers' approach has blended brick-and-mortar and online. Because they're so disparate, we want to offer an opportunity to invest cleanly only in online retailers."
With only two weeks on the market, Hyman said the fund has garnered substantial interest from investors of all backgrounds.
"People are talking about it," he said. "The fund is different from anything else offered on the market. This is still early, and there is substantial room for growth, but we've seen a lot of interest in the fund from the beginning."