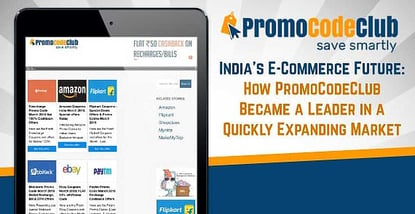 credit card news
Our experts and industry insiders blog the latest news, studies and current events from inside the credit card industry. Our articles follow strict editorial guidelines.
In a Nutshell: India's e-commerce marketplace is exploding. In 2016, it was worth $15 billion. By 2026, that number is expected to reach $200 billion — a growth rate of more than 1,200%. The country is also full of local success stories, including PromoCodeClub. Digbijaya Mohanty and Swaraj Sahu started the company while working out of local cyber cafés, and today it's the nation's number one coupon network. With an increasing number of consumers buying smartphones and gaining internet access, online retailers including Amazon in the US and Alibaba in China are rushing to tap into the Indian market where PromoCodeClub is already a household name.
After earning their bachelor's degrees in Computer Science Engineering, friends Digbijaya Mohanty and Swaraj Sahu wanted to start their own business. "We saw that Indian e-commerce was growing rapidly. A lot of online shopping websites were making huge profits," Digbijaya said. "That's why we decided to make a coupon website that would provide offers and discount codes to customers."
They started building their business in a cyber café in Bhubaneswar, a city in the Indian state of Odisha. "It was difficult to design a competitive website, and we needed to work with merchants based in Delhi, which wasn't easy. By using LinkedIn, we managed to connect with the right people," said Digbijaya.
Consumers quickly flocked to their website, PromoCodeClub. Whether users checked its deal of the day or searched for discounts from online brands like Amazon, Flipkart, Jabong, Shopclues, and MakeMyTrip, the site's traffic soared.
"We work with the top companies and retailers — both offline and online — so our visitors get the best deals and offers," Digbijaya said. "That's what has made the last two years an amazing journey, and it's how we reached the Alexa Top 200. Now, we're the number one coupon network in India."
Factors That Contributed to India's Explosive E-Commerce Growth Spurt
Being number one in India is no small feat. The country is the seventh largest in the world, home to 1.3 billion people, and its GDP is more than $2 trillion. Per capita GDP is at $1,942 and is expected to reach $2,672 by 2020.
Online retail is predicted to grow over 1,200% over the next decade, from $15 billion in 2016 to $200 billion in 2026, according to a report from Morgan Stanley. This growth is supported — and encouraged — by an increasing number of consumers with access to smartphones and internet connections. In 2016, 373 million Indians had internet access. By 2021, that number will reach 829 million. And, according to a report from Forrester, lower data prices and more affordable 4G devices will "further boost the expansion of the buyer base."
India is also improving its roads and services. In 2014, its infrastructure was ranked 54th by the World Bank. By 2016, it had climbed to 35th. "It can take 15 to 20 days to deliver a product in India, so any improvements to our infrastructure will make online purchases much more convenient for our customers," Digbijaya said.
Right now, the most popular online shopping segments are mobile phones and electronics. But, according to a report from Google and the Boston Consulting Group, other segments are growing quickly. By 2020, health foods, color cosmetics, weight management, and baby care products are expected to reach "high penetration rates" of 7% and above.
The payment habits of Indian consumers also differ from those of their counterparts in China and the West. In 2014, about 34% of online payments were made via credit or debit card, while 24% were made via cash on delivery or checking accounts. Prepaid cards and vouchers were still popular payment methods — but that's starting to change. Over the past few years, forces both inside and outside of the country have transformed the way that Indians approach online shopping and e-commerce payments.
All of these trends combine to make India's economy ripe for rapid e-commerce growth. And PromoCodeClub is well-positioned to reap the benefits. As consumers become more comfortable buying online, the e-commerce sector can only grow — and when those customers want deals, they'll turn to PromoCodeClub.
How International Competition and Regulation is Shaping India's Market
International e-commerce businesses have taken notice of India's growth. Retailers, including Amazon in the US, Alibaba in China, and India's homegrown Flipkart, are fighting to dominate the subcontinent's expanding market.
Indian shoppers trust Flipkart, an e-commerce company headquartered in Bengaluru, more than they do Amazon, according to a 2017 survey by Redseer Management Consulting. "A clear trend from our study indicates that Flipkart enjoys greater recall with new online shoppers," said Kanishka Mohan, a senior consultant at Redseer.
Even though Amazon may not beat out Flipkart on recall, more Indian consumers buy goods from the US e-commerce giant. Since 2016, Amazon has been "the single-largest online retailer in India in terms of sales," according to Forrester Research's report. And it continues to grow. In 2017, Amazon invested $1 billion in India.
But Amazon isn't alone. From its perch atop China's e-commerce economy, Alibaba has started to explore India's potential. Alibaba recently bought significant stakes in both Flipkart and two other Delhi-based companies — the digital wallet Paytm and the e-commerce portal Snapdeal.
Some of the forces driving this competition are recent changes in government policy. In November 2016, Prime Minister Narendra Modi announced the demonetization of all 500 and 1,000-rupee banknotes. The policy was designed to crack down on the country's shadow economy, as well as to thwart criminal and terrorist groups, but it also affected the e-commerce marketplace.
"The market slowed down after demonetization, so our business had a hard time. In the end, however, the policy ended up having a positive impact because more users started choosing digital payments," Digbijaya said.
This rippled throughout the digital economy. According to Fast Company, Indian consumers rushed to activate accounts with digital wallet providers like MobiKwik and Freecharge. While the country's credit infrastructure still lags behind the West's and China's, it's starting to catch up — and demonetization has quickened its pace.
No matter the currency, financially fluent consumers will look for ways to make the most of their online purchases. PromoCodeClub is on the ground floor of this exciting development. As Indian bargain hunters begin to spend more of their money on the internet, they'll discover that the site is attuned to their culture, needs, and pocketbooks.
Why PromoCodeClub is India's Top Coupon Website
According to Digbijaya, the key to PromoCodeClub's success is that it always focuses on the customer's best interests and works hard to provide the most valuable deals — and that's a 24-hour-a-day job.
"Even at midnight, our content team is still working. We don't want our users to waste a single second on an old or expired promo," he said.

The company also stays focused on the competition. "We always compare ourselves to our competitors. Brands never stop changing, so we have to do our research. That's the only way to make sure our customers continue getting the best offers," Digbijaya said.
And Digbijaya and his partner Swaraj have an inspiring message for all aspiring entrepreneurs who dream of launching their own successful businesses: "Just do what you love."