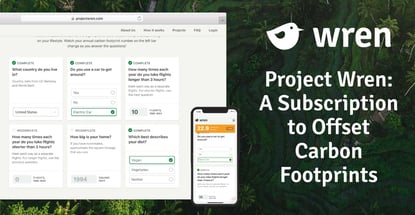 credit card news
Our experts and industry insiders blog the latest news, studies and current events from inside the credit card industry. Our articles follow strict editorial guidelines.
In a Nutshell: Humans produce an incredible amount of greenhouse gas emissions in today's industrialized world. Project Wren aims to reverse climate change with a subscription model that allows users to offset their carbon emissions. Users sign up for the service through the Wren website and choose from three carefully selected projects to help fight climate change. The projects include identifying and fighting illegal deforestation, providing clean burning fuel to Ugandan refugees, and planting trees. So far, contributions by Wren users have reached the equivalent of removing more than 5,000 cars from the road each month.
No matter how lightly we tread, humans in modern society inevitably leave behind carbon footprints — the amount of carbon dioxide produced by fossil fuel consumption — whether it's from jet setting around the globe or simply using electricity at home.
People can take certain measures to help reduce their carbon footprint, like making their next vacation a staycation or eating less meat, but they can also help bring their carbon footprint closer to zero through offset initiatives.

The carbon offset industry's origins go back to the early 2000s, with many offset funds going toward planting trees, and later, clean energy projects. But many
questioned the efficacy of the projects
because they weren't necessarily
adding additional carbon savings
, and, in some cases, people weren't even sure if their funds were being used for environmental projects at all.
But Project Wren brings a fresh approach to the carbon offset marketplace with its subscription-based model and philosophy of transparency.
It shouldn't come as a surprise that the three college friends who founded Project Wren — Landon Brand, Ben Stanfield, and Mimi Tran Zambetti — would devise such an innovative company at the intersection of business and a better tomorrow.
The young entrepreneurs met while attending the University of Southern California's Jimmy Iovine and Andre Young Academy (Zambetti is still a student there) which launched in 2014 with the mission to foster innovation, critical thinking, and creativity.
The school was founded with a gift from Iovine and Young (better known as Dr. Dre), who themselves had led trailblazing careers in the worlds of music and business.
Brand, Stanfield, and Zambetti wanted to start a company that would provide a clear, positive impact on the world.
"Eventually, we just decided we should focus on climate change — that is kind of the defining issue of our generation," CEO Brand said. "If we don't figure this out in the next 10 years or so, it's going to get much harder to take away all that CO2 out of the air and prevent negative feedback loops like ice melting and rain forests burning, etcetera."
Brand said that, since none of them were climate scientists, the trio sought to bring their mix of business and technology to the table to help find a solution that could make an impact. They first looked at launching a vegan cloud kitchen but discovered that if everybody in the U.S. went vegan, the overall impact on climate change would still be fairly small.
They needed a bigger idea. "We don't need one silver bullet, we need like 100 silver bullets," Brand said.
"We intend to mitigate the climate crisis by building tools that help everyone understand and act against climate change," according to the company website. "Our goal with Wren is to make it so anyone can easily understand their carbon footprint, figure out how to reduce their emissions, and then offset the emissions they cannot reduce."
How to Offset Carbon Footprints with Project Wren's Monthly Subscription Service
Wren is using its subscription-based service as a starting point for the company because it is a simple and direct way to fight climate change, and it has the added benefit of helping to fund the company's future work.
"Climate change is an urgent problem that we need to address immediately, which means putting 100% of our minds to it," according to the company. "We believe the most effective way we can build a team to tackle this problem is to build a sustainable business."
Brand said people can go to the Wren website and answer a few questions to get an estimate of their carbon footprint.
After providing your country of residence, the carbon footprint calculator provides the average tons of carbon dioxide produced on average by residents of that country. Users can then personalize the number based on answering questions about how much they drive each week, how much red meat they eat, how often they fly, and other major carbon-producing activities.
Once Wren gives you your carbon footprint estimate, the website provides an impressive amount of detail to further educate people on the topic and to help put carbon footprints in perspective. For example, my estimated carbon footprint is lower than that of the average American but still equal to the amount of carbon dioxide that 795 pine trees absorb in one year.
"Reducing your personal emissions is a good start, but there's more to be done: taking political action, advocating for decarbonization laws, developing new technologies, starting conversations," according to the website. "There is no single solution to climate change, so every effort is needed."
In addition to providing tips to reduce carbon emissions based on your personal survey results, the website also provides links to projects Wren users can choose to support with a monthly carbon offset subscription.
Supported Projects are Proven to Permanently Prevent or Sequester Greenhouse Gas Emissions
Rather than making vague promises to plant trees or to contribute to some nebulous environmental cause, Wren users choose from three carefully selected projects to which they can contribute their funds.
Brand explained how Wren selects the projects it supports and noted that it will be looking to add more projects in the future.
"We have a few important criteria," he said. "Probably the biggest one for us is the idea of additionality — without funding this project would be either limited in growth or it could not happen at all. Basically, they need funding from their carbon impact to make it happen."
At the moment, Wren users can select from one of three different projects.
The first option is a community-focused afforestation program (yes, the opposite of deforestation). The program, led by The International Small Group and Tree-Planting Program (TIST), sponsors tree planting and workshops for farmers in East Africa.
"TIST has planted over 18 million trees over 20 years, and almost all of them are still thriving," according to the Project Wren website. "They have pioneered a model that is extremely successful, and have a long wait list of farmers who are waiting for funding to start planting!"
Another project supports providing clean cooking fuel for 1.3 million refugees in Uganda. The refugees currently rely on wood harvest themselves and use in stoves that are inefficient and dangerous.
As a solution, Mandulis Energy purchases waste, like rice husks, groundnut shells, and maize cobs from nearby farmers and compresses them down into briquettes to burn as fuel.
"By 2023, once this project has fully scaled up to the 16 sites it has planned for, the clean burning briquettes will meet nearly all of the cooking fuel needs of the 200,000 refugee households in Uganda, while saving over a million trees each year," according to Project Wren.
Finally, users can direct their funds to support the Rainforest Foundation's efforts to stop illegal deforestation in the Amazon jungle of Northern Peru.
"The Rainforest Foundation has pioneered a monitoring program that uses satellite imagery, drone footage, and video technology to quickly detect, report, and stop illegal deforestation," according to Project Wren. "By supporting this project you are funding rainforest monitoring tools for Indigenous Amazonians."
Project Wren's Impact and Widespread User Base
When Project Wren launched in June of 2019, the company's initial goal was to reach the equivalent of taking 300 cars off the road in its first month. The company blew past its goal and after five months, Wren members are now taking the equivalent of about 5,000 cars off the road each month.
The company and its users have also delivered concrete results to the Ugandan clean cooking fuel program.
"Basically, we got them to the point with funding from Wren subscribers where they can complete their feasibility study and bring the clean cooking fuel into thousands of refugees' homes," Brand said.
August was an exciting and pivotal month for the clean cooking fuel project, according to the company. The engineers and scientists behind the project successfully produced the first batch of clean burning briquettes. Next, Mandulis Energy will be focused on distribution and providing briquettes to thousands of refugees.
Wren has subscribers from more than 51 countries across the world, according to the website, and encourages its users to motivate others to join and makes it easy to spread the word via social media.
"So far, we've been very fortunate to just have a lot of people sharing about Wren, like telling their friends about it, posting on Twitter, stuff like that," Brand said. "I think that will always be the biggest way people find out about Wren. I think if people are that excited when they talk about it, anyone new who signs up — they're going to be talking about it too."
And encouraging others to sign up also makes a real difference. If just one person signs up because of a friend sharing Wren on social media, that's the equivalent of taking two cars off the road, according to the company.
Planning Support for Future Projects
Wren's current iteration is just the beginning for the company. Ultimately, the company's goal is to provide tools to deliver results in the fight against climate change.
"We have lots of ideas on campaigns that we could do or partnerships that we could have," Brand said. "Right now, we're talking with our subscribers to see what they're looking for from Wren and what they think we can do about reversing climate change."
He said the company is hearing lots of ideas from users and he is excited to see what comes next for the company.
"I can't say for sure yet what features we'll incorporate in the future, but we're considering a wide range of ideas from our team and from users," Brand said. "Anybody can definitely shoot us an email, and we'd love to hear about new ideas or any feedback in general."