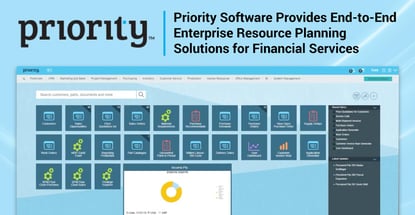 credit card news
Our experts and industry insiders blog the latest news, studies and current events from inside the credit card industry. Our articles follow strict editorial guidelines.
In a Nutshell: Enterprise resource planning (ERP) software is both a modern convenience and a necessity in many industries — including financial services. Priority Software leverages industry knowledge to supply customers with tailored solutions for the best possible ERP process. And Priority accounts for the entire financial services environment, including taxation and regulatory compliance. New customers take part in a hands-on transition that furnishes them with best practices while respecting their unique characteristics and approaches to business. And in an evolving economic environment, Priority keeps pace with developments and offers innovative business management solutions that fit the changing needs of its customers.
Enterprise resource planning (ERP) is a convenience brought about by the digital age. But for many modern businesses, it is also a necessity. The standardized, global software allows for fast, efficient communication and coordination among departments. It can increase transparency and accountability, speed up response times, and provide businesses with an edge over their competitors.
ERP tools can make internal processes more efficient and nimble, which improves relationships with customers and competitiveness in the marketplace. All of those factors are important to any business, but they are especially vital in the financial services industry.
Priority Software was founded to help all businesses leverage ERP by optimizing every feature to their unique operation.
Priority is headquartered in Israel, with offices in the U.S., U.K. and Belgium, and has a network of over 60 business partners worldwide. It provides business management solutions for organizations across scales, boasting more than 75,000 customers in 40 countries around the globe.
"We started by providing solutions especially for the manufacturing environment," said Avi Troub, VP of Global Sales and Channel at Priority. "That means, today, we are strong in manufacturing, but we moved forward to other industries, including finance, over the years."
Although it started out providing ERP for manufacturers, Priority now deploys its software in the professional services, pharmaceuticals, retail, logistics, human resources, and financial services industries. Priority's ERP platform is available as an all-inclusive software suite or as individual tools tailored to specific business needs.
"The solution is unique mainly because of flexibility and product innovation," Troub said.
A Global Platform that Starts with Experience and Insight
Priority's effectiveness stems from its emphasis on knowledge of and experience within the industries it serves. When Priority began its operations over three decades ago, its foundation was and still is a solid basis in industry know-how.
"The idea was to have one solution for our customers, so they wouldn't need to have different contracts and different costs in specific countries," Troub said. "That solution is beautiful, and it is working today."
Priority expanded its global operations by acquiring a U.S. company that was already established in the field. In the space of three years, Priority added three more acquisitions to its roster, growing its presence in the U.S., Belgium, and other regions, placing it in a strong position in the global ERP software industry.
"We wanted to be a player in the insurance industry, but the most important part was the knowledge of how to do insurance and what an insurance company needs. As soon as we had that, we started developing the Priority platform," Troub said. "I think it's a combination of a good product with excellent functionality, but also knowledge of what is happening in the market and what insurance companies are looking for."
Today, Priority's proficiency extends well beyond insurance to many other organizations in the financial services industry. And while institutions like banks are primarily concerned with their business, they still have additional needs that fall outside strictly financial concerns. Those needs include furnishing branches with tables, chairs, and computers.
"The procurement process will probably be the same one for every bank we work with," Troub said.
Instead of building a process from scratch, Priority learns from what has worked in the past to help customers avoid costly obstacles and delays.
Focusing on the Key Aspects of Effective ERP
By serving financial services customers, Priority has gained an understanding of the current industry environment and expectations. That's how it can better meet the needs of enterprises.
Priority also seeks to expand its customer base to include venture capital firms, private equity funds, and other organizations that don't fit into the traditional scope of financial services. This holistic picture of the financial industry allows Priority to better serve not only these customers but also those in other industries.
"A lot of the retail companies using e-commerce platforms need to have a better understanding of the financial side, and that's pushing them to think more like bankers or investors," Troub said. "Suddenly, an area that was never covered, or that we never looked at as being in the financial sector, is moving from e-commerce to the global side of finance."
After customer-based knowledge, the interconnected ecosystem is another crucial aspect of its service. Priority APIs enable quick communication and integration with existing apps, as do custom solutions — including payment portals.
"We can build and use payment processors as a global solution," Troub said. "Our platform can give you a solution if you want to use a credit card."
Finally, taxation and regulatory compliance are crucial components of ERP. And, particularly in the United States, it is an especially complex component.
"Tax regulation, at least in the world of ERP, is very critical to the success," Troub said. "Those three elements put us into financial services from different angles, with different players. But, most importantly, understanding the trends in the financial world."
A Detail-Oriented Process Helps Businesses Quickly Transition from Previous Systems
One of the most significant potential advantages of a global ERP solution is its capacity to replace multiple local solutions with high ownership and maintenance costs. The same is true of legacy systems, which may be outdated and not optimized for current business environments.
Yet companies often cling to legacy systems due to their familiarity and, of course, the question of whether a replacement will be an improvement.
"There is a lot of expectation on the customer side to improve and to be more user-friendly," Troub said.
The onboarding process for each customer is unique. Each organization, even within the same field or industry, does things differently. The majority of the transition to Priority involves implementing experience-based best practices, and the other portion will accommodate what is unique about each organization.
That process allows them to increase market competition while maintaining their brand.
"In the end, it's a combination of best practice and their secret sauce," Troub said.
Priority Software: Keeping Pace with an Ever-Changing Financial Environment
Effective ERP software helps businesses run more effectively while also allowing them to keep up with changes in their industries — changes that are typically tied to global environments.
"Today, we see changes in the business model in the financial industry, and I think it's only the beginning of the revolution," Troub said. "Elements like revenue sharing and the clearness of payments and elements. Maybe customers experienced them in other places, and they are now coming to the financial industry."
Globalization is another major element in the rapidly changing sector. Local banks now conduct international transactions more frequently than they did in the past. In situations like that, the institution may not understand the demands its systems will need to meet. But Priority's experience and knowledge can help them better understand those needs and the right solutions.
Priority is committed to keeping pace with that changing landscape. And its enterprise mobility functionality, the Mobile App Generator, is an innovative tool that enables customers to create mobile apps in just minutes, without any need for programming skills. To serve the finance and other industries, new capabilities include digital document signature (e.g. price quotes), document sharing via email or text, camera activation, barcode scanning, and secure payment via credit card processing, all in real-time, and directly from the mobile device. Priority also offers a variety of out-of-the-box mobile apps available for customers to download and use.
Another innovation within Priority will be easing the burden of keeping up with taxes for U.S.-based businesses. In partnership with Avalara, a provider of automated sales tax compliance solutions, Priority U.S. customers can now use Avalara Ava Tax to easily calculate sales tax — including exemptions, at every stage in the sales process.
"Integrating Avalara into Priority ERP enabled us to enhance our offering in the U.S. market, providing value-added functionality, especially for customers in the financial industry," Troub said.