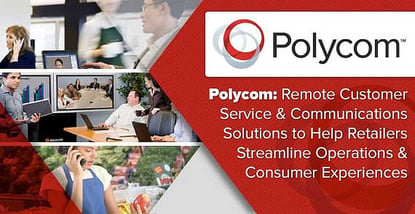 credit card news
Our experts and industry insiders blog the latest news, studies and current events from inside the credit card industry. Our articles follow strict editorial guidelines.
In a Nutshell: For 25 years, Polycom has helped more than 400,000 companies enhance communication among teams and optimize interactions with customers. Using the company's collaboration tools, such as interactive kiosks and store-wide video conferencing solutions, businesses can bolster customer service processes, better understand unique trends in supply and demand, and, in turn, amp up their profits. Polycom empowers companies to overhaul how they reach and respond to customer needs. And that, ultimately, makes for better business.
In a recent talk to business students at the University of Houston-Victoria, Exclusive Furniture CEO Sam Zavary noted communication is integral to a company's success. But reaching optimal communication levels is difficult to achieve, especially at businesses with geographically divided workforces. This was exactly the challenge Goodman Group, an integrated property company with operations throughout Asia, Europe, North America, and Brazil, faced in their Sydney home office back in 2011.
Goodman's team had a big problem: they had almost no face-to-face access to one another. Colleagues were dispersed throughout Australia, and many were at work on overseas projects. The company's system of traditional phone communication proved insufficient to effectively communicate with one another.
As the team encountered daily frustrations with clunky conference calls and general communication failures, the company was also rapidly expanding. It recognized it was at a breaking point and that it was time to make a drastic change. So Goodman called in Polycom.
"We chose Polycom for its reputation as the global leader in open standards-based unified communication solutions," explained Bart Tuteleers, Goodman's Head of Infrastructure. "But a key component was also its close relationship with Microsoft."
It was precisely Polycom's ability to work closely with Microsoft that allowed it to provide an innovative solution, customized to Goodman's unique needs. At Goodman, Polycom implemented a "complete end-to-end unified communications platform" that now allows Goodman's team to communicate in every way possible — from voice to video, in small groups and large — without switching between platforms or dealing with complex technology.
With the new system, Polycom has overhauled Goodman's company culture, turning "dispersed colleagues into global teams." And it's this same approach that Polycom uses to create and build equally successful remote customer service solutions. After all, better internal collaboration leads to better external operations — and Polycom understands good communication trickles down, directly affecting customer experiences.
Personalized Customer Service Helps Businesses Achieve a Higher Market Share
A key to Polycom's success is found in its highly flexible and customizable remote customer service solutions. The company recognizes every business is unique — a singular combination of people, processes, and beliefs.
Whether the goal is to help teams better communicate across the globe or to improve support for customers everywhere, each business that works with Polycom can expect a highly personalized process.
"Polycom's scalability and flexibility are great benefits," says Peter Reich, Sales & Marketing Director of IP Vision. Those flexible and collaborative solutions, which include everything from interactive kiosks to streamlined systems in and between stores for inventory control, can dramatically affect how companies do business.
Retailers can employ Polycom's video customer service solutions, such as Video Chat and Video of the Customer, to connect and engage with customers in-store. If customers have questions but on-premises employees are tied up, they can initiate video chat at an interactive kiosk. This level of personalized interaction both answers customers' questions and creates a better in-store experience. This can do wonders to maintain brand loyalty and increase word-of-mouth advertising.
As Polycom points out, "Retail companies with the most personal customer service programs often achieve the highest market share." If customers have optimal shopping experiences, they're more likely to return and spread the news about that experience.
Increase Productivity and Streamline Operations Through Store-Wide Communications Solutions
One of Polycom's standout offerings is its store-wide communications solutions. This system emphasizes a top-down approach.
Polycom recognizes that by improving team operations, retail businesses are better equipped to help customers. By providing teams the tools they need to better collaborate, Polycom helps companies boost productivity, improve store operations, and ultimately, amp customer satisfaction.
Depending on need, Polycom recommends and implements various audio and video systems that are then used within and between retail branch locations. Some of these effective collaboration tools are:
Each Polycom client benefits from "faster access to sales reports, employee information, and remote expertise." Improved communication helps companies streamline inventory checks, improve remote team meetings, and even implement new incentive programs. That adds up to a vastly improved company culture and better approach to customer support.
Effective Inventory Management and Supply & Demand Forecasting Help Boost Profitability
Communication breakdowns often happen in the supply chain, especially when that chain functions globally. Even the smallest moment of confusion or misinformation can cause the entire system to break down.
Polycom's communication solutions, inventory management, and supply and demand forecasting help circumvent those issues by ensuring that "vital information keeps flowing." Auchan, one of the largest distributors in France, needed a solution to gather together a host of different teams involved in sales, stock levels, orders, and promotions. The company found audio conferencing was not effective to do this and turned to Polycom.
Auchan discovered Polycom's HDX Media Center package was an ideal solution to bring their teams together to collaborate and problem solve. More than 90% of the company's participants noted meetings were much better organized and Auchen has since expanded its use of the solution into other facets of the company.
Profits depend on inventory, so, logically, better inventory management and forecasting lead to more profitability. Polycom's services enable companies to conduct inventory checks more often and help improve the understanding between disparate teams.
In effect, Polycom lets retailers respond more quickly to market changes and customer demands. And that type of adaptability can have a positive impact on profits.
Retailers Are Succeeding by Optimizing Customer Interactions & Operational Efficiencies
All Polycom's offerings boil down to one principle: that better communication makes for better business. Whether that's helping Goodman unite its team despite geographic borders or Auchan France quickly adapt how it distributes products based on developments in fashion or customer demand, Polycom's customized solutions allow companies to boost their efficiency and connectivity.
Successful retail depends on rapid adaptation and optimal interactions between teams and people, and Polycom's solutions help businesses accomplish that. The result is a better experience for coworkers, clients, customers, and consumers. Combined, those experiences inevitably lead to a more profitable business.