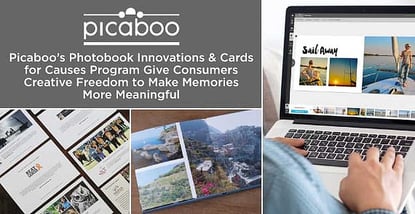 credit card news
Our experts and industry insiders blog the latest news, studies and current events from inside the credit card industry. Our articles follow strict editorial guidelines.
In a Nutshell: Digital technology has made it convenient for consumers to take and store hundreds of digital photos on their devices, but those photos are rarely seen or shared afterward. Howard Field and Kevin McCurdy founded Picaboo in 2002 to help people rediscover and preserve their joyful memories through real-life photo keepsakes. In the years since its launch, Picaboo has led the photo book industry with innovations like its project creation platform and layouts that offer users creative flexibility in designing the perfect photo gift. The company's most recent innovation, though, merges personalized imagery with worthy charitable causes. Its Cards for Causes program leverages customized holiday cards to connect nonprofits with donors to raise awareness and funds.
When digital cameras became widely available in the late '90s, they changed the way consumers captured and interacted with images. It became possible to instantly view photographic memories and upload them to a computer, where they could be edited, shared, and stored. Using digital technology made it easier for people to take more pictures — and often unnecessary to print them.
College friends Howard Field and Kevin McCurdy noticed this trend but believed that preserving memories in meaningful ways was just as important to the human experience as taking the photo in the first place. In 2002, on the Stanford University Golf Course, the two formulated a business idea.
They called it Picaboo.
A play on the term Peek-A-Boo and the city of Picabo, Idaho, Picaboo would be a site to help people transform digital images into printed keepsakes. In 2005, while digital photography was still gaining momentum, Picaboo released its prototype photo book creation software, and the concept quickly captured the public's imagination.
"There was significant growth in the mid-2000's when the idea that you could create these types of custom photo products was still very new," said Brian Grady, Picaboo's Director of Sales & Marketing.
Consumer interest and awareness grew over the next few years, and so did the business. Picaboo expanded its products to include cards, calendars, and canvas prints, and, by 2012, had served 1 million customers.
Today, consumer photography has shifted from dedicated cameras and desktops to smartphones, but the trend remains the same — consumers take hundreds of pictures that never make it past their devices.
"One of the biggest changes now is that everyone has a camera in their pocket, and where the industry is headed is being able to create these products on your phone," Brian said.
The Picaboo mobile app, introduced in 2016, allows users to directly upload photos from their mobile devices to the Picaboo website, where they can create custom photo books in a variety of styles and layouts.
Picaboo continues to innovate its technology offering and product line to meet trends in digital photography, but its mission remains the same — making it easier for consumers to creatively preserve the best moments of their lives.
Intuitive Photobook Software that Makes Creative Expression Easier
Picaboo enables users to design prints, cards, canvases, calendars and other gifts that showcase their digital photos. While other digital print services offer limited layouts, Picaboo was the first to give users the option to create custom photo cards. Photo books, Picaboo's pioneering product, remain a popular product today, and the company's responsive, flexible design platform is its key differentiator.
"Picaboo devoted much of its energy specifically to its photobook software, which allows customers to be very creative in ways that some of the other providers don't," Brian said. "Customers who use Picaboo for their photobooks do so because we make it really easy to start from scratch with just an empty white book."
Picaboo allows users to quickly upload digital photos from desktop or mobile devices to design beautiful keepsakes. The unique software enables full creative flexibility, including digital scrapbook corners, drop shadows, full-photo backgrounds and background libraries, auto-creation, and auto-fill options for photo books and yearbooks.
The company was also the first to offer two-page photo spreads, lay-flat paper, and flush-mount albums for consumers. Picaboo photo books are available in an array of styles, layouts, and formats, including a Premium Mini Book that's easy to take and share on the go.
Many digital print services make it inexpensive and convenient to create digital photo products, but consumers also want quality — which is something that often suffers in the industry's race to offer the cheapest, fastest products.
Picaboo works to ensure that the projects its customers invest their time and effort into turn out the way they expect. This starts with using the highest quality photo paper, and ends with a Quality Assurance Specialist at the production center who verifies that outgoing orders meet the company's standards.
"We're a small group, but everyone has a customer-first mentality," said Brian. "This is an emotional product because it's centered around photographs, which hold a special significance for people. It's also a design-your-own creation, so you have to invest personal time, so we value and put effort into ensuring customers have a good experience." Brian said.
Enabling Nonprofits with Personalized Fundraising
In addition to innovations in the consumer photo book marketplace, Picaboo has a history of partnering with businesses through a volume discount program and championing nonprofit organizations. In its earlier days, the company's charitable giving centered around product donation.
"Many nonprofits use our products to help fulfill their mission," Brian said. "They'll make a photo book that allows them to give a very tangible gift to their donors."
When Brian came to Picaboo, he took the company's involvement with nonprofits a few steps further. Picaboo now has a fundraising program that makes gift cards available for nonprofits to use in silent auctions or raffle activities, allows organizations to set up custom campaign pages, and offers educational institutions a platform for designing and selling yearbooks for a profit.
In 2016, Picaboo also launched a one-of-a-kind program called Cards for Causes, which allows customers to directly support their favorite nonprofits by purchasing sets of flat, 5×7 holiday cards.
"Holiday cards as a fundraiser isn't itself new, but it tends to be very fixed. What's different about our cards is that, while they feature content about the nonprofit to raise awareness, they still give the customer the freedom to customize the front with their own holiday greeting and photos," Brian said. "This marries what we're good at — photo customization — with a pre-existing fundraising concept. It's a novel idea — there's no one else in our space doing it."
Program supporters purchase these cards at a 50% discount, and Picaboo donates the rest of the proceeds to the nonprofit. While there are no requirements for nonprofits that want to participate, Picaboo's Cards for Causes sign-up website does ask for an Employer Identification Number (EIN).
"We're signing up anyone who's interested and thinks it's something their supporters will be excited about — all the way from small animal rescues up to Paul Newman's Hole in the Wall Gang Camp," Brian said. "For us, it's about engaging with partners that have enough of a supporter base that it can be a meaningful fundraiser for them."
More than 200 nonprofit organizations have already chosen to participate in Cards for Causes, and the company's goal is to reach 500 participants by the end of 2018.
"I think all of us at Picaboo want to feel that we contribute to good causes, and this is one way for us to do that. And, because our products tend to be given in gifts, it's a nice way to support a lot of different causes," Brian said.
Creating New Products & Tools to Address Digital Trends & Consumer Demand
Advances in digital technology continue to streamline the way people capture moments in their lives, and the mobile-first trend has made it easier than ever to do everything from one device. Built-in smartphone cameras are now capable of taking high-quality photos, and most consumers use a personal mobile device to take and share pictures every day.
Picaboo has responded to this trend with its app, which makes it possible for consumers to directly upload these images and creatively transform them into beautiful photo products. And, in 2018, Picaboo plans to release new apps that will also enable project creation on a mobile device.
"I think that's the biggest trend in the industry is that people don't spend a lot of time on their desktop computers anymore, especially given that they're taking so many photos with their mobile devices. So, they expect to be able to shop, create and purchase these items on their mobile device as well," Brian said.

Consumers want streamlined services that enable customization — and photos are one of the best ways to add a personal touch. Picaboo sees the growing desire for unique photo gifts and products as the ultimate answer to consumer demand for more personalization.
"People are always coming up with different ways to put photos on different products — tapestries, blankets, metal prints, mugs. A lot of what we're doing this year is focused on extending our product line," Brian said. "We're adding blankets and other stationery-type products, tote bags, and we're giving our customers more opportunities to purchase the kinds of things they want."
Picaboo's photo innovations remind consumers that, no matter how busy life gets, moments that bring happiness are important — and they're also easy to preserve in creative, personal, and lasting ways.