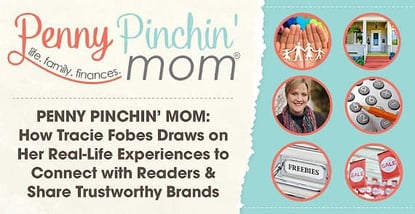 credit card news
Our experts and industry insiders blog the latest news, studies and current events from inside the credit card industry. Our articles follow strict editorial guidelines.
In a Nutshell: Tracie Fobes started sharing her experiences on PennyPinchinMom.com to fill a crucial role in the lives of the most time-challenged consumers of all: mothers. As a stay-at-home mother herself, Tracie learned through experience — from getting out of debt to saving on everyday purchases — and has earned the trust of her audience. Consumers tend to be desensitized to marketing, especially when the brand itself is making the pitch. Because of Tracie's dedication to sharing honest family experiences and the brands that help her give her family the best care, hundreds of thousands of readers trust in the companies she showcases.
"I know my reader. I can see her," Tracie Fobes said as she explained how she stays motivated. She went from CEO of her family to CEO of the successful lifestyle blog PennyPinchinMom.com in just a few short years once she started sharing her family's experiences online.
As the Penny Pinchin' Mom, Tracie reaches hundreds of thousands of women like her, offering practical and money-saving tips on life, family, finances, and more. But she doesn't just dispense deals, she has also become an inspiration for readers — as her remarkable story began simply with the desire to save money.
Tracie has since been able to establish relationships with brands she trusts, bringing special offers and helpful information to her audience. For her readers' sake, she only works with brands if she feels that they have fulfilled a need or resolved a problem she — and her readers — face.
Because her advice connects with her audience on such a personal level, Tracie has been offered many brand partnerships. But her careful attention to the deals she accepts helps her maintain the trust of her readers — and grow her site.
Empowering Over 250,000 Readers to Gain Control of Their Personal Finances
Tracie's message is one of empowerment. Like all new moms, she learned by doing. After she and her husband had decided that she would stay home to raise their kids, money got tight.
After their second child had come along, the budget grew even tighter, and, eventually, they found themselves struggling with more than $37,000 in personal debt. The story of Penny Pinchin' Mom is the story of how Tracie and her family worked themselves out of that debt and onto a path of sustainability.
"We were really tired of living from paycheck to paycheck," Tracie said, "but we didn't know any other solution." Needing a break, she took a rare night off, left her husband at home, and went out to dinner with some friends. As the night drew to a close, she noticed one friend pulling out an envelope of cash to pay for her meal.
A few questions and answers later, Tracie and her family were on their way to mastering "cash-envelope budgeting" — the first of many lessons she has learned and applied to the content on Penny Pinchin' Mom.
"All of a sudden we started seeing progress," Tracie said, "and it kept us going." She began exploring the world of couponing, looking for more ways to stretch her dollars and increase her options. Things started to snowball. These were the days when busy moms shared tips and tricks on internet forums, and, soon, Tracie found herself earning praise from other moms for the advice she was giving.
One of her online friends recommended she start a blog. "I had to go look to see what a blog was," she said— but the rest is history. Learning to manage the financial challenges of family life motivated Tracie to learn how to spread her message on the internet. It's the strength of this message of empowerment on Penny Pinchin' Mom that makes the site's content trustworthy — and more than 250,000 monthly readers agree.
Growing to Reach a Wider Audience Through Rebranding
Success in cyberspace more often happens in fits and starts rather than all at once. And mistakes are common. An important learning experience for Tracie began when she realized she could make a little bit of money by placing banner ads on her site.
A few months later, she received a check for $65. "You would have thought that check was for like $10,000," she said. But, soon, she saw that her success was limited: site visits — and ad dollars — weren't showing growth.
The reason was that Tracie, starting out as the "Kansas City Penny Pinchin' Mama," had branded her new blog in a way that limited her reach. Completing her evolution from family CEO to website CEO, she dropped the "Kansas City" and became a "mom."
After that, she said, "It just started coming together faster and faster." Rebranding for universality meant sustained readership growth — and growing attention from traditional media and bigger brands.
Tracie created a way to connect blog readers to information they could use to make their lives better, and to brands that were necessary for facilitating that.
Understanding Your Audience Is Easier than it Seems
For someone as successful as she is, Tracie has never put a lot of thought into conceptualizing her readership. But she's not just winging it, either. She has never wavered from the conviction that she should be speaking to moms like herself: not to all mothers regardless of age and demographic, but to moms that resemble her when she got started.
"One thing I've always held true to is that…it's me," she said. "I've always stayed real. I'll run into people, and they're like, 'We feel like you're our best friend, and you're talking to us through your articles, and we're having coffee with you.'"
That means not spending time on content to draw readers outside her target demographic. Instead, Tracie focuses strictly on the prototypical her: what that woman wants for her kids, husband, and home; where she shops; where she works; and what she wears.
"If you think about her when you're writing an article," she said, "you're going to be successful in the content you put out."
Building Reader Trust Provides Deeper Value for Brands
Brands reach out to Tracie because they want to reach her audience. But they also learn quickly enough that she never compromises when it comes to her brand relationships — her loyalty to her readers always comes first.
In the long run, that means a better deal for the brands with which she chooses to work. Another mark of her authenticity is that the only thing more important to Tracie than her readers is her family.
"If I ever try to work with a brand that doesn't understand that my family comes first," she said, "I don't want to work with them."
"That's what sponsors want. They're looking for that personal connection. They know that it's not going to read like a sales ad, and so they trust me." — Tracie Fobes, CEO and Founder of PennyPinchinMom.com
Still, she juggles the work/life balance like everybody else and finds time to field lots of proposals. Before she responds, she does her due diligence on the brand and looks for consumer opinions online. Her media kit goes out only when she's satisfied there's a fit, and she doesn't hesitate to turn someone down. "There is no sponsored post in the world that I would do to ever compromise my values or what I provide to my readers," she said.
She wants the branded content she develops to feel organic and informative, like an extension of her own voice. "That's what sponsors want," she said. "They're looking for that personal connection. They know that it's not going to read like a sales ad, and so they trust me."
Creating Personal Content Around What Her Family Needs
Tracie knows her readers so well because she relates to them — and is often shopping for the same items. Tracie recently teamed up with Staples on an extensive back-to-school project. "It's thrilling and exciting to work with them," she said.
The Staples relationship illustrates how content ideas and sponsor participation come in calendar cycles — like the seasonal ebbs and flows in Tracie's own family life. In fact, she bases a lot of her content on what's happening at home throughout the year.
When she's preparing her kids to go back to school, for example, her readers are too. In October she starts thinking about the holidays, and so it goes on the site as well. "If I need it, someone else does," she said. This connection with everyday life adds value to sponsored posts that appear in specific seasons. If there's no relevance, there's no authenticity.
While her kids are often the source of inspiration for her posts, they also enjoy getting involved themselves. One time her children wanted to get creative by making some fun Halloween treats. "Because I was going to spend the day doing that with them, I'm like, 'Alright guys; guess what? Mom's going to take some pictures!'" The success of the site, and the fun her family has creating content, has led her oldest child, now a teenager, to find a way to make money online like her mom rather than look for a traditional summer job.
With an endorsement like that, Tracie Fobes of Penny Pinchin' Mom must be doing something right.