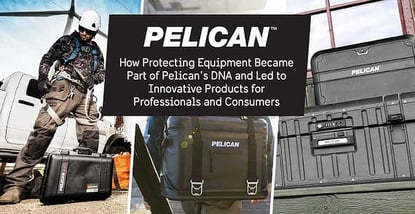 credit card news
Our experts and industry insiders blog the latest news, studies and current events from inside the credit card industry. Our articles follow strict editorial guidelines.
In a Nutshell: Workers transporting equipment in extreme environments and consumers traveling with high-tech mobile devices share a common need: top-quality protective products. Pelican, a 40-plus-year-old icon in the protective case industry, has built its brand on authentic products that users can rely on to protect their gear. The company produces cases for most personal or professional needs as well as product lines from durable coolers to tactical flashlights. Pelican has expanded into three divisions under the leadership of CEO Lyndon Faulkner, designing innovative products for Commercial, BioThermal, and Consumer markets.
Military personnel, industry professionals, and outdoor enthusiasts working in extreme environments rely on their gear to finish the job and even stay alive — whether it's a gun, a high-end drone, or an underwater flashlight. In the pharmaceutical industry, temperature control is critical to keep medicines, vaccines, and organs viable during transport.
Meanwhile, consumers also carry an increasing number of high-tech mobile devices with them everywhere they go and rely on them to stay connected to their everyday lives.
The common link is the need for reliable protection. That could mean specialized cases designed for rugged conditions, coolers, or phone cases that can withstand the wear and tear of everyday life.
Pelican has been protecting the products that professionals and consumers rely on for more than 40 years as a leading manufacturer of protective cases, packaging solutions, lighting tools, and rugged gear.
"All our products are designed knowing that a Pelican case might be life-saving," said Lyndon Faulkner, CEO of Pelican Products. "We're very aware of the commitment we have to people who buy cases — it's the trust they have in the case."
Delivering top-quality protective products for professional environments has been a part of Pelican's DNA since 1976. And now Pelican has extended its product line from professionals and outdoor enthusiasts to all consumers.
"All that knowledge and the mindset of creating cases that protect what's in them has moved across to the consumer space," Lyndon said. "It's no different than our other industries. The same technology used in that high-end military case is going into that phone case."
Pelican, founded in 1976 in Torrance, California, employs a team of 1,300 worldwide and maintains six manufacturing centers and 22 international sales offices. Under Lyndon's leadership, Pelican continues to build an iconic brand into a trusted innovator of protective solutions for everyone.
Crucial Branding Lessons from a Tech CEO
Pelican's legacy began in Dave and Arline Parker's garage in 1976 when Dave set out to design reliable products for his scuba diving hobby. The company's successful patents for high-quality protective gear led to its popularity among outdoor enthusiasts, which grew steadily over the next few decades.
Pelican was acquired by Behrman Capital in 2004, and in 2006, the company entered a new phase of explosive growth and expansion when Lyndon stepped into leadership. Before taking on the role of CEO at Pelican, Lyndon was a senior executive with Technicolor®/Nimbus CD International and Microsoft. He played an integral role in the launch of industry-shaping technologies such as the CD, DVD, Windows XP, and XBOX.

Despite the differences in the technology sectors, Lyndon sees plenty of similarities. "In the high-tech space, all of those brands were built with authenticity," Lyndon said. "I wouldn't describe Pelican as high-tech in its product, but I would say its product is equally influential and equally authentic."
Pelican is an iconic brand within its industry. Its reputation has been built on the quality of its products and professionals' preference for them. "If you're a professional photographer, you have a Pelican protective case. Additionally there are thousands of military applications or hundreds of industrial/commercial uses that make the Pelican Protector case an iconic brand," Lyndon said.
Lyndon's clear view of authenticity and reliability helped distinguish Pelican products, and has shaped the company's approach to branding, which continues to propel its success. Since 2006, Lyndon has led the company through strategic acquisitions, international expansion, and the development of a large line of innovative consumer products — moves that have enabled Pelican to exceed its sales projections by 500%.
Engineering Cutting-Edge Protective Products for Professionals, Industries & Consumers
Pelican innovation started with Dave Parker's Pelican Float, SabreLight flashlights, and Protector Cases. That innovative spirit is carried on with the expansion of professional gear that includes a wide variety of cases, lighting, luggage, coolers, and drinkware.
Pelican Air is one of the company's newest cases, designed with the traveling professional photographer in mind. Pelican Air is 40% lighter, designed with deeper, longer dimensions, and combines the durability of the Protector line with HPX technology. Users can also customize the foam insert inside their cases based on the equipment they need to carry.
The first part of Pelican's two-fold approach to innovation — developing current products to the highest level of quality — perpetuates its founder's legacy of meeting the needs of professionals and adventurers. The second part of the company's approach involves looking for new lines of products that need to be protected. This practice has led Pelican to design solutions for modern industries and consumers.
"Our military cases and camera cases extended to consumer use to protect a wide range of products. We developed phone cases and we've got many new coolers," Lyndon stated. "All of that is developed either from a need to protect something or the need for better products. Our coolers are not standard coolers — they have the most ice-retention; they're robust, and they have a lifetime guarantee. That's a product mindset for us — we only design the best products."
In the pharmaceutical world, Pelican saw the need for quality cold-chain transport for medical and biological materials. Two of Pelican BioThermal's successes, Credo Cube and Golden Hour Technology, were originally designed to deliver life-saving supplies to the battlefield. These technologies provide reliable transport solutions that can save lives.
High-end mobile devices represent a significant investment for many consumers, and Pelican military-grade products protect them from everyday hazards. "If you're going out to buy the latest iPhone, you don't want a bulky case on it. So we spend a lot of time making sure that not only are the cases protective – you can drop or get water on them; they are very robust – but they also look good," added Lyndon. "We were able to recognize the protection needed for the iPhone and built an appropriate case using advanced materials."
The latest Voyager, Ambassador, Shield, Marine, Adventurer, and Protector cases are compatible with various models of iPhone, LG, and Samsung devices and the Adventurer model is built with the same HPX material used in Pelican Air products for lightweight shock absorption.
Company Divisions are Enabling Explosive Growth in Consumer Sector
Following Pelican's expansion into consumer products in 2012 and temperature-controlled products starting in 2013, the company recognized it was time to restructure. Pelican separated into three distinct divisions in 2015: Commercial/Government, Consumer, and BioThermal.
Pelican was doing well at the time, so it was a brave decision, Lyndon said. "People say not to mess with something that's working. We recognized that it was working, but what we were doing was not a fit for the next 20 years."
Evolving — as every business must do to stay relevant — allows Pelican to better address the unique marketing and development needs of each sector.
"All the dynamics of a 40-year-old business are very different," Lyndon said. "If I market to a photographer, they know who Pelican is. If I market to a young person buying an iPhone, they possibly don't know who Pelican is."
An innovation like Pelican Air for the professional photography market will sell for the next 20-plus years. On the other hand, a device-specific phone case will suit the needs of the rapidly-changing consumer technology market for less than two years.
"Marketing and promotion of those products in-store — they're all extremely different muscles we need to have to build a successful consumer division," Lyndon said. "We wouldn't have been able to build that under the traditional business. So we separated them out and brought in people that understand selling and marketing to the consumer."
The same strategy applied to the creation of the BioThermal division, which allows Pelican's pharmaceutical customers to get products and services that are unique to them.
"If I look at where we are today with that design, it was revolutionary and absolutely what was needed for the company to excel in the space," Lyndon said.
A Protective Gear Brand that Individuals & Industries Trust
Pelican continues to be known as the iconic brand for rugged equipment protection and demonstrates its authenticity in the way its products are made. Pelican lets its products speak for themselves through Team Pelican brand ambassadors and social influencers.
"The use of the brand ambassadors and influencers is more authentic than promotion," Lyndon stated. "We protect. So, for us, it's best to use a group of genuine users who need things protected. They're surfers, photographers, and fishermen using our product in real life, and they're at the top of their sports as it relates to needing our products."
Pelican has remained relevant and growing for more than 40 years by innovating both professional and consumer products with the focus on quality and the needs of the everyday user. And Lyndon keeps his eyes on that commitment.
"It's something we take very seriously here — to design products for that accident, that mishap. To make sure — to the best of our abilities — we can keep your gear safe for you," Lyndon said.