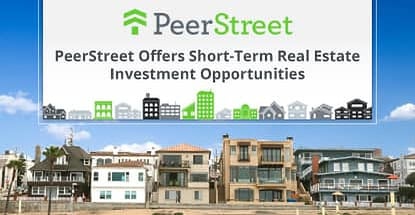 credit card news
Our experts and industry insiders blog the latest news, studies and current events from inside the credit card industry. Our articles follow strict editorial guidelines.
In a Nutshell: In terms of real estate investments, purchasing first lien debt is a low-risk way to go, but the practice has only recently become more available to a broader investment group. Now, more investors can gain access to this market through PeerStreet. By making a minimum $1,000 buy-in, accredited investors can create a diverse portfolio and enjoy average annual returns typically between 7% and 8%. With no principal lost to date, low foreclosure rates, zero fees charged to users, rigorous protection for investors and funds, and a growing number of asset classes, PeerStreet is proving to be an outstanding platform for diversifying real estate investments with minimal risk.
When investing in real estate, buying equity can be profitable but risky, since it only pays out after investments in debt are compensated. This makes purchasing real estate debt a less-risky investment. When there are multiple layers of debt on a property, the first lien has the highest priority for repayment, and in the event of a default, the investment is secured by real property.
Exposure to real estate debt has historically been limited to professional real estate investors. Now, access to the secondary market for real estate debt has become wider thanks to PeerStreet, a platform that allows users to collaboratively invest in first lien real estate loans.
"We give investors access to real estate loans and the ability to diversify in a way never possible," said Brett Crosby, PeerStreet Co-Founder and Chief Operating Officer. "With our $1,000 minimum investment per loan, investors can customize their portfolios."
This crowdfunding model enables accredited individuals to invest in high-quality private real estate loans, opening up a traditionally difficult-to-access asset class.
Accredited Investors Can Self-Direct Diverse Portfolios
PeerStreet is open only to accredited investors who must self-identify as such when signing up. An accredited investor is a person or an entity that satisfies one of the requirements regarding income, net worth, asset size, governance status or professional experience. An individual must have a net worth of over $1 million, excluding his or her primary residence; or have a $200,000 annual income ($300,000 for joint incomes). The prospective investor will need to provide documentation of his or her qualification, in accordance with SEC regulations, when registering with PeerStreet.
The platform will also gather some information about the user and their goals. After that, investors are ready to fund their account and get started. PeerStreet typically offers short-term bridge loans for single-family residences, many of which are fix-and-flip properties and refinanced assets.
PeerStreet investors are primarily self-directed. Although the minimum investment is $1,000, users can invest more than that in a single loan. Alternatively, they can make the minimum investment on multiple loans. And, of course, they can just stick with one loan at minimum investment. This kind of versatility allows investors to direct and diversify their portfolios while still investing on their own terms.
Investors See an Average Return Rate Between 7% and 8%
PeerStreet doesn't originate the loans they list. "Most others in this space are direct lenders," Crosby said. "Instead of originating our own loans, PeerStreet works with local private lenders across the country." These lenders, all of whom are vetted by PeerStreet, are experts specializing in their local marketplaces; you won't find a loan originating from a firm in California being used to finance a property in Florida.
Although they're not dealing nationally, partnering with PeerStreet helps these lenders become more competitive on a national scale.
"We aim to add value to our lenders' businesses by providing them with the tools and resources they need to compete with national lenders," Crosby said. "PeerStreet believes that our platform improves the network effects of the real estate mortgage ecosystem, benefiting borrowers, lenders, and investors."
For investors, PeerStreet's process surfaces better quality loans in greater quantities. New opportunities are posted every day, Monday through Friday, at noon Pacific Time. Their abundance depends on the time of month, since private lending is month-end driven. At the beginning of the month, PeerStreet may publish up to 12 loans in a day, but at the end of the month, while they're busy underwriting, there may be as few as five.
Regardless of the number, each loan is secured by first liens on real estate. The loan-to-value ratios typically fall below 75%, and most are short term, between 6 and 12 months. "With our short-term product, investors can opt for even greater liquidity by committing to only one-month terms with the option to reinvest at the end of the month or withdraw their investment," Crosby said. This gives investors the opportunity to build diverse portfolios of loans across property, type, geography, maturity, LTV, originator, and other characteristics.
Users can select their investments one by one, or they can set their investment criteria and let the platform match them with loans within their preferred parameters. They can also take advantage of automated investing, in which they create an investment profile and receive a spot in the queue of other investors.
When a match for their profile emerges, and they're next in the queue, the system allocates their investment, and the user is then notified via email.

Investors can expect to see average returns anywhere between 6.5% and 10%, although PeerStreet admits the latter is relatively rare. Most see returns, on average, from 7% to 8%. And since PeerStreet doesn't charge investors any direct fees, once users are invested, they're straight into returns.
Instead of charging fees to users, PeerStreet takes a servicing fee from the loan itself during underwriting. These fees are a spread between the interest rate payable and the interest rate the investor receives — typically between 0.25% and 1.00%. This ensures that PeerStreet remains aligned with its investors' interests; PeerStreet only gets paid when its investors get paid.
No Principal Loss for Investors to Date
To date, PeerStreet has lost no principal for its investors, and foreclosure rates on the properties they fund are extremely low. This stems from PeerStreet's rigorous vetting of its partners; the platform is only open to experienced private lenders with good track records in the industry.
PeerStreet performs due diligence on every originator and loan. For each lender, this involves a review of its track record, financials, licensing and adherence to state usury laws, background checks, and its legal and underwriting processes.
For loans, PeerStreet performs independent underwriting through a combination of manual processes and big data analytics, compares independent evaluations like appraisals and broker price opinions, ensures compliance with PeerStreet's own underwriting guidelines, and reviews all legal documentation. When it posts a loan, PeerStreet also includes the originator in the listing, allowing investors to perform their own research as well.
In the event of delinquency and defaults, PeerStreet handles the workout process, protects its users' investments, and maximizes the proceeds.
"In the event of any delinquencies, we have a team in place of seasoned professionals to asset manage the properties," Crosby said. "We've strived to turn what used to be a very high touch investment model into a very low touch, passive one for investors." At every stage, investments are protected by PeerStreet's in-house team which has 97 years of combined experience in residential and commercial real estate.
Investors' funds are held by a bankruptcy-remote entity separate from the primary corporate entity. These funds are held in an Investors Trust Account with City National Bank and FDIC insured up to $250,000, so from the first click to the final payout, users can rest assured that their investments are safe and protected.
New Opportunities in Commercial and Multi-Family Residential Investments
PeerStreet has focused on developing the area of single-family residences rather than jumping into every asset class right away. "By working to perfect our model with one asset class as much as possible, we developed the foundational technology and operational efficiency to process loans quickly," said Crosby. "As we have grown, we've been able to leverage what we built to layer in additional products."
PeerStreet is now expanding into loans for small-balance commercial properties and for multi-family properties up to 50 units.
"As we onboard new types of loans and lenders, it creates more options for lenders and their qualified borrowers, and it allows investors to further diversify into new investment products," Crosby said. "Even within these asset classes, we are innovating different ways for people to invest in these loans."

Through these expanded offerings, PeerStreet is creating even more opportunity in a previously restricted area of investing. With new investment types available online, investors will be able to further diversify their real estate portfolios while still enjoying the relatively low risk of investing in first lien debt.