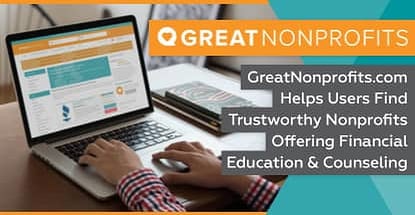 credit card news
Our experts and industry insiders blog the latest news, studies and current events from inside the credit card industry. Our articles follow strict editorial guidelines.
In a Nutshell:  With so many new businesses, charities, and nonprofits popping up all over the place, identifying a trustworthy company can be a challenge — especially when you're in need of financial services, and doing business with the wrong organization can result in damaged credit (or worse). To help distinguish the good nonprofits from the bad ones, you can use the ratings and reviews on GreatNonprofits.com. Created in 2006 by Perla Ni after she realized there was no comprehensive way to check the reputation of local nonprofits, today the site includes information on more than 30,000 organizations. GreatNonprofits allows the donors, clients, and volunteers who know each organization to best share their personal stories and experiences, making it easier to find, hire, and donate to a nonprofit with confidence.
In the movies, it's always easy to pick out the sleazy businessman — he's usually the guy with the slicked-back hair, overly white teeth, and a perpetual sneer. Unfortunately, in the real world, separating the legitimate companies from those running a scam can be a difficult task.
One way we try to avoid dealing with the profit-hungry villains we all know and hate is by going through a nonprofit organization. In theory, if the company isn't out to make a profit, it doesn't have any incentive to take advantage of anyone, right?
Not always. While most in the nonprofit sector are doing good work, it's hard to ignore the stories that suggest some of these organizations are actually covers for all sorts of nefarious activities — the least of which is usually making a lot of money for the people heading these organizations, rather than the causes they're campaigning for.
Thanks to the magic of the World Wide Web, however, it's become significantly easier to find groups working toward the public good, not the good of their own pocketbooks. One of the websites making it possible to find the best nonprofit organizations is GreatNonprofits.com, which was founded by Perla Ni in 2006, not long after hurricane Katrina.
"I was working at Stanford at the time as managing editor and publisher of the Stanford Social Innovation Review, which is now the leading magazine on nonprofit management, philanthropy, and corporate citizenship," Perla described.
Because of the nature of her work, Perla's friends and family interested in donating to hurricane relief efforts asked her for advice on which nonprofits were trustworthy. However, despite her career working for and with various nonprofits, she didn't have an answer for them. "Honestly, I was stumped because I was unfortunately not familiar with the small, local organizations doing great work down there in the face of disaster."
Thus inspired, Perla started GreatNonprofits, creating a place for people to rate and review the best — and worst — nonprofit organizations. According to Perla, a lot of the site's format was modeled after popular for-profit sites, like Yelp and Amazon.
"The nonprofit sector had no such mechanism for customer feedback — good or bad," she said, "and GreatNonprofits sought to change that."
Find Legitimate Nonprofits Vetted by a Community of Clients and Donors
While some people may find the best way to investigate a nonprofit is through its checkbook, Perla realized that posting columns of profit and loss statements or lists of grants made by each nonprofit wasn't what consumers really wanted.
"It's one thing for a nonprofit to toot its own horn, and flash a bunch of numbers that might be impressive while sitting in a board meeting," said Perla, "but eyes often tend to glaze over when presented with just a bunch of stats."
Instead, Perla designed GreatNonprofits to be a platform for the people who were actually familiar with the organizations to share their personal experiences.
"We knew if we could gather real reviews and heartfelt stories from volunteers who were the backbone of these nonprofits, and the clients whose lives were impacted in a big way by these organizations," she explained, "that we had the chance to really do great and important work."
So how does one identify the right nonprofit? Start by searching GreatNonprofits to find local organizations that offer the services you need.
Next, Perla suggested investigating the organization's reputation to get a better idea of how they operate. She recommended visiting the nonprofit, or even volunteering, to get a better feel for the place. Asking the right questions can reveal a lot about a company.
"There are, of course, organizations who've filed the correct paperwork and have the 501(c)(3) designation that may not be completely on the up and up," she described. "You need details like how they spend their money, are they really doing what they claim to be doing, etc. And that's where the first-person accounts on [GreatNonprofits] come in."
5 of the Most Helpful, Highly Rated Financial Education Nonprofit Organizations
As with other review sites, you'll want to make sure to weigh all of the accounts on GreatNonprofits when forming an opinion. While you may already be wary of positive reviews that sound forced or fake, the negative reviews should be considered in context, as well.
"One of the problems with a site like ours," said Perla, "is that disgruntled former employees with a bone to pick may not necessarily be truthful in their reviews. But if an organization is truly doing great work, the positive reviews will greatly overpower any negative ones."
For best results, look for organizations that have a large number of positive accounts and consistently high ratings, such as those on our list of nonprofits that can help expand your financial literacy.
1. Credit Card Management Services, Inc.
Offering financial education services for everyone from students to seniors, Credit Card Management Services (CCMS) is based in West Palm Beach, Florida, but serves consumers from across the country through its website Debthelper.com. The company boasts a 5-star rating on GreatNonprofits from a total of 90 reviews, including one from Rob in Corvallis, who said:
"Our counselor did a very thorough presentation and covered every critical element of a home equity conversion mortgage for us, making sure that we fully understood key components and considerations. We were given every opportunity to ask questions and felt comfortable doing so."
According to the CCMS entry on GreatNonprofits, their missions is, "To educate, advise and empower youth to seniors to handle debt, credit, and housing, and to provide affordable housing opportunities through the acquisition and rehabilitation of residential properties."
2. Elizabeth Stone House, Inc.
Serving the Greater Boston area, the Elizabeth Stone House has a mission to help homeless families and individuals attain — and maintain — security and financial stability. The nonprofit provides emergency shelter and transitional housing, as well as classes on financial literacy and job searching. Classes are offered to both Stone House and neighborhood residents.
It's no wonder the organization has a 5-star average, with 63 total reviews that mostly look like this one from a Stone House volunteer: "What keeps me coming back is the fact that this organization really supports its clients in many ways and in ways that allow individual success. The Stone House is a journey for its clients, not just a quick fix. Keep up the amazing work!"
3. Mind Treasures
Aiming to increase financial literacy through early education, Mind Treasures provides financial education workshops to elementary, middle, and high school students in Southern California. Mind Treasures states their target demographic as, "Communities where many hidden potentials, capabilities, and talents in children, youth, adults, and families are waiting to be discovered and developed."
The organization comes highly recommended, with all but one of their 56 reviews giving the company a solid 5-star rating. The one outlier? 4 stars.
According to one reviewer, "Mind Treasures is an amazing non-profit organization that really teaches children and adults of financial responsibility…they do a great job speaking in simple terms that everyone can understand and put into action."
4. Dannon Project
Designed to help at-risk populations, including those previously incarcerated for nonviolent crimes and now re-entering society, the Dannon Project has a 5-star rating on GreatNonprofits from 56 reviewers. The organization offers a range of services including education, housing assistance, job placement, job readiness, financial literacy, life skills, career counseling, mentoring, and more.
A number of the reviews for the Dannon Project come from the clients they've served, all raving about their experience, including Dawn, who wrote:
"I became a participant of the Dannon Project in late November, early December of 2010. Since enrolling in the program, The Dannon Project has been of tremendous help to me in many ways. TDP offered me courses on life skills, financial literacy, and finding out about all the various college options open to me."
5. Women's Resource of Greater Houston
As stated on GreatNonporfits, "The Women's Resource of Greater Houston provides free financial education and research so that women and girls have the knowledge they need to make sound financial decisions and improve their lives."
A total of 27 reviews gives the organization a strong 5-star average rating, with volunteers, donors, and clients all touting the effectiveness of the programs. One client, Mable, uses the organization's programs with her adult education students.
"The Women's Resource Center provides my adult students with invaluable and lifelong financial education knowledge and skills," she wrote. "The curriculum is very organized and client-focused. My students look forward to each course. The Women's Resource Center's staff, volunteers,and courses are amazing!"
Use GreatNonprofits to Pay It Forward
While it would certainly be easier to identify the bad nonprofits from the good if nefarious folk were as easy to spot as their villainous movie counterparts, the task can be made a little easier by checking out the reviews at GreatNonprofits. Finding the right organization to help you improve your financial literacy could be a few clicks away.

Don't forget that nonprofits go both ways, though; make sure to pay it forward by donating your own time or money to a great nonprofit organization. However, do your due diligence here, too.
"Avoid [nonprofits] that can't tell you how the money will be spent, and be wary of organizations that only want donations in cash," she warned. "And don't let yourself be pressured into making a donation on the spot; don't be afraid to say no so you can do more research — and, of course, for that we suggest GreatNonprofits."