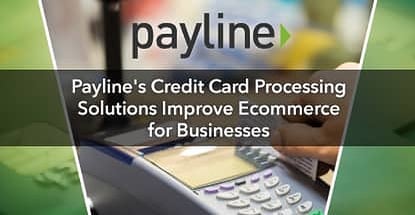 credit card news
Our experts and industry insiders blog the latest news, studies and current events from inside the credit card industry. Our articles follow strict editorial guidelines.
In a Nutshell: Payline Data provides mobile, online, and in-store payment processing solutions on a clear, interchange-plus pricing model with no hidden fees, helping businesses keep more of the revenue they earn. Seeking to help its clients better perform, Payline offers analytical tools, 24-hour support, and a soon-to-be-released customizable API to improve the way businesses transact online and off. In addition to donating a portion of the fees it earns, Payline awards larger grants to nonprofits in need, embodying its founding principle of helping others.
Have you ever seen a framed dollar bill at your favorite local coffee shop, pub, or boutique? When other small business owners catch a glimpse of that tattered dollar behind the glass, they know it represents careful calculations, sleepless nights, and hard work. That first dollar — however long it takes to earn — marks a proud milestone.
Getting to that milestone today means overcoming greater challenges thanks to evolving payment technologies such as recurring billing, chip-based credit cards, and tap-to-pay digital wallets. Now, small business owners must contend with finding the merchant processor that offers fraud protection, customer insights, and the tools to their support growth, among other considerations.
Jeff Shea and his business partners knew from past endeavors that setting up a merchant account was no easy feat. Pricing for payment processors was often unclear, and hidden fees seemed to appear on every bill. Before Jeff co-founded Payline Data in 2009, that experience was the norm for many small to mid-size businesses.
"Payline was essentially birthed out of the recession due to the fact that a lot of merchants started paying more attention to their service provider bills," said Paddy Houlihan, Director of Partnership Marketing for Payline. "[They] noticed that things were out of whack or overpriced."
When we spoke with Jeff and Paddy recently, they described what makes Payline different from the large credit card processors in the industry. Not only has Payline continued to provide its users clear, interchange-plus pricing with no contracts or cancellation fees since day one, the company was also established to provide another commendable service — giving back to local communities and charities.
Multi-Channel Credit Card Processing Tools: How Payline Helps Make Businesses Boom
Early in the conversation, Jeff's mention of his company's flagship product piqued our interest. Later this year, Payline will release a complete e-commerce API as its solution for all things credit card processing.
The robust API is customizable for any business model and complements the mobile and retail solutions currently available in Payline's lineup.
"We're really focused on improving e-commerce in general for our businesses, not just giving them a service that they need to use," Jeff says. "So for us, we're focused more on the tool set and making payments a part of that solution instead of [payments] being the solution."
While Payline has offered online and mobile credit card processing tools in addition to its retail POS integrations, the new API will allow for even more control over the look and feel of checkout for its client businesses.
Building on Online Tools, New API Takes Success a Step Further
"Our flagship product is our e-commerce API," Jeff says. "And we've developed it as a platform for other platforms to further break down barriers with an automatic onboarding solution."
Jeff explained that this new API solves a lot of fraud and compliance issues as the responsibility for those aspects of processing will shift back to Payline for users of the API. The API also includes an auto-updater tool to keep credit card information up-to-date for recurring billing.
The current web solution and the new API coming later this year offer integrations with more than 125 digital carts, and both provide consumer insights from transactions and 'round-the-clock support along the way.
Solutions for Checkout at Retail Service Counters
For brick-and-mortar companies, Payline has partnerships with several POS systems and simplified terminals to help supply businesses with chip card readers. Through the provided hardware, Payline clients can also accept contactless payments, like Apple and Android Pay, from mobile devices.
Customer insights, as well as inventory and sales data, is shared through the cloud-based analytics tool available for retail stores.
Mobile Processor to Power On-The-Go Sales
Most mobile solutions include a dongle for swiping cards right on a mobile device, but Payline takes it a step further by offering chip card processing through its mobile attachment.
For just $10 a month, businesses can add up to five devices and restrict access to certain features for different employees with Payline's mobile processor.
Another useful feature available on mobile devices is the ability to take payments offline, which means businesses don't have to worry about WiFi and cell signals. Activity is stored in the cloud for inventory management and access to consumer insights via transaction details.
Payline Giving: How Jeff Ensures His Company Stays True to its Core Values
As Jeff and Paddy walked us through their offerings and detailed the charitable activities Payline supports, it became clear how much they live with a passion for creating a positive impact.
While Payline helps small businesses save on credit card transactions with transparent pricing and offers tremendous support from its highly rated customer service department, the Payline Giving program enables the company to support nonprofits.
From monetary donations to taking the time to serve in community events, Payline Giving keeps employees accountable as they strive to uphold the founding principle of giving back.
Donations in the Form of Grants and a Portion of Processor Fees
Payline functions on a cost-plus pricing model, which means businesses are charged the individual card's issuer cost or interchange fee in addition to Payline's competitive percentage per transaction. Nonprofits that join Payline's commercial co-venture program receive a portion of the company's processor fee, providing much needed recurring revenue.
In addition to providing monthly cash flow, Jeff explained to us how Payline issues lump sum donations in the form of grants to deserving charities. Through this branch of the Payline Giving program, more than 300 nonprofit organizations have received grants that help to cover event coordination costs and other expenses.
Deeply Discounted Pricing for Nonprofits to Accept Credit Cards
The interchange-plus pricing model, while already a better deal than processors that further markup costs, is discounted for charitable organizations that need to accept credit cards.
As long as the organization can prove that most of the donated funds it receives go directly to a worthy cause, Payline offers pricing that helps nonprofits keep more of every donation.
Employees Compensated to Donate Time to Local Charities
Because giving back is at the core of Payline's company culture, every employee receives three days a year to give back to a cause of their choice. Payline compensates that time, and employees share their experiences by sending out or discussing in a meeting how they served.
In addition to individual giving, Payline coordinates charitable group activities such as preparing meals at the local Ronald McDonald House. Jeff explains that what makes his company special, apart from the pingpong table and graffiti-themed conference room, is the focus every employee has on giving back to help others.
Iteration: How Payline Continues to Keep Pace with Evolving Credit Card Technologies
Many business owners today might not get to frame their first dollar bill thanks to electronic payment methods like debit and credit cards, but the feeling remains the same as revenue trickles into their merchant accounts — success!

Payline wants to make that transition as smooth as possible with its transparent interchange plus pricing model that saves business owners money at every swipe with no contracts or hidden fees. Built to build businesses and communities, Payline has donated a portion of every transaction to nonprofits since it was founded back in 2009 at no cost to business owners.
With evolving checkout solutions for mobile, web, and retail locations, Payline is poised to help its clients and its charities for years to come.