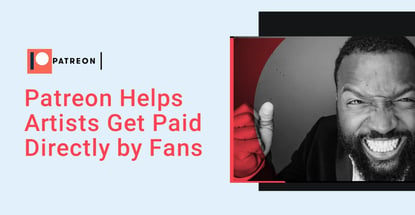 credit card news
Our experts and industry insiders blog the latest news, studies and current events from inside the credit card industry. Our articles follow strict editorial guidelines.
In a Nutshell: Creators have multiple avenues to deliver content to consumers but they often face a number of challenges when it comes to getting paid for their work. Patreon offers a convenient platform for fans to pay the artists and creators they appreciate directly. This direct avenue between its nearly 200K creators and 5 million patrons also forges a stronger connection and can build even more appreciation for the work. Patreon is available for creators in a wide range of industries and offers three monthly subscription options to help them bypass the obstacles in other platforms and start getting paid more fairly.
Artists, musicians, storytellers, and all manner of content creators have multiple ways to reach bigger audiences than ever before thanks to the internet. And while the exposure is nice, many creators would tell you that actually getting paid for their work so they can, you know, keep doing it, is even better.
The most popular podcasts are free, and podcasters may accrue hundreds of thousands of listeners and not turn a profit. Meanwhile, YouTube creators are posting videos with views in the millions, and the payout — from YouTube anyway — is meager to say the least.

"Artists make great work, and it reaches so many people — people who legitimately value and care about it," said Carlos Cabrera, VP of Finance at
Patreon
. "And yet, the infrastructure of the internet is set up in a way to drive the cost of art down as close to zero as possible."
Musician Jack Conte ran into this exact problem back in 2013. His YouTube videos were getting millions of views, but he was not being compensated accordingly.
That's when he came up with the idea for Patreon — a service that now lets 5 million fans pay nearly 200,000 creators directly to help support them.
While YouTube may provide a great viewing experience and Spotify may provide a convenient listening service, Cabrera said, those systems are set up to attract consumers, not to compensate artists in a fair manner.
More Easily Monetizing High-Quality Work
"The problem Patreon set out to solve when the company started was simply to help you get paid, if you, as a creator make stuff and reach people with your work but aren't being compensated," Cabrera said. "And Patreon became the best in the world at that."
The idea is simple — artists and creators continue posting their work online, just as they always have, to reach their audience. But rather than being forced to rely solely on those same platforms for revenue, they can receive payments directly from fans.
"With a subscription-style payment model, fans pay their favorite creators a monthly amount of their choice in exchange for exclusive access, extra content, or a closer look into their creative journey," according to the company.
The gamble in launching a platform like Patreon was whether people would be willing to voluntarily pay for the work of creators they like. With so much free, high quality content on the internet, consumers can be entertained 24/7 without spending a dime.
But the fans are pulling through, and many creators earn a significant amount of their income through Patreon.
"Payments from fans directly to the content creators is such a better system for financing their work," Cabrera said. "For one, when a fan pays a creator directly, the creator is going to make more money."
That's because when a fan pays a platform, the platform takes its share then distributes the rest of the payment based on the platform's own structure, whether it's number of views or downloads, he explained.
"Ask anyone who's on Spotify or Facebook or Medium, or whatever," Cabrera said. "They will tell you that."
"Stop rolling the dice of ad revenue and per-stream payouts," according to Patreon. "Get recurring income through monthly payments from your patrons."
Creating a Stronger Connection with Fans
"The second thing that's important about this platform is that there is this direct relationship between the fan who cares about your work and the artist," Cabrera said. "So, if you're a musician and you're going on tour and you want to message people who listen to your music on Spotify or watch your YouTube videos, good luck."
Patreon is different because it is essentially a set of tools designed for small and medium-sized media companies, he said.
"No ads, no trolls, no algorithms. Enjoy direct access and deeper conversations with the people who matter the most," according to the company.
"We treat creators like small businesses," Cabrera said. "You own your customer data and your audience data on Patreon."
And as far as algorithms, Cabrera said they only serve to feed people more content on popular platforms. The algorithms aren't designed to build connections or to necessarily deliver high quality content. Oftentimes the recommendations in certain platforms are clickbait simply meant to get the consumer to engage longer.
"If you look at the market research about the impact on consumers, a lot of people don't actually end up feeling good about that time they just spent," Cabrera said. "They don't value the content, and you're not actually becoming a better person."
With Patreon, creators have a direct avenue to reach their fans and can give them content they care about. Many Patreon creators even offer exclusive content reserved for their Patreon supporters.
Selecting from an Array of Products for Your Industry and Level of Engagement
Patreon helps creators by offering several product tiers and serves a wide range of creative industries, including podcasters, musicians, visual artists, writers, gaming creators, and many more.
"It's easier than you think. There are many ways to delight your fans and every creator can find their own," according to Patreon.
For 5% of the income earned on Patreon, creators can subscribe to Patreon Lite, the platform's base product. It provides simple tools to set up recurring support from your fans and run a membership business.

The membership essentials include a hosted creator page where the creator can invite fans to become patrons and post updates and content exclusively for them. Creators also have the ability to communicate with supporters directly via email and direct messaging.
Clients also receive support from Patreon's Creator Success Team to learn how to set up their pages, what to offer, and how to talk about Patreon with their fans.
Patreon Pro costs 8% of monthly income earned on the platform and includes all the benefits of the lower-priced packaged with the addition of unlimited membership tiers.
"Membership tiers are levels of membership with different benefits and prices. We help you optimize your tiers, and track and deliver benefits to patrons," according to the company. Pro members also gain access to the Special Offers promo tool and analytical tools and insights.
Finally, the Patreon Premium tier, for 12% of the client's monthly Patreon income, is aimed at established creative businesses.
"Step into a partnership with Patreon where you get everything in Pro, plus more influence, opportunities, and access," according to the company. "Work 1:1 with a Dedicated Partner Manager to help you grow your membership, take advantage of our full service Merch solution, and access our Team Accounts feature."
Rolling Out Support for Multiple Currencies and Payment Methods Around the World
Cabrera said Patreon is always working on refining its product and bringing more value to its customers. And part of that effort means reaching as many audiences as possible.
"We want to roll out support for as many currencies and payment methods globally as possible," he said. "There are so many creators in India and Brazil, and Mexico and Canada. and all these places where we need to support their local currencies and payment methods better."
The company is also working on translating its platform into more languages.
"Internationalizing our product and localizing our product is a key priority for us over the next year," Cabrera said.