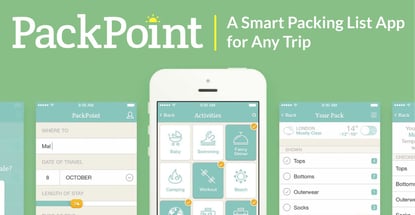 credit card news
Our experts and industry insiders blog the latest news, studies and current events from inside the credit card industry. Our articles follow strict editorial guidelines.
In a Nutshell: Remembering all the items to pack for a trip is not an easy task. PackPoint is a smart packing app that generates a list based on user input such as destination, dates and length of stay, and planned activities. The app even checks the weather to recommend what types of clothing to pack. Most of the app's functionality is available for free in the regular version. But for $2.99, PackPoint Premium integrates with TripIt, Evernote, and offers more customizable options. The company values user feedback and offers a portal for app users to post suggestions directly on the website.
The day had finally arrived — the start to a much-needed long weekend at the beach. Our young son was more excited than anybody to arrive and begin splashing in the waves as soon as possible. (This was also the day I learned that the old popular culture trope of children constantly asking, "Are we there, yet?" on road trips is absolutely based in fact.)
A couple of days earlier, I had written out a quick list of items to pack for our trip. I had all the essentials covered — when we arrived everybody had underwear and toothbrushes — but forgot to add our son's swim trunks to the list. And, therefore, the swim trunks stayed home while the rest of the family went to the beach.

My son didn't get to venture out into waves that splashed much higher than his ankles that day, but thankfully a family member had spare trunks my son was able to use for the rest of the trip.
These kinds of packing woes are familiar to anyone who's ever taken a trip only to get to their destination and realize they left something important behind.
PackPoint is helping to put an end to the days of incomplete packing lists and forgotten items. The smart app helps travelers organize and account for all the items they will need for a trip, based on where they are going, what kind of activities they have planned, and much more.
As with so many useful innovations, PackPoint was developed out of necessity.
"I traveled constantly from 2004 to 2013, roughly, for work," said Ben Gillenwater, Founder and CEO of PackPoint. "I would always just manually make a packing list in Evernote. But sometimes I'd go from like Singapore, to Toronto to L.A. to D.C. And you're trying to figure out what to bring based on the weather and I would be going from a tropical environment to snow."
Gillenwater said that around 2012, he began exploring travel apps that could help make his planning and packing routine easier. But the user experiences were very poor within the apps he found available at the time.
PackPoint Makes Preparing for Trips a Breeze by Building Packing Lists Based on Custom Input
Gillenwater said that, when he first explored the travel app marketplace, he was just interested in finding a personal solution to make his life a bit easier. But with a background in technology and expertise in evaluating apps, he soon came to the idea for PackPoint.
"So, I started making PackPoint and released the first version in the summer of 2013," he said. "It got picked up by the media right away. The first week that it was released on iPhone, Apple put it on the front page of the App Store for a week. That was super stressful and super awesome."
But Gillenwater's app stood up to the scrutiny of both the Android and iOS crowds, and he has been iterating the app ever since, making tweaks and improvements while keeping the features users find most valuable.
"PackPoint will organize what you need to pack based on length of travel, weather at your destination and any activities planned during your trip," according to the company website.
Users simply answer a few questions about themselves, their trip itinerary, and their destination, and PackPoint builds a custom packing list.
Whether users will be traveling internationally, hiking, swimming, going to business meetings, or any number of other activities, PackPoint creates packing lists accordingly so users will have everything they need for their trip.
Gillenwater said the app's functionality is based on his own needs at the time he developed it.
PackPoint users can also share their lists with other travelers.
"Your packing list gets its own website," according to the website. "Share your website link with fellow travelers so they'll know what to pack too."
The Premium Tier Allows Users to Connect with Other Valuable Travel and Planning Apps
Most of PackPoint's features are available in the free version of the app, but the company does offer a premium tier for those travelers who want to delve deeper into automating their packing preparations.
"PackPoint Premium has the following features," according to the website. "Connect to TripIt — auto-create all of your packings lists; Connect to Evernote — view your packing lists across all of your devices; Customize PackPoint with your own activities and packing list items."
Gillenwater said that most PackPoint users stick to the free version, which is how he intended people to use the app in the first place.
"The free version has everything most people need. It's like, use this for free. It's a useful thing. Your hands aren't tied if you don't upgrade," he said of the features and functionality available in the regular, free version of PackPoint.
He said integrating with TripIt is a valuable feature for frequent travelers.
"It automatically takes in your travel itinerary," he said. "It will scan your inbox whenever you book a trip and grab the details of that trip, and keep you updated like if your flight is delayed, things like that. Sometimes it will tell you before the airline does."
Gillenwater said he's fond of this feature because he is a TripIt user himself.
He said once TripIt sees that a person has a trip scheduled, it will notify PackPoint, and the user will get a notification from PackPoint to help initiate building a packing list.
"It will have the dates already plugged in and everything, and you just have to tell it what kind of activities you're going to be doing," he said.
PackPoint Premium costs $2.99.
Listening to Customer Feedback and Suggestions for Improvement are a Priority for the Company
Although Gillenwater developed PackPoint around his own needs and vision for a packing app, ever since the platform launched in 2013, he has welcomed user feedback.
In fact, the PackPoint website features a support page that includes a quick-and-easy input field where users can submit recommendations directly to the company by posting them on the site.
"There have been 56 suggestions that've come through that we've completed," Gillenwater said.
The website shows these and other user-submitted recommendations that can be sorted in a variety of ways. Users can see which ideas have been declined, which ones are under review, which ones are in progress, and which ones are currently planned.
Gillenwater even comments on some of the recommendation posts to let the users know if he thinks their suggestion is a good one, and to thank them.
The PackPoint website also makes it easy for users to contact customer support with the click of a button.
It appears that most PackPoint users are pleased with the platform just as it is, with its simplicity combined with utility. The app is rated 4.7 out of 5 stars, with 669 reviews in the Apple App Store. It enjoys a near-perfect rating in the Google Play store, has 29,779 reviews, and is a Google Play Editor's Choice Award Winner.
"I have used it to pack our bags for overnight stays and vacations for years!!! Love it! Best app I have found! Love all the categories! The first year I used it, I had an 11-month-old. And I did not forget anything! Had everything I needed for vacation!" — Evette Calais, PackPoint user
Other users espouse how PackPoint not only saves time but helps to remove stress around the packing process.
"I view packing as one of the most stressful things in the universe and I'm about to study abroad for a month, so I was freaking out big time, HOWEVER, this app has made packing such a stress-free experience," wrote Lexi Eubanks.
There's nothing quite like seeing a disappointed kid at the beach. Hopefully, with the help of PackPoint, all requisite swimmies and other beach gear (for safety and fun) will be packed by dad in the future.