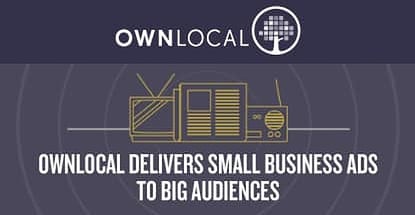 credit card news
Our experts and industry insiders blog the latest news, studies and current events from inside the credit card industry. Our articles follow strict editorial guidelines.
In a Nutshell: Every day, American small businesses close their doors for the last time, usually from a lack of funds or consumer demand. A solid, focused — and affordable — advertising plan could have prevented many of those closures. OwnLocal serves more than 250,000 SMBs worldwide with a platform that takes traditional offline advertising and converts it into online marketing campaigns that are attractive and effective in reaching target audiences. The company's services have resulted in increased profitability and engagement across industries, including financial businesses, including financial institutions, that require an online presence in today's marketplace to capture the eyes of potential clients.
"My neighbor has run a tax preparation and accounting business in the same location for more than 30 years. There's pride in lasting that long in a competitive field — he told me his son joined the family business several years ago.
I rarely see him during tax season. He spends most nights in the office long after his wife's gone to bed. This year was different. One weekday afternoon, I spotted him on his hands and knees working in their garden.
I figured his son had taken over full time — then I saw his son. Despite 30 years with an impeccable reputation, he struggled to attract new customers. A two-person operation working with existing clients instead of spreading the word to find new ones is no match for big-box tax preparers armed with massive advertising budgets.
Every day across America, small businesses close their doors for good because they can't get their business' story told. Many have tight marketing budgets and others are either confused or have lost confidence in spending money on advertising that fails to make the cash register ring.
Advertising firms catering to small businesses are plentiful, but their results don't always measure up to the hefty rates they charge, not to mention they price the majority of small businesses out of the market. OwnLocal spotted this problem and creates advertising solutions that nearly all SMB owners can fit into their budgets.
"We specialize in delivering products to small businesses that are affordable, easy to understand, and show clear results," said Landon Morales, OwnLocal's Chief Revenue Officer. "Not any hocus-pocus stuff."

A 2010 Y Combinator company, OwnLocal developed a platform focused on resuscitating a stagnant newspaper industry struggling to adapt to a digital marketplace. The exposure brought in several high-pedigreed investors that helped the company evolve into one that serves more than 250,000 SMBs worldwide.
The process extracts information from a client's traditional offline ads and enriches the content for digital distribution by way of a portfolio of products. Search Engine Optimization (SEO) aims to boost search ranking to make a business visible to more focused audiences, while revolutionary new online display ad technology drives engagement, captures leads, and changes the way that audiences interact with online advertising.
For financial businesses, an online presence is a must to cultivate the kind of standing people demand to trust you with their money. Print ads, though historically beneficial, have lost much of the luster they held two decades ago. Finding the proper footing online is key to the survival of any SMB.
"We're creating products that fit into a space that many attempt to serve, but few actually are," Landon said. "We work with local businesses that don't have thousands to spend every month, but still need a product they can afford that delivers value."
Save Money and Gain Customers with Ads that Attract Eyes
Landon said the company's clients include SMBs with monthly marketing budgets that range from $20 to $2,000.
Many businesses are already spending that money on traditional advertising before they partner with OwnLocal. Paid advertisements on popular websites are standard in today's market, but Landon said they don't typically deliver what the advertiser expects.
"Google and Facebook account for around 90% of the digital advertising growth every year," he said. "These solutions are rational from a product perspective, people can wrap their heads around them, and they're affordable so people buy them. However, both are only one piece of a proper multi-channel strategy. Neither has proven to actually make the register ring for local businesses on their own."
Research shows that 32% of small businesses invest in social media as their sole advertising method, with 25% investing in broader online marketing. A paltry 17% of businesses invest in SEO strategies that boost search rankings.
OwnLocal's Origami platform is the next step in the company's plan to tackle all three of those platforms in one blow. The platform converts ads with vital company information — such as hours, sales, store directions, and calls to action — and places them in an interactive unit that is distributable on websites and socially, providing deep engagement without directing the consumer away from the website they're visiting.
"You don't have to be afraid to interact with advertising anymore," Landon said. "These are not going to throw 5 pop-ups on your screen or shoot you out into the ether and interfere with your experience. Engaging in advertising can be a pleasurable experience and come to you on your own terms."
Serving Demographics Typically Overlooked and Overcharged
Small businesses on an individual basis are not the most profitable targets for online marketing firms, but if a product meets the client's expectations, relationships grow along with the business. OwnLocal takes that approach to each of its customers and media partners that use their services.
"We partner with over 3,500 media companies globally," Landon said. "We work with almost all major publishing groups in the US and Canada. Our ads and platform serve billions of impressions every month across thousands of websites."
Those relationships drive the delivery of SMB ad content to its target local audience, not someone on the other side of the world who will never visit your storefront. OwnLocal's ad content serves multiple purposes — extend the reach of its clientele's message while changing consumer perceptions of online advertising.
"If we can create a symbiotic relationship between advertisers, website publishers, and audience members, that's the ideal foundation to begin evolving digital advertising into something that can benefit everyone," Landon said.
"Our specialty is working with SMBs, but our stuff can work for anybody. At the end of the day, it's digital marketing, regardless of the size of the business."
OwnLocal Helps SMBs Attain Big Marketing Strategies
Roughly 80% of all new businesses survive past their first year. Nearly half fail before their fifth anniversary. Many factors come into play when a business closes up for good — lack of funding, low demand for the product or service, and poor location are among the most common.
Proper advertising can improve a business's chance to succeed. If you have a product or service that people want, they'll be willing to endure a location inconvenience to get it. Funding looks a lot better when you have sales.
Many SMBs spend their marketing budgets every month on paid ads that give little return on investment. Clicks and likes are nice, but sales are what keep the doors open. If your small business is in need of a boost, your targeting tactics may be to blame.
OwnLocal's digital marketing strategies take traditional offline advertisements you already have in place and turn them into attractive online tools that engage new customers. Each ad is specifically tailored to effectively tell your business' story without being obnoxious or disruptive to web surfers.
Whether your business is new or 30 years old, the need to attract new customers never ends. OwnLocal's advertising platform helps small businesses move from the minors to the majors by placing their message in front of consumers who will drive sales, profits, and long-term success.