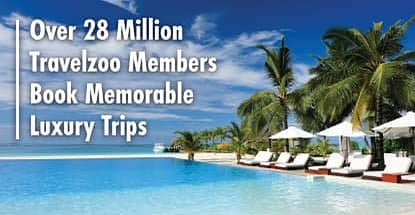 credit card news
Our experts and industry insiders blog the latest news, studies and current events from inside the credit card industry. Our articles follow strict editorial guidelines.
In a Nutshell: Most modern travelers know what they're looking for by the time they're ready to book a trip. Their next step in making the getaway memorable is securing the best possible deal on airline tickets, hotel stays, and other accommodations. Travelzoo has more than 28 million members, which enables the company to offer prices that add value without degrading the travel experience. Travelzoo Senior Editor Gabe Saglie said he currently sees great value in top destinations thanks to competition and extra inventory. Travelzoo users can book individual travel arrangements, like flights, hotel stays, or cruises, or larger all-inclusive packages that can include local attractions, restaurants, and other experiences.
Consumers are wary in this age of infomercials and spam email when a product is labeled as "improved" or "better than ever." I've trained my ears over the years to shut off when I hear, "But wait, there's more."
These overused sales pitches aren't reserved for ultra-sharp knives or adhesive tape that repairs sawed-in-half boats; they are found across all sectors of the commercial landscape, including travel.
Some travel provider websites say their prices are lower than those of their competitors, or the lowest they've been in years, which is a hard thing to prove. Travelzoo bases its claims on years of experience and the results of its employees actually purchasing travel offers through the company's test booking centers scattered throughout the US.
In those centers, Travelzoo employees book vacation packages that can vary from trips to a local spa to castle rentals in the heart of Ireland. Booking the packages before they're published to the websites guarantees the process runs smoothly and provides premium value to the customer.

With around 500 employees working in cities across the US, Europe, and Asia, there are very few destinations where Travelzoo doesn't offer accommodations.
"We're unique in the travel space because we conduct our business through a very hands-on process," said Gabe Saglie, Senior Editor at Travelzoo. "A vast majority of the content you see on our website is content we've vetted, curated, and hand-tested. When we claim that a price is the best we've seen in a long time, it legitimately is."
Travelzoo's pricing deals personally curated by global travel experts can't be found anywhere else on the internet. The discounts save consumers money on the cost of a trip without degrading the experience.
"We're big on value — which shouldn't be confused with being cheap," Saglie said. "We work with high-end brands, like the Four Seasons and Fairmont Hotels, as well as cruise lines and vacation packages that specialize in things like five-star safaris in South Africa."
Travelzoo members can book just airfare or hotels, or they can take advantage of deals on all-inclusive vacation packages that include trips to local attractions, restaurants, or other outings.
Visit Destinations Around the Corner or Around the Globe
There truly is no limit to Travelzoo's vacation offerings — whether you're looking to take a cruise or plan a night on the town. Even if you aren't sure where you'd like to go, the website has a curated list of its 20 best deals that updates every week to include a little something for everyone.
The breadth of those deals has drastically changed over Saglie's time with Travelzoo — something he says works to the advantage of the traveler. With so much competition among hotels and airlines, each company must be agile in providing its best offer at any given time.
"Hotels can no longer throw up a sign saying you can spend the night there for $90," he said. "Because so many of their competitors are offering the same thing, they have to go above and beyond that and target people's interests. Hotels now draw people in by offering experiences at in-house restaurants or proprietary treatments at an in-house spa that offers locally sourced ingredients."
Travelzoo's vacation packages reflect those perks, which Saglie said often gives members access to "five-star vacations at three-star prices."
A Dynamic Member Base Keeps Travelzoo Inspired
Travelzoo's more than 28 Million members have diverse needs and tastes, which shows up in the company's online offerings and email newsletter promotions.
"Most of the people who subscribe to our newsletter and use us to book their travel are Travelzoo members who tend to be well-traveled and selective," Saglie said.
Saglie said the company employs a well-traveled workforce as diverse as its users, which allows the company to speak to all of its demographics at once.
"We practice what we preach," he said. "We're encouraged as employees to book and travel based on the packages we publish so we can offer even more information on what we're promoting."
With a wide audience regularly checking Travelzoo for the latest travel deals, the company has no choice but to remain on its toes because it's serving a very dynamic audience with travel-savvy needs.
That group includes people traveling alone to multi-generational travel, where several members of a family embark on an adventure together.
"The solo traveler and large-group travel sectors are both growing simultaneously for us," Saglie said. "Information is abundant and available in moments when you're seeking to plan a trip. That makes it easier to think outside the box when planning to go somewhere by yourself or with your family."
Saglie said current solo travel rates are as affordable as they've ever been since most hotels no longer charge an added fee for single occupancy and airlines are offering more flexible seating options for single fares.
Finding Your Best Deal is All About Flexibility and Seasonality
Saglie noted that finding the best deal on a dream trip sometimes requires a little more than visiting Travelzoo since timing can be your greatest ally when seeking the best bargains.
"Flexibility is king when it comes to stretching your travel dollar," he said. "If you want to experience a luxury vacation in a place like Ireland, the time of year you go is going to dictate the value you get. Going in the winter season will bring much more value than the summer. Seasonality is a major driver in travel pricing."
Traveling during the shoulder seasons — the period between peak and off-peak seasons when demand is lower and popular destinations are less crowded — can unlock great savings. With some major year-round destinations, though, the day of the week you travel can be even more crucial than the season.
"A five-star hotel in a city like New York will be more expensive on a Monday or Tuesday, when business travel kicks pricing up, as opposed to Thursday and Friday when the business travel has left and these hotels have empty rooms to fill," Saglie said. "Leisure destinations like Las Vegas can be 20% to 30% cheaper if you go on a Tuesday or Wednesday as opposed to the weekends, when everyone else wants to go."
While understanding what goes into travel industry pricing can help determine the best time for deals, millions of members let Travelzoo do the work for them. By subscribing to the company's email list and regularly checking the platform, these travelers get the peace of mind that comes with knowing they aren't overpaying for their trips.
And as technology advances, Travelzoo is expanding the way its users engage with the company.
"We're no longer just a website," Saglie said. "We're a company that dedicates a lot of its energy to its mobile app. We're maintaining a variety of social channels where we deliver not only deals, but aspirational imagery or video content that is going to spark interest or plant an inspirational seed for travel."