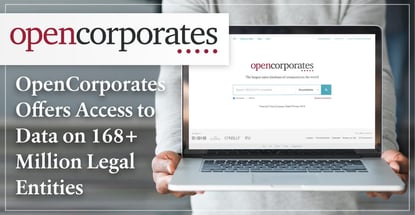 credit card news
Our experts and industry insiders blog the latest news, studies and current events from inside the credit card industry. Our articles follow strict editorial guidelines.
In a Nutshell: As global corporate organizations grow ever more complex and automation increasingly influences how business relationships evolve, the need for universally accessible non-proprietary data on corporate legal entities becomes more acute. Filling that need since 2010 is U.K.-based OpenCorporates, a web service that collects company information from public sources in more than 130 jurisdictions and makes it available for anyone in the world to search. Now housing data on more than 168 million companies, OpenCorporates is a social enterprise that acts in the public interest to increase business transparency and trust on behalf of all stakeholders, including corporations themselves.
Corporate structures have become more complex than ever. Nowadays, even the most straightforward-seeming businesses exist within a web of relationships that can stretch across the globe and encompass hundreds or even thousands of distinct legal entities.
Which can be all to the good — business owners and managers rightfully pursue creativity in business practices to meet their fiduciary responsibilities and increase the bottom line. From its headquarters in London, OpenCorporates untangles the resulting webs and shines a light on corporations for everyone to see.
"We founded OpenCorporates in 2010 with a clear idea that we wanted an open database that had all the companies in the world in it," CEO Chris Taggart said. "The truth is that even relatively small companies might be made up of many different legal entities. And once you start getting into things like tax planning and offshore jurisdictions and so on, things get complicated very quickly."
Nine years later, OpenCorporates has over 168 million companies in 130 different jurisdictions within its database and is used by over 1 million people each month.
Jurisdictions are nations and other political entities around the world that maintain registers of the companies that are incorporated there. In the U.S., each state maintains its own register.
The problem is that none of these registers, which may be regarded as a legacy form of recordkeeping, cross jurisdictional boundaries. And that obscures the multinational reality of modern corporate relationships.
"Even though they're an authoritative source, company registers have been astonishingly siloed," Taggart said. "Until OpenCorporates came along, the data hadn't been properly used."
Standardizing Corporate Data from Official Public Sources
There are significant problems with proprietary identifiers and the datasets linked to them. For example, the DUNS Number, which was created by Dun & Bradstreet in 1963, and became a de facto standard in public procurement in the U.S.
The U.S. General Services Administration recently ended its relationship with DUNS amid controversy over data ownership and access.
"That's a really good indication that black-box data — data that doesn't have provenance, that's unclear as to what it represents, and that has proprietary IDs — just isn't suitable for the world we live in today, where power comes from not just having good data but understanding where that data comes from. That metadata is the thing that allows you to combine it intelligently, one dataset to another," Taggart said.

Unlike traditional proprietary information providers, OpenCorporates pulls only from
provenanced primary public sources
.
"We don't buy information from third-party companies," Taggart said. "We access official sources, we make sure we understand it — which is really hard sometimes — and we standardize it and put it in one place so everyone in the world can search it. And it's all free on the web to anyone, without even needing to register."
Data availability varies from jurisdiction to jurisdiction, and OpenCorporates collects data in several ways. One way is by integrating directly with a company register through the service's own programming interface. It also seeks access through other public channels, even going so far as to advocate and campaign for open data policies in jurisdictions that are resistant.
"One of our preferred methods is to have company registers publish open data that anyone — not just ourselves — can have access to," Taggart said.
How Public and Private Stakeholders Benefit
As a participant in what has been characterized as an "openness revolution" emanating from the global financial crisis of 2008-09, OpenCorporates stands as an enabler of a new kind of holistic business intelligence driven by technology and valued by stakeholders across a wide spectrum of interests.
"You know, every time you do business, as a customer or as a supplier to another company, you're taking a risk," Taggart said. "You're taking a fiduciary risk — are they going to pay you, are they going to ship the goods? You're taking a legal risk — who's connected with the company? And, finally, you're taking a reputational risk. Not knowing who's behind a company or what the company does can be highly problematic."

Users of OpenCorporates data fall into three main categories. First, are the investigators — lawyers and auditors from within corporate organizations; regulators and enforcement personnel acting in the public interest; and journalists, NGOs, and other consumer and social advocates following leads and looking for associations across multiple jurisdictions.
The second use case is about the existence and verification of official records.
"We're used massively by banks and other multinationals that need to onboard clients, and even by potential employees wanting to know more about a company they're thinking of working for," Taggart said. "We make all of those classic onboarding and basic due diligence processes easier."
Finally, companies use core reference data from OpenCorporates to enrich their own data. "They've got customer data, varied customer records, and they use us as a base they can attach other data to," Taggart said. "That's also a use case in law enforcement, where they have suspicious activity reports, watch lists, and things like that they want to connect to a base trusted dataset."
"Business is About Trust, and Trust Requires Transparency"
Taggart began his career in magazine journalism before spearheading several successful companies in the U.K. open-data scene. For Taggart, transparency is what makes commerce work.
"Business is about trust, and trust requires transparency," he said. "That's true in finance, in insurance, in real estate, in any multinational with a large supplier base, and even in regulation. Who am I contracting with, competing with, or regulating — that's really the fundamental dataset OpenCorporates collects."
Defined in U.K. law as a social enterprise, OpenCorporates works for the public good in making its data freely and universally available. But it sustains itself through a kind of virtuous circle business model in which it offers structured data packages to proprietary users for a fee.
"There are a number of benefits to that," Taggart said. "Of course, society benefits. This information is important. But our data quality is good because we have so many people using it — problems are almost instantly found."
Meanwhile, stakeholders purchasing OpenCorporates data in bulk produce the revenue. "The more data we have, the more deals we do. The more deals we do, the more money we have. The more money we have, the more data we get, and so on," Taggart said. "The more we benefit commercially, the more the public benefits."
Within the next few years, Taggart said he sees company formation taking a tech-driven trajectory toward automation in the way stock markets have already transformed into platforms for high-frequency digital trading.
"Smart contracts, the internet of things, AI, and so on are moving us into a world where companies can be formed automatically by computer programs for the purpose of doing a single deal," he said. "This is going to present an enormous challenge with transparency and the volume of data."
As a result, businesses are realizing that it's strongly in their best interest to operate in a world of trust and transparency.
"Increasingly, we're seeing the drive for transparency coming from companies themselves rather than from NGOs and regulators. That's a really positive sign," Taggart said.