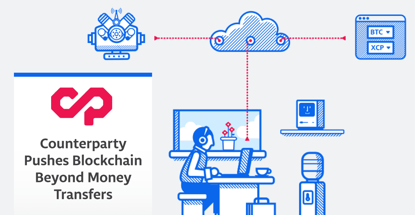 credit card news
Our experts and industry insiders blog the latest news, studies and current events from inside the credit card industry. Our articles follow strict editorial guidelines.
In a Nutshell: Blockchain technology has long been associated with financial services, but the open-source Counterparty project is proving that any business can use tokenized economies. Since 2014, Counterparty has allowed users to create and trade their own unique tokens on the Bitcoin network and write in the margins of regular Bitcoin transactions. The program is currently being used by mobile gaming applications, artist co-ops, and security companies to create new, innovative projects.
Blockchain technology has long been touted as the future of financial services. Its ability to securely send traceable information makes it valuable in numerous ways to money lenders, banks, credit cards, and other fintech firms.
But its uses aren't solely limited to financial transactions.
Shippers use the blockchain to track packages from sender to recipient. Some retailers use the blockchain to track the origin farm for the produce they sell. But one open-source project thinks the tech's potential still has much to offer.
About six years after Blockchain's 2008 introduction, Counterparty began extending the possibilities of the popular Bitcoin chain.
Counterparty allows users to write in the margins of regular Bitcoin transactions, thus extending Bitcoin's functionality and opening the door for innovation and advanced features that previously weren't possible with traditional Bitcoin software.
Today, Counterparty is used as the foundation for online collectible card games, app-based tokenized games, artist co-ops, and as a means to improve security settings in home- and business-based computer networks.
"Most applications for crypto and blockchain are about money," said Theo Goodman, a Counterparty spokesperson. "That's all great, but there's a lot of other cool stuff that you can do with it."
Transform Real-World Scenarios into Code
Besides allowing users to create and trade any kind of digital token, Counterparty users can write specific digital agreements — or programs known as smart contracts — and execute them on the Bitcoin blockchain.
By using Bitcoin's decentralized ledger network and Counterparty's built-in scripting language, real-world scenarios can now be transformed into code and executed automatically with no need for an intermediary.
"You can trade one of your tokens for someone else's tokens on the decentralized exchange without having to trust anyone else," Goodman said. "There's no account or third-party custody of the tokens. It's just a simple order for a wallet-to-wallet swap."

Since Counterparty is a nonprofit, open-source project, funding for the advancement of the program takes place through its XCP token. XCP is the currency used to pay for the execution of all smart contract code and can be purchased or traded through
Counterwallet
.
XCP ownership also represents a stake in the Counterparty protocol and is the voting currency for changes the community must decide on.
XCP can also be used as currency to purchase Counterparty modifications through the bounty system.
"Let's say I have an idea for an app or a project, but I need some adjustments to Counterparty," Goodman said. "I could set up a bounty program for developers. If a developer can build what I need, and improve the Counterparty protocol, they receive the bounty."
Create Versatile Crypto Tokens with Minimal Fees and Effort
Counterparty allows users to easily create tokens that are either divisible or not divisible, with total customization capabilities that typically require only the standard Bitcoin transaction fee.
"You can mint tokens that are on top of the Bitcoin blockchain," Goodman said. "Since you're using the Bitcoin network, you have to pay its transaction fee, but anyone with a Counterparty wallet can then receive any of the tokens that you send them."
These tokens are a way of creating your own cryptocurrency by piggybacking off the Bitcoin blockchain. Token creators also have full control of whether they want to lock the issuance of the token — meaning that, once the tokens are minted, no more can be produced — or they can unlock the issuance and mint more when they're needed.
Tokens can be traded through the Counterwallet on the decentralized exchange, which allows users to trade token for token within the wallet application as a peer-to-peer transaction with only the Bitcoin transaction fee.
Goodman noted that there are three main types of coins that can be created through Counterparty:
Alphanumeric Tokens
These tokens do not have a customized name and are displayed in the token-holders wallet with a random alphanumeric code (for example, token AB052231).
These tokens can be used like any other token, but lack the individuality that a custom-named token brings with it. As such, creating these tokens only costs the standard Bitcoin transaction fee.
"These can also have the same features as the other tokens, as far as being divisible, non-divisible, locked, and unlocked," Goodman said.
Alphabetical Tokens
Goodman referred to these as "human-readable named tokens" — meaning that you can name the token after yourself, your business or the app you're creating that will use the tokens as a digital currency.
The only rules surrounding the creation of custom-named tokens is that the name must contain between four and 12 uppercase letters and can not start with the letter A.
This feature costs one-half of an XCP token plus the standard Bitcoin transaction fee. The added charge is an anti-spam fee to reduce the number of named tokens a user can create without facing a substantial cost.
Child/Parent Tokens
Goodman explained this more technical type of token with the example of creating a fictional "Theo" token. By using Theo as the parent token, he could create child tokens, such as the "Theo.Goodman" token that can be used for different means.
"This works like a domain name," Goodman said. "You can split the tokens up under one name and have them used for different purposes."
Progressive Projects Include Games and Collectibles
A diverse group of startup businesses and mobile applications have adopted Counterparty as their preferred platform for creating blockchain enhancements. Current projects using the platform show that the capabilities for blockchain usage extend well beyond financial services.
 Age of Chains is a collectible trading card game that allows players to build customized card decks that they use to defend their choice of the decentralized Milky Way or the corrupt Andromeda Empire.
Bitcorn Crops is an idle farm game where the objective is to accumulate Bitcorn. Bitcorn cannot be bought, rather, it gets harvested by bitcoin addresses (or farms) proportionate to their share of 100 crops.
"You can also form a farm co-op," Goodman said. "That allows you to split your harvest with your co-op."
Authparty allows Bitcoin- or Counterparty-enabled wallets to enable seamless, secure, and cross-service authentication. The Authparty project uses blockchain technology and private keys as a method of login authorization for a variety of security outlets.
The Scarab Experiment is an ambitious Counterparty-based decentralized artist collective that focuses on combined artwork.
Created in 2014, during Counterparty's early developmental stages, Scarab is a multi-user persona that uses artificial intelligence image processing to form a single work of art from one thousand submissions.
"A lot of industries can use tokens like those created in Counterparty," Goodman said. "As of right now, games and art are the two most concrete examples, but the possibilities are endless."
What these users, and thousands more like them, appreciate most about Counterparty is its ease of use and ability to build useful, secure blockchain applications without giving up their creativity and personal license.
"There are lots of tutorials, helplines, and other documentation to help users out," Goodman said. "But it's relatively easy to use compared to other ways to make and send tokens."
Segwit Capabilities Extend Future Functionality
Counterparty has no plans of slowing down its innovative ways, despite already being one of the oldest token platforms available. With many enhancements in the works, the platform is primed to become even more of a player in the token-generation game.
Goodman said that new implementations to the program will expand its appeal to industries that may have been slow to consider using tokens or blockchain technology.
"The possibility to use Segwit with Counterparty transactions has been implemented," Goodman said. "I think that, down the road, we'll also be looking at things like payment channels, the lightning network, and other new applications to extend the functionality of tokens."
Segwit, or Segregated Witness Protocol, speeds up and scales down the typical Bitcoin protocol by reducing block sizes by breaking them down into smaller blocks. This also creates future possibilities of branching off blocks to write even more information in the margins.

Goodman noted that the upcoming Lightning Network will enable nearly instant, affordable, and safe off-chain payments.
This lessens the impact of crypto fraud and other often-publicized issues that keep many people out of the token markets.
Other Counterparty features that are under development will allow for use of uni- or bi-directional payment channels with Counterparty tokens. Plans are also underway to leverage the Lightning Network with Counterparty to enable fast, decentralized, and off-chain exchange of tokens that settles onto the Bitcoin blockchain.
"There are so many uses for tokens that haven't even been discovered yet," Goodman said. "Just about any person or business can use Counterparty to their advantage."