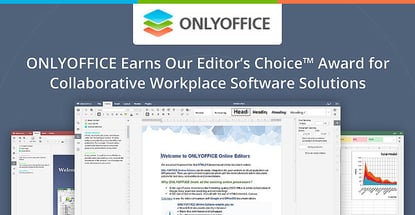 credit card news
Our experts and industry insiders blog the latest news, studies and current events from inside the credit card industry. Our articles follow strict editorial guidelines.
In a Nutshell: Businesses have many workplace software tools and platforms to choose from, and must make decisions based on advantages or shortcomings for each. But a lack of compatibility among disparate systems can slow productivity and internal communication — especially among teams working globally or remotely. ONLYOFFICE created a comprehensive online software suite inspired by the success of a tool designed to streamline a company's internal communications. The software combines document editors equipped with advanced co-editing capabilities and a collaborative platform of tools for project management and communication at SMBs and enterprises. For the functionality its product brings to business, ONLYOFFICE earns our Editor's Choice™ Award for Collaborative Workplace Office Solutions.
Software tools in the workplace can improve team productivity, but they can also slow it down.
Businesses that use Microsoft or Google software to draft and edit documents, design presentations, and prepare spreadsheets quickly learn the capabilities — and limitations — of each program. A typical office may use several types of software to optimize workflow, with separate applications for email, task management, and customer service.
This lack of consistency and compatibility can slow down a team that shares the same workspace, and that inefficiency is compounded when co-workers can't communicate face to face. As more companies globalize, it is important to have reliable online channels that allow team members to work together from anywhere in the world.
Online software solves the challenge of mobility but has its own set of shortcomings. Some systems have limited formatting features while others have difficulty handling large documents or displaying certain file types. Many online software offerings have limited collaboration capabilities, which negates the benefits of using them remotely.

Ascensio System SIA, an IT company founded in 2009, designed an online software system to address its team's needs for internal communication. The collaborative workspace, called TeamLab, quickly expanded with integrated applications for project and document management, customer relations, and instant messaging. Based on its success at the team level, Ascensio brought its software to the marketplace, and, in 2014, re-branded it as ONLYOFFICE.
"ONLYOFFICE allows you to take advantage of a complete online office suite with document and project management, CRM, calendar, mail, and corporate network. You don't need to jump between multiple applications to perform various tasks. You can create a single workspace for all your business activities," said Ksenia Fedoruk, ONLYOFFICE's Marketing Manager.
ONLYOFFICE is built on technology that supports rich formatting and collaborative editing in multiple document formats while integrating with existing office applications, providing an efficient solution for teams of any size to communicate and work together. For its comprehensive, collaborative workplace software solutions, ONLYOFFICE earns our Editor's Choice Award.
Enterprise, Community, and Cloud Products Help Teams of Any Size Work Together
ONLYOFFICE has the versatility to meet the needs of both SMBs and large enterprises, with product editions designed for teams of different sizes and varying levels of IT expertise.
The Community Edition is a free option that allows simultaneous connections for up to 20 team members and includes all ONLYOFFICE software applications. The Community Edition does require some in-house IT knowledge for system administration.
The Enterprise Edition is designed for larger teams that may need separate workspaces for branches or departments, and comes with heightened security features and more robust IT support. It's also available in three versions so businesses can easily scale up as they grow. The Starter plan supports up to 50 users, the Standard up to 150, and the Standard+ connects teams as large as 400.
ONLYOFFICE Community and Enterprise editions are self-hosted — unlike Office 365 and Google Suite — which gives businesses a greater level of security and control over their workspaces and documents. Cloud Service is also available for SMBs that need a more flexible, cost-efficient solution.
"With Cloud Service, you don't need to rent a corporate server or hire a system administrator," Ksenia said. "You can reach your ONLYOFFICE portal from any part of the world, so it's convenient when your team is working separately. Cloud Service is also free of charge for nonprofits and schools, and other educational institutions can get a discount."
ONLYOFFICE plans are competitively priced, especially considering what they include, and its Cloud Service is more affordable than other online software companies.
Enabling Users to Edit Documents in Real-Time from Browser, Desktop, or Mobile
ONLYOFFICE's online document editors are an integral part of the software solution for business teams, and their capabilities combine the best of the leading online software's formatting strengths and editing options.
They offer 11 unique formatting and collaboration features and are the first online editors based on HTML5 & Canvas element. Within documents, multiple users can create and edit charts, complex headers, and styles; work with equations, and deploy editing modes.
"They allow you to co-edit your documents, spreadsheets, and presentations with your team in real time using two co-editing modes," Ksenia said. "Fast mode shows all changes in real time, or use strict mode to show changes only after saving. There's also commenting and built-in chat. The Track Changes mode includes a Preview in Review feature, so you know what the document will look like if you accept or reject the changes."
ONLYOFFICE editors are compatible with Microsoft Office and other popular document formats, so there's no difficulty opening, editing, or saving files, and documents look the same in any browser.
ONLYOFFICE document editors come in a variety of editions to meet the needs of each business. Those who need to access and edit documents offline or on the go can download free Desktop Editors for Windows, Linux, Mac OS, or mobile versions.
The Integration Edition gives businesses the option to install the online document editor and connect it to their cloud storage. "We offer ready-to-use connectors for Nextcloud, ownCloud, SharePoint, Confluence, and Alfresco, and you can edit documents right in the storage's interface," Ksenia said.
A Collaboration Platform for Project and Task Management
Collaborative documents are only one solution teams use to stay productive. ONLYOFFICE has developed a comprehensive virtual work environment called the Collaboration Platform — a single space where team members can access standard project management tools and accomplish tasks efficiently.
The platform includes tools for document management, email management, individual and group calendars, project hierarchies, Gantt charts, and performance tracking. The platform also promotes networking within a larger corporate community through forums and messaging. ONLYOFFICE's customizable CRM system provides an integrated way for sales teams to keep track of customer relationships — from leads and communication history to sales data and invoices.
ONLYOFFICE's open-source foundation allows the flexibility for businesses to integrate other web-based tools into the Collaboration Platform for better big-picture visibility of their operations.
Business teams of all sizes are better equipped to complete projects on time and make faster, joint-effort decisions with all of their software systems and communication channels in one place.
Innovating Online Office Applications to Improve Efficiency
Businesses are using ONLYOFFICE to overcome the challenges of a global workforce and disconnected software tools to create more consistency in their workflows and communication. Case studies from industries around the globe show just how impactful ONLYOFFICE can be.
As it develops its software, ONLYOFFICE values the input of those users and feedback from use cases. "We constantly receive requests to include, connect, or develop new features and elements. We always listen to our customers and do everything to meet their needs," Ksenia said.
ONLYOFFICE continues to enrich its document editors' capabilities and online office features for improved performance, with new apps and integrations. "Our main goal is to bring the most innovative web office apps to everyone," Ksenia said. The company has specific updates in mind for its online document editors — plans include improving undo/redo actions for collaborative editing, creating a PDF editor, adding three-dimensional shapes to the formatting toolset, and optimizing support of more languages.
ONLYOFFICE helps teams work together better and faster by innovating online software and designing an integrated suite of workplace tools. For providing a collaborative workplace software solution, ONLYOFFICE earns our Editor's Choice Award.