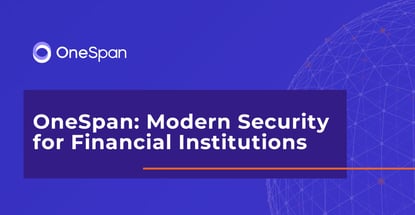 credit card news
Our experts and industry insiders blog the latest news, studies and current events from inside the credit card industry. Our articles follow strict editorial guidelines.
In a Nutshell: In the digital age, security and protection against fraud remains among the highest priorities when it comes to online transactions. OneSpan has been working to keep these transactions safe for more than 20 years with proven solutions for nearly any scenario. The company's clients appreciate OneSpan's extensive offering of modular solutions that meet specific needs, or easily combining technologies to address broader requirements, according to OneSpan's Senior Director of Product Marketing. And with a focus on financial services, the platform is positioned to offer real solutions to challenges unique to banks and financial institutions.
When a Caribbean credit union was in need of a solution to protect its retail customers against known fraud that was leading to account takeover attacks, it turned to OneSpan.
"It was extremely important to the credit union that their fraud solution applies a precise level of security based on the unique risk of each transaction," said David Vergara, Senior Director of Product Marketing at OneSpan.

The company specializes in securing the digital journeys of customers through a single platform experience.
"Additionally, the credit union wanted to expand their digital banking services, but the Caribbean is considered a high-risk jurisdiction for financial crimes," Vergara said. "So they needed robust risk management."
The credit union leverages OneSpan's Risk Analytics to better identify and block known fraud before it impacts their retail customers, he explained.
"Since implementing OneSpan's Risk Analytics solution, the credit union is now able to identify and react to digital channel attacks in real time (i.e., before a transaction is even created)," Vergara said. "And because they're using Risk Analytics to continuously monitor all banking sessions across key digital channels, OneSpan's risk engine can see the session data, identify indicators of compromise in real time, and take instant action."
This is just one of many examples of how OneSpan has stepped up to help financial institutions and companies across an array of industries protect their customers and transactions.
More Than Two Decades of Experience in Securing Digital Transactions
"OneSpan has over two decades of experience securing transactions for more than half of the top 100 global financial institutions," said Vergara. The company was founded under the name VASCO by T. Kendall Hunt in 1991 and held its IPO in January 2000. Based in Chicago, the company maintains offices around the globe.
The company's solutions have helped prevent well over $15 billion dollars in fraud in that time.
"At OneSpan, we specialize in digital identity and anti-fraud solutions that create exceptional and secure experiences," according to the company. "From fully integrated intelligent adaptive authentication, risk analysis and mobile security to digital e-signatures and identity verification, our next-generation solutions are delivered on a cloud-based platform."
The OneSpan Trusted Identity Platform makes it easy to integrate new and existing tools and technologies to better detect fraud and improve the user experience, according to OneSpan.
With more than 10,000 customers, the company has earned a reputation as a trustworthy ally in helping clients secure their digital journeys.
OneSpan was recently awarded the title of Company of the Year by Frost & Sullivan for its digital identity and risk-based authentication platform.
Frost & Sullivan recognized OneSpan's unique technologies as a clear differentiator in the field, along with its customer-focused strategies, and overall strong performance. This is particularly important during the COVID-19 pandemic, as demand increases for technologies that enable remote banking and customer onboarding.
"The analyst firm stated that cybercriminals are capitalizing on the COVID-19 pandemic, with phishing attacks leading to breaches and account takeover fraud," according to an announcement. "OneSpan's technologies protect against these and other fraudulent activities across online and mobile channels."
A Range of Modular Core Solutions to Address Specific Needs of Clients
Vergara said OneSpan's customers see the greatest value in its solutions from two main perspectives.
"The first is that all of our core solutions (i.e. identity verification, digital e-signature, risk-based authentication, risk analytics, and mobile security) can be purchased and deployed modularly," he said. "This is important as each bank is at a different stage in their digital evolution, and the ability to utilize new technologies to solve current requirements, with the ability to address future use cases as needed, is critical."
Many banks still operate on legacy systems or a variety of programs forming a patchwork infrastructure. OneSpan allows them to bring on new technologies at their own pace.
The second view is more specific to the value the company's customers see in terms of unique solution capabilities, Vergara explained. These include the ability to provide continuous transaction monitoring throughout the session and across channels.
"Pre-configured fraud rules that can be used out-of-the-box for quick set up/deployment to address various fraud schemes and specific regulatory compliance requirements, for example," he said.
OneSpan's case management and particularly its interactive fraud visualization tools help fraud analysts prioritize cases.
"And lastly, perhaps one of our strongest capabilities is providing deep mobile channel visibility," Vergara said. "Providing banks a clear view of the mobile device and banking app integrity, and providing technologies like application shielding to protect the app and allow secure transactions even if attacked."
And, because OneSpan's Risk Analytics solution is continuously monitoring the events in the session, OneSpan can stop fraud in real time — rather than allowing the attack to propagate and cost them financially.
Meeting Unique Challenges in Finance
"Our business has a singular focus on providing banks and financial institutions a proven solution to address strict regulatory compliance requirements (i.e. PSD2 SCA), fast-growing account takeover fraud, new account fraud, and mobile app attacks," Vergara said.
The foundation for OneSpan's solutions is a single, cloud-based platform that secures all user journeys across digital channels from initial onboarding and identity verification to contract acceptance via e-signatures and secure logins/transactions with advanced risk-based MFA and mobile app security, he noted.
"The market need to address these use cases is clear," Vergara said. "In a recent Aite Group report, 89% of bank executives saw ATO as the biggest cause of loss in the digital channel and the Javelin Identity Fraud Report found ATO at the highest of fraud losses for banks, up 72% this year."

Additionally, risks in the mobile channel are increasing as fast as its popularity.
"The FBI recently issued a PSA on mobile fraud attacks, stating a 50% surge in mobile banking just from the beginning of the year," Vergara said. "It's also interesting that many banks claim little fraud exposure through the mobile channel, but what we regularly find is that this is mainly due to a lack of visibility."
This means that these banks are simply not able to effectively detect, track, and mitigate fraud in real time, he explained.
"The total bank exposure to fraud is in the billions of dollars, so deploying more sophisticated technology to mitigate ATO, New Account Fraud and mobile attacks is critical," Vergara said.
"In addition to these near-term considerations, banks that deploy more modern, cloud-based platforms that leverage simple APIs to add new technologies will also benefit from reduced operating costs and a much stronger ability to deploy new security technologies to address future requirements and use cases," he said.
OneSpan offers its solutions to more than 2,000 financial institution clients, including 60 of the top 100 global banks, 12 of the top 15 European banks, 12 of the top 15 Asia-Pacific banks (excluding Chinese banks), and 12 of the top 15 North American banks.