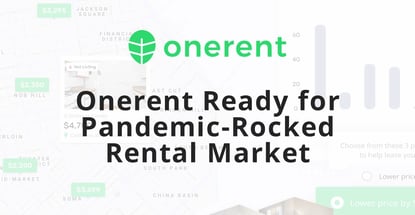 credit card news
Our experts and industry insiders blog the latest news, studies and current events from inside the credit card industry. Our articles follow strict editorial guidelines.
In a Nutshell: Onerent is a West Coast property management company that arranges for renters to find apartments via a contactless process. Its platform supports online property searches, virtual or self-touring of properties, and remote leasing. The company uses an artificial intelligence chatbot to enable these and other services. Plans call for it to use its chatbot technology to expand its footprint to 30 markets nationwide.
As the pandemic seems to worsen by the day, finding businesses that were prepared for the disaster is a tall order. One such business is Onerent, which provides contactless property management services to owners of rental properties. Onerent's services include helping prospective tenants schedule and conduct physical tours of properties without social contact.
"When the pandemic first started, there were many industries that had big issues," recalls Chuck Hattemer, Co-Founder and CMO. "In rentals, we saw an initial drop in leasing activity and demand for new rentals. As people were sheltering in place, the leasing volume dropped by 20% to 30% in Q1. Obviously, that was primarily due to people just physically not being able to move to homes in other places. However, we saw a large increase in business during Q1, and that's continuing to the present day."
However, the situation played on Onerent's strengths. Since the company's launch in 2015, it's been building the contactless rental experience, in which its maintenance and operations teams can assist renters and owners remotely, thereby reducing personal contact.
Many property owners were unable to show their properties or work with tenants, and so they needed a remote property management solution. It's no surprise that Onerent saw an increase in demand during the first half of 2020. In fact, it achieved record signups of new property owners during the period.
"A lot of traditional property managers have local offices that remain closed while we've been operating from the cloud for five years," explained Hattemer. "Real estate housing doesn't wait for a pandemic. People need housing. Our virtual Concierge Assistant helps renters through the process remotely, without the threat of physical contact."
A.I. Chatbot Facilitates Virtual, No-Contact Services for Owners and Renters
Onerent's Concierge Assistant is an artificial intelligence chatbot, nicknamed ACE (for Accessible Conversational Entity), that communicates with renters and homeowners. ACE works on any platform, including Facebook Messenger. It even works on SMS and the company's native application.

ACE assists prospective tenants looking for a new rental home. It helps them take a virtual 3D tour, arrange a self-tour of the property, and sign a lease. This enables a contactless full-stack process from beginning to end, done remotely.
"Our team visits, inspects, and conducts a 3D scan of every home on the platform," said Hattemer. "That allows us to offer this virtual rental experience. Folks can take a virtual or self-conducted tour, and then they can apply in real time. We have a one-tap application process."
Onerent screens applicants by doing background, credit, and income checks in states that allow it. The company vets potential renters on specific criteria based on credit, income, and rental history. Once the prospective tenant is qualified, Onerent will guarantee the rent will be paid, which is a tremendous benefit for the property owner.

"What that means is that we stand behind the quality of our tenants," said Hattemer. "Even if the renter doesn't pay us on the first of the month, we pay the owner. And that allows us to guarantee passive income for owners."
Onerent can guarantee rent payments because about 85% of tenants use autopay, which signals a serious commitment to keeping rent payments up to date. The company reasoned that having qualified renters that meet credit criteria reduces the risk that they'll default on the rent.
In the rare case of an eviction, Onerent will discontinue covering the rent. However, it will cover all the costs, including legal fees, associated with an eviction.
Onerent's Coronavirus Recovery Center Helps Rental Market Adapt to Pandemic
Onerent created its Coronavirus Recovery Center as a central source of information to help renters and owners move forward during the pandemic. The center offers owners and renters a live feed of the latest pandemic-related news from credible sources.
Of even more value is information that Onerent offers about its own operating protocols. This helps landlords and other property managers learn safe ways to operate their properties amid the COVID-19 outbreak.
"The Recovery Center addresses some of the concerns about the coronavirus and different solutions that can be offered," explained Hattemer. "We discuss topics such as doing a virtual tour, using a chatbot, and performing self-tours through an automated lockbox where someone can go in and be on their own. We also talk about our higher deep-cleaning standards for properties. All of this information and more is on the Coronavirus Recovery Center, allowing owners to apply it to their own properties."
On the legal side, many pandemic-related laws have been passed, such as eviction moratoriums. Many independent owners have legal questions about what they can do. For example, they're worried about whether they will be able to collect the rent from their tenants, and what kind of recourse they will have if they don't obtain the rent. The eviction moratoriums vary by city and state, but the Recovery Center covers a lot of useful information on this topic.
"The Recovery Center really just helps us answer some of the people who ask questions on how we handle the current virus within our properties and create a safe rental experience," said Hattemer.
ACE Will Support Onerent's Expansion to 30 U.S. Markets
ACE will be instrumental in helping Onerent expand to the top 30 metro areas in the U.S. As such, it will be a large part of the company's developmental work for the year.

"We believe AI chatbots will be critical for the future of rentals as we increasingly shop online for rentals akin to how we shop on Amazon," said Hattemer. "ACE is a key component because it adds that personal touch, which is critical in real estate, but also allows people to speed through the process of everything from finding a home to signing the lease."
Some of the new real estate areas will include markets on the East Coast, like Boston and Washington, D.C., as well as hot rental markets in Texas, such as Austin and Dallas. By increasing its national footprint, Onerent will be positioned to help people relocate to less expensive locations.
For example, folks who can telecommute may want to move from New York City to Florida or from San Francisco to Denver.
"Another thing we are rolling out is a work-from-any-home initiative," revealed Hattemer. "We are helping to equip properties for remote work. That means helping get the internet set up as well as any home office furniture and maybe a regular snack delivery. This supports a work-from-home environment so that when you walk into your home on Day One, everything's ready to go."