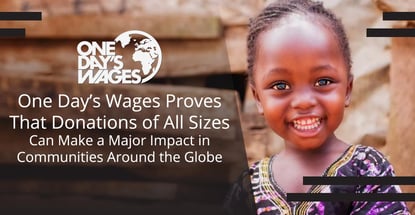 credit card news
Our experts and industry insiders blog the latest news, studies and current events from inside the credit card industry. Our articles follow strict editorial guidelines.
In a Nutshell: One Day's Wages is a grassroots movement that encourages people to donate a day's worth of their salary — or any other amount they choose — to alleviate extreme global poverty. Donors can choose to give to a specific issue that they are passionate about to help alleviate extreme poverty, including clean water and sanitation, human trafficking, children's education, and refugee relief. And One Day's Wages operates on a 100% model, which means that 100% of a donation goes directly to projects on the ground. Donors can rest assured that all of their funds go directly to helping people, not board compensation or marketing efforts. In its decade of operation, One Day's Wages has raised more than $8 million for 164 projects in 44 countries.
In 2019, as the bitter January cold descended on New Brighton, Minnesota, a 22-foot sea snail made of snow rose out of the ground. And that snail would go on to help provide access to clean water for hundreds of people across the world.
That's not the tagline of a Hollywood blockbuster about a philanthropic mollusk that comes around each winter. Instead, it's the heartwarming tale of three brothers who turned a fun tradition into donations to their favorite nonprofit, One Day's Wages.
For the last six winters, the Bartz brothers — Austin, Trevor, and Connor — have built massive snow sculptures that dwarf their split-level home. Each year, they leverage the publicity the sculptures receive to raise money for One Day's Wages, a grassroots movement that has inspired thousands of people to donate a day's wages to alleviate global poverty.
On average, the Bartz brothers collect around $30,000 each year, and they're just three of the thousands of people who donate to One Day's Wages.
The idea for One Day's Wages began during a family trip to Cambodia when Pastor Eugene Cho and his wife, Minhee, witnessed the poor living conditions of many people there. Upon returning to their home in Seattle, they chose to donate $68,000 — the equivalent of one year's salary for the Cho family — to launch One Day's Wages.
Minhee and Eugene's commitment to simplify their life, sell what they could, and save enough money to donate their one year's salary was the start of this movement to empower people living in extreme global poverty, and has resulted in more than $8 million in donations to 164 projects in 44 countries over nearly a decade.
"They wanted to be the first to do it because they didn't want to ask people to do something that they weren't willing to do," said Michelle Stibbs, Communications Manager at One Day's Wages.
The organization understands that most people can't donate a full year's salary to charity — hence the name One Day's Wages. That represents a sum — 0.4% of a person's annual salary — that many more people can afford to give to a good cause. And the organization finds that many people don't realize how much impact even a small donation can make.
"Sometimes, it can feel intimidating. You feel like you have to give $1,000 or $5,000 or be a celebrity to make a big impact," Stibbs said. "But the whole point of our movement is that everyday people can make an enormous impact when we all just give a little bit."
Helping Raise More than $8 Million for 164 Projects
More than 700 million people worldwide currently make less than $1.90 each day, putting them below the international poverty line. That's why One Day's Wages raises money for 11 issues to alleviate poverty and partners with established organizations empowering indigenous leaders to combat poverty within their own communities.
"We didn't want to reinvent the wheel," Stibbs said. "We thought the best way to make the most impact would be to partner with nonprofits that are already doing amazing and important work."
Despite the name, contributors aren't limited to donating one day's wages. Donors can give as much, or as little, as they please, and each donor can choose a specific cause to support within One Day's Wages' areas of focus.
One of ODW's carefully vetted partners is PeaceTrees Vietnam, a nonprofit that removes dangerous unexploded weapons from Vietnamese lands. But its work goes far beyond that worthy cause.
"They also provide scholarships to children whose families are victims of landmines," Stibbs said. "At the heart of it, they're supporting the child's education, but the way they operate is holistic and supports the whole family."
Stibbs told the story of one Vietnamese family that benefited from the partnership with One Day's Wages. Not only did PeaceTrees fund scholarships for the family's children to attend a local school, but it also provided it with livestock and helped the parents open a small store to generate income and become financially stable.
"It's not just relief or aid," Stibbs said. "It's more about 'How can we partner together for a brighter future?'"
Another partnership with The Adventure Project provides vocational training to farmers in Malawi to help them build drought-resistant, sustainable farms. The partnership provided 100 farmers with all the farming tools they needed, seeds, and financial training courses.
"They learned everything they needed to know to start a small business," Stibbs said. "Then, The Adventure Project gave them the seeds and equipment they needed to get their businesses going."
One Day's Wages donors get to be a part of these stories every day. And as the organization closes in on its 10th anniversary in October 2019, it strives to best 2018's record-breaking milestones.
And those 2018 numbers are staggering: One Day's Wages helped 187,479 people, including 23,954 refugees, 10,781 young girls, and 11,850 people who needed access to clean water.
Offering Several Simple and Creative Ways to Donate
Donors can make giving to One Day's Wages as simple or elaborate as they please. They can start by using the calculator on the platform's home page to compute your daily wages, or they can set their own donation amount.
Users can even create fundraising campaigns for a cause they care about. People can fundraise by using their birthday on social media to encourage friends to donate in their honor or create an event around a campaign — as the Bartz brothers did when they started their snow sculpture hobby several years ago.
"The most practical way to make an impact is to become a monthly donor," Stibbs said. "You can donate any amount, and it provides a sustainable way to make an impact."
When donating, users can choose to have their money go straight to an individual cause or into a general fund that helps all 11 of the causes supported by One Day's Wages. The nonprofit also uses that fund to conduct grant-matching opportunities for other carefully vetted partnerships.
A donation can even go toward helping fund the five-person team that keeps One Day's Wages thriving. That is vital since the organization runs entirely on those funds.
"We're a 100% donation model," Stibbs said. "100% of any donation goes directly to projects on the ground. We don't take any administrative fees from donations since we fundraise separately for our operational costs."
That means donated funds have maximum impact on communities. One Day's Wages' thorough vetting process ensures that donations help impact lives on the ground and not the people in the boardroom. And accountability continues well after One Day's Wages disburses funding, as each partner must file six- and 12-month reports to show how each has used the donated funds.
"They send us a very detailed impact report that we go through to find where the funds were invested in the community," Stibbs said. "This is where we receive some powerful stories about those who are impacted."
One Day's Wages: Celebrating 10 Years of Global Impact
One Day's Wages continues to grow and thrive, and more than 20,000 supporters of this grassroots movement have contributed to over $8 million in donations, impacting the lives of nearly 675,000 people in the last 10 years.
Whether you choose to donate a few dollars, a day's wages, or the proceeds inspired by a giant sea snail made of snow, each cent goes to help others. Just ask the farmers in Malawi or the families in Vietnam who have been empowered through One Day's Wages' partnerships to live healthy and prosperous lives.
"Everything makes an impact, and I think that's what I love the most about our work," Stibbs said. "Whether it's $150 from a 9-year old's lemonade stand or $30,000 from a community, it's beautiful to see how people can come together and give whatever they can."