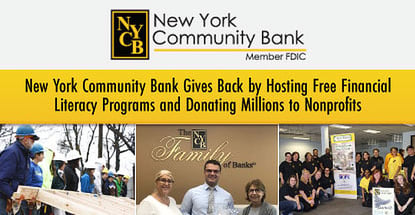 credit card news
Our experts and industry insiders blog the latest news, studies and current events from inside the credit card industry. Our articles follow strict editorial guidelines.
In a Nutshell: New York Community Bank maintains over $50 billion in assets over its five-state footprint, but what really makes the institution proud is its long history of community involvement. The bank hosts free public financial literacy programs that tackle topics relevant to its audience — including modules that teach youngsters how to save their allowance and those that help seniors detect and avoid financial and medical fraud. Through its two foundations, NYCB donates millions of dollars each year to local and national nonprofits that support causes the bank believes in. In addition to financial support, NYCB also provides volunteer hours, curriculum materials, and takes part in donation drives that focus on community improvement.
In a world where human connections are frequently replaced by online chat support and automated phone menus, meaningful customer experiences are becoming rare occurrences. A business that provides solid customer service establishes an important way to connect with its users. But companies that adopt community involvement as part of their business plan take that connection a step further.
New York Community Bank (NYCB) has an extensive history of community support and learned long ago that focusing on the details of a customer's needs is just as important as knowing the details of their account.
The bank's outreach tells the communities it serves that it cares and shows its concern through a sincere compassion for members and non-members alike.
Take, for example, the bank's work with Operation Hope, a food program for military veterans run by New York's Island Harvest. When veterans receive food from the nonprofit, it comes delivered by a fellow vet, which tends to make the process more comfortable for the recipient.
"Sometimes, someone who has served our country and has a lot of pride might not be comfortable acknowledging to someone that they have some unmet needs," said Kelly Maude Leung, Senior Vice President and Director of Corporate Communications at NYCB. "But talking to a fellow veteran tends to bring comfort."
NYCB also works with state-sponsored programs to maintain three branch offices in low-income New York areas that would otherwise not have access to a bank. The institution's commitment to these areas goes beyond serving as a simple depository. NYCB often holds financial literacy workshops and other seminars at its local offices.
"These are areas where the community deposit base would not justify having an operational branch," Leung said. "There simply aren't enough deposits to sustain a branch, as far as income and the amount being deposited. But the idea is that people shouldn't have to go to check-cashing businesses because there are no banks in the neighborhood that are safe to get to."
NYCB's parent company, New York Community Bankcorp, Inc., holds a combined $50.5 billion in assets and maintains branches in New York, New Jersey, Florida, Ohio, and Arizona. And, with a history that dates back to the mid 1920s, NYCB has nearly 100 years of community service under its belt.
"The things we do in our community aren't just for promotional purposes," Leung said. "We genuinely want to see the people around us succeed. Our part, however big that may be, in making that happen is something we take pleasure in."
Free Financial Literacy Courses Focus on Age-Specific Issues
NYCB maintains several free community programs that help people — regardless of whether they have an NYCB account — improve their financial literacy through workshops, classes, or online modules. These lessons tackle various topics and reach a wide demographic.
"We work with a large student population," Leung said. "That entails us going into schools and talking or providing curriculum to teachers."
Leung said that curriculum can vary widely. For example, a lesson for a younger audience may focus on saving pennies in a piggy bank, whereas a lesson for an older group of students may break down the various taxes taken out of their paychecks or help them differentiate between wants and needs.

NYCB also aims to improve financial literacy within the senior community. Leung said this group is not always familiar with the nuances of new technology, which can leave them vulnerable to fraudsters.
"Unfortunately, this group has to deal with a lot of scams and things that we need to stay on top of to educate them in a way that they're not feeling like they're being spoken down to," Leung said. "It's important they understand how sophisticated these people can be when they're trying to scam them."
Lessons can touch on the banking protocols and systems in place that heighten security. Sometimes online security safeguards that help confirm the customer's identity can actually frustrate older customers logging in to look at their account details. So it's important seniors understand that the added layer of precaution helps to head off the financial and medical fraud that's been sweeping the nation for the past decade.
In addition to education modules designed around the different financial stages of members' lives, NYCB also offers literacy programs for small business owners.
"Nothing that we do is product-driven," Leung said. "That's not how we function. We consider ourselves corporate citizens of the community and don't want these programs to feel like a sales pitch."
NYCB's Two Foundations Have Donated a Combined $75 Million to Causes
NYCB helps support its community both through volunteerism and by donating money via its two foundations — The New York Community Bank Foundation and the Richmond County Savings Bank Foundation.
Each foundation has its own executive director and bylaws, and they work together to cover as much ground and do as much good as possible. The foundations came together in 2017 to donate over $6 million to 1,500 organizations.

The banks charitable giving can vary by location, but includes corporate-wide sponsorships with nonprofits such as the American Cancer Society and the Leukemia and Lymphoma Society.
"The bank's foundation focuses a lot on what's going on in the communities where our branches are," Leung said. "It's always looking for ways that we can connect all of the dots in our five-state footprint."
Since its inception, the Richmond County Savings Bank Foundation has contributed over $50 million to nonprofit organizations. Meanwhile, the New York Community Bank Foundation has awarded grants totaling over $25 million to improve the quality of life for residents of Long Island and Queens.
"The foundations are a perfect example of a nonprofit working with a public company because they basically have a dividend from our shares, and that's what they spend every year," Leung said.
Corporate Citizenship Means More than Just Monetary Donations at NYCB
While NYCB could just write a check and donate to community nonprofits, Leung said the bank's true intention is to find ways to leverage its extensive platform to change lives within the areas it serves.
"We always look for ways to add value to our work with nonprofits," Leung said. "That may mean adding some learning materials to an event's grab bag or providing other materials that may help people. We want to bring our wealth of knowledge to the table as opposed to just providing sponsorship dollars or gifts."

The institution's growth creates more opportunities for it to share its success within its communities. That means working with small, local nonprofits as well as large campaigns that require every branch location to work together.
"There's nothing better than doing great community service, but it's even better when you can do it with someone in another state and connect your work to help many communities at once," she said.