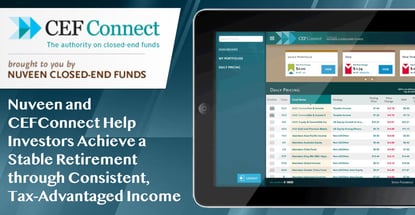 credit card news
Our experts and industry insiders blog the latest news, studies and current events from inside the credit card industry. Our articles follow strict editorial guidelines.
In a Nutshell: Although less common than mutual funds and ETFs, CEFs are a powerful tool for retirement planning. These funds offer stable and often tax-advantaged cash flow by borrowing at short-term rates and investing in long-term positions. Nuveen helps investors better understand and navigate CEFs through its CEFConnect portal, which offers data on specific funds as well as general educational resources. With this knowledge, investors are better able to take advantage of CEFs as part of their portfolio, and enjoy a higher standard of living during retirement.
One of the primary concerns when planning for retirement is standard of living, which is largely defined by cash flow from investments. Most of us would prefer a big house to a small one, or the ability to use our free time to travel rather than sitting at home (whether it's a small or large one). But the cornerstone of achieving these goals is cash.
Closed-end funds (CEFs) offer an attractive investment opportunity precisely for their ability to provide consistent, tax-advantaged cash flow. The majority of gains and income from these funds are paid out to shareholders, providing stable income on a regular basis.
CEFs have a long and venerable history in the United States, although they are not as high-profile as open-end funds, such as mutual funds and exchange-traded funds (ETFs).
"Closed-end funds had their origin back in the 1920s, but many of them went away," said Dave Lamb, Managing Director in Nuveen's Closed-End Funds Group. "There's still a handful around, but in the late '80s, with the resurgence of closed-end funds, we led the way with bringing municipal closed-end funds. Since the early 1990s, a variety of different asset classes have been brought in a CEF structure."
Nuveen provides access to information about these investment opportunities through its CEFConnect portal.
Here, investors seeking options beyond mutual funds and ETFs can find both general education and targeted data regarding CEF structure and performance. With this resource at their fingertips, they'll be well prepared to diversify their portfolios by adding CEFs that are transparently priced and offer higher yields than open-end funds.
Specialized Mutual Funds Can Provide Higher Returns
A CEF is a form of mutual fund. It is a publicly traded investment company that raises capital through an IPO and then invests in various securities, such as stocks and bonds.
After the IPO, no more shares are issued by the company, and the company will not redeem shares already purchased. Most CEFs are still listed on national exchanges, and shares can still be bought and sold, but exclusively on secondary markets among investors.
CEFs offer their shareholders higher levels of cash flow that is consistent and often tax-advantaged. These funds borrow at short-term rates and invest in long-term strategies and instruments.
Lamb specifically pointed out municipal bond funds, which is where Nuveen started out 120 years ago and re-entered the CEF market in 1973 with Nuveen Municipal Value Fund (NUV). He says these are desirable investments due to their upward-sloping yield curves.
"We're able to borrow on the short end of the curve and invest long. The shareholders gain the incremental benefit from that spread. It's able to deliver higher levels of income and cash flow," Lamb said. "If you look at where [NUV] was brought and look at its performance [over 32 years], it's delivered exactly what it intended to deliver.
"We've paid out capital gains in addition to tax-free income over the years. If you go look at its market price … it's basically where it started, which is perfect. It's delivering the income that investors seek. That's really been the case across our municipal lineup."
Balancing the Risks and Rewards of Closed-End Funds
CEFs are distinct from mutual funds and ETFs, which are open-end funds. As with mutual funds, CEFs are run by managers who actively oversee the investment portfolio. These portfolios are typically concentrated in a specific industry, market, or sector.
And, like ETFs, the price of CEFs fluctuate throughout the trading day. Because CEFs issue a fixed number of shares, those shares' value is based on scarcity and market demand as well as the CEF's net asset value.
As with any investment, CEFs are not without risk or volatility, not least because they are less liquid than open-end funds. Part of Nuveen's mission is to ensure investors are aware of these and other risks involved in CEFs.
"Trading CEFs can come with some risk, but they're not large-cap stocks where there's unlimited liquidity in the secondary market. You need to be aware of getting into and out of the positions," Lamb said. "That's one of the key things, certainly. It's not a money market fund and there can be volatility when leveraging a fund. However, for long-term investors seeking income, that volatility comes with the territory."
As noted, a CEF is a long-term investment, and its objective is typically to provide high levels of tax-free income. This makes CEFs desirable investments for people at or near retirement and those who wish to use the payouts from the fund as a replacement for their working incomes.
"We think as people continue to move into retirement, they're looking for different types of products where they can get a higher level of cash flow," Lamb said. "We continue to think it's a great product for those clients."
CEFConnect Offers Educational Resources to Investors
Lamb explained that, as technology soared in the early 2000s, fast access to quality information became a priority.
"We thought it was important to have a website that provided investors information on CEFs," Lamb said.
First and foremost, CEFConnect is an excellent source of data on pricing and the investment strategies offered by various CEFs. Users can also configure the portal to send them alerts about CEFs.
For example, an alert could be set to trigger when dividends rise or decrease, and the user would be notified via email. CEFConnect also allows users to browse CEFs and sort them by premium, discount, and asset classes.
"If you're looking for a state municipal fund — for example, if you're a California resident — you can limit search to California municipal funds, and then you can further limit it to leverage or not," Lamb said. "So, it has a great ability to help people find what they need in a CEF."
For fledgling investors and those just getting acquainted with CEFs, the portal also hosts a wealth of educational material that provides them with a solid knowledge base. This spans from the basics, such as what CEFs are and how they're structured, types of CEFs and their different investment strategies, and advanced topics like leverage.
CEFConnect also provides a glossary of relevant terms and links to external resources, ensuring investors have a broad range of knowledge at their fingertips.
"An educated and informed investor is the best investor. Being knowledgeable of the products and what they can expect from those investments is important," Lamb said. "There's a whole host of information on CEFConnect."
Nuveen: Bringing Innovative Investment Ideas to Market
In 1893, Boston Personal Property Trust became the first CEF offered in the United States. It actually predated the first mutual fund and served as an important stepping stone along the way to this more widely known product, which today has surpassed CEFs in popularity.
In 2018, less than 2% of the total $21.4 trillion worth of fund assets were held in CEFs, while ETFs held 16% and Mutual Funds held 82%. However, CEFs still possess distinct advantages to investors, and Nuveen is working to bring new and innovative products to market to satisfy persistent demand.

"2019 and early 2020 have been a pretty exciting time for CEF issuance," Lamb said. "In September of 2019, we brought a new municipal fund (NMCO) to the market that was a very successful raise."
This is due in part to the fact that many municipal funds are exempt from federal tax, and some are tax-free at state and local levels. These are key selling points, since CEFs focus on tax-advantaged payouts, and they offer investors the opportunity to help build civic infrastructure while earning a return on that investment.
"We think CEFs are great investment vehicles for investors who are seeking high levels of cash flow, and we are working on new products all the time to bring to market," Lamb said.