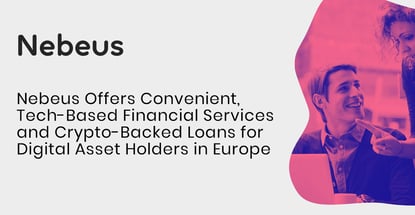 credit card news
Our experts and industry insiders blog the latest news, studies and current events from inside the credit card industry. Our articles follow strict editorial guidelines.
In a Nutshell: Cryptocurrency allows people, including many who previously have lacked access to traditional banking services, to partake in the global economy. It also makes for a useful way to store funds. Nebeus helps bridge the gap between the fiat and crypto ecosystems with its diverse digital platform. The company offers crypto-backed loans that allow customers to tap into the value of their digital assets without depleting them. It also offers uncomplicated high-yield savings accounts with competitive rates. The Nebeus wallet serves as a convenient hub where funds can be deposited and used for transfers and purchases.
Cryptocurrencies have opened the door for people all over the world to become part of the global marketplace, regardless of whether they have a traditional bank account. This is great news for a lot of folks whose finances are dragged down by money orders and other transaction services in the fiat world.
Even with this boon to the non-traditional finance ecosystem, cryptocurrency holders have come across some distinct challenges as they blaze new trails with digital assets.

The traditional finance world has long offered consumers loans based on their credit scores and income, and the ability to borrow against the value of stocks, among other available lending products. But the crypto world is yet to see an exact parallel.
This means that, once people buy cryptocurrency, they have to either spend it or let it sit in their wallet and hope it increases in value.
But thanks to companies like Nebeus, crypto enthusiasts and newbies alike now have more flexibility in using their crypto assets. This includes taking advantage of the company's crypto-backed loans without having to sell off their digital currency or using them to gain access to high-yield savings accounts.
"Where I would say we stand apart is our ability to provide different levels of services and different categories within each service, along with our higher loan-to-value ratio," said Sergey Romanovskiy, Nebeus Founder and CEO.
The company was founded in 2014 and launched its peer-to-peer exchange platform in 2017. It aims to bridge the gap between the crypto and fiat finance worlds for customers in Europe through the use of blockchain technology.
Cryptocurrency Holders Can Leverage Their Digital Assets to Gain Access to Cash
Romanovskiy explained how Nebeus and its financial offerings differ from other platforms, starting with its crypto-backed loans.
"If you follow other crypto-backed loan companies, they try to stay within 50% loan-to-value ratio (…)," he said. "If you look at what we provide, we offer up to 80% loan-to-value based on your needs. There are not many companies on the market that are able to do that."
The company accepts Bitcoin, Ethereum, and Nebeus Tokens as collateral for loans, according to the Nebeus website.
Simplicity and speed are also extremely important to Nebeus, Romanovskiy said.
Crypto holders can take advantage of one of the fastest approval processes on the market, according to Nebeus, and have their loan available in five minutes. From there, they can withdraw their funds to their card in more than 90 countries around the world.
"We believe people should have fair access to our crypto-backed loans services all over the world. No borders," according to the company. "And we don't care about credit scores, so no credit checks. Because you use your crypto as collateral for the loan — approval process is fast and secure and your crypto is safe with us while you get the cash you need in minutes."
Romanovskiy said other companies can take as long as 24 hours to approve loans and even longer for customers to actually receive the funds.
Nebeus offers two loan options. The One-Click loan provides clients with a 72% loan-to-value ratio while the Nitro loan provides the 80% loan-to-value ratio, Romanovskiy said.
"We now support withdrawal to the card in euros, pounds, or dollars," according to the company. "Once your loan is approved and transferred to your account, you can choose the currency in which that amount is transferred to the card."
Two High-Yield Savings Accounts for Both New and Seasoned Crypto Investors
Nebeus also offers high-yield savings accounts with competitive rates.
"Given the APY the crypto savings account has, this is a very attractive way to keep your cryptocurrencies," Irina Shalinets, Head of Marketing for Nebeus, said. "We have up to 8.25%. If you keep money in a traditional banking account, you basically get negligible amounts of interest compared to what you get from the crypto savings."
As with its loans, Nebeus offers customers two types of savings accounts, based on the minimum they would like to keep and the length of time of savings.
"Our Evergreen Savings (open with minimum 0.35 bitcoin or 18 ethereum) delivers an amazing 8.25% annual interest earned and deposited in Euros in your Nebeus wallet MONTHLY and ready for immediate transfer," according to the company website.
Opening crypto savings accounts in different currencies for different lengths of time is a good way to diversify investment portfolios, according to Nebeus.
We here at Nebeus believe that people should be able to manage their own finances without a bank dictating to them what they can and can't do with their own money. We offer such a way with our secure high yield crypto savings account earning our customers up to 10X over a regular savings account. — Nebeus
Open crypto savings accounts in different currencies for different periods, diversify your investment portfolio.
"Even if you don't have crypto right now, in a few steps you can be on your way to earning up to 8.25% while holding on to one of the fastest-growing assets on the financial market," according to Nebeus. Newcomers just need to open an account with Nebeus, deposit funds, and purchase cryptocurrency for deposit.
A Comprehensive Crypto Wallet and Exchange Accessible in One Place
A diverse cryptocurrency wallet and integrated exchange round out Nebeus' primary offerings.
"Our digital wallet is designed with you — the customer — in mind and is much more than a simple crypto wallet," according to the company.
The wallet can be used to digitally transfer P2P funds, quickly add and exchange cryptocurrency, and transfer funds to customer cards for added flexibility, according to Nebeus. All with simplicity and security at the core of its functionality.
Nebeus customers can also pay a low fee to make outside payments quickly and securely.
"Here at Nebeus, the protection of our customers' assets and transactions is our top priority," according to the company. "So to safeguard the process further while still allowing the ease of use, we have two-factor transaction confirmation."
All transactions require validation with a single-use PIN.
Nebeus wallet holders also gain access to the platform's convenient integrated exchange.
"Buy and sell cryptocurrency instantly from your wallet," according to the company. "Easy to set up, secure, and confidential — our wallet stores 98% of digital assets in cold storage ready to be exchanged or transferred when you need them."
With its high loan-to-value ratios and high-yield savings accounts, Nebeus offers appealing solutions for investors looking to get the most out of their crypto holdings.
"I strongly believe that with all integrated crypto-fiat services Nebeus is providing customers with a feel of what some financial services of the future would look like. Digital currency truly allows people transact without borders," Romanovskiy said.
The company focuses on constantly adding new features and services to make customer experience with the platform relevant and secure so users transact on Nebeus with confidence, he said.
"And as a testament to our focus on the customer needs and our dedication to the evolution of the consumer-oriented blockchain-based financial services, in April Nebeus closed its first significant financial round with a new fintech fund from ex-Kite Ventures. The need is there, and we are working to anticipate its growth," said Romanovskiy.