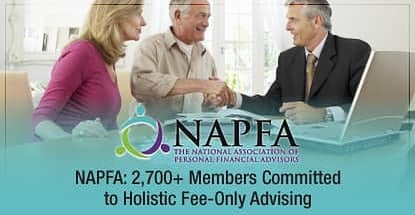 credit card news
Our experts and industry insiders blog the latest news, studies and current events from inside the credit card industry. Our articles follow strict editorial guidelines.
In a Nutshell: In a financial world so often muddled by commissions and sales goals, the National Association of Personal Financial Advisors (NAPFA) strives to be a beacon of integrity by uniting fee-only advisors. Members renew their commitment to the guiding principles of the NAPFA Code of Ethics and Fiduciary Oath, which includes the conviction that financial advice should not just be focused on investing but provides a more holistic approach to financial planning. Because of the name they've made for themselves, prospective clients know exactly what to expect when working with a NAPFA member, and many seek out NAPFA-Registered Financial Advisors specifically for that holistic, ethical approach.
Four years ago, my husband ventured to the local branch of our bank to seek investment advice. Russ was a personable, helpful, and attentive advisor, and he spent time answering, in extreme detail, my husband's thoughtful questions.
After my husband and I talked about it at home, he ended up returning to Russ to begin our portfolio with a mutual fund investment. A few weeks later, we learned that because of the commission structure of Russ's brokerage, the only funds he had offered for our consideration were load fee funds — funds with an automatic commission appended to the fee structure. We had no problem with the commission itself because we felt that Russ had earned it by spending time with my husband, but we discovered that in addition to the commission, these funds were also weighed down by heftier annual expenses than those of their competitors.
Ultimately, we received decent advice, but we were only offered an expensive and inefficient set of investment choices because of the brokerage firm's commission structure, which left a bad taste in our mouths.
We certainly weren't aware of how much can be left out of the financial planning conversation when working with a commission-earning advisor — we assumed that regardless of fee structure, any good advisor would have the client's best interest in mind when making recommendations. While compensation models vary among financial planners, fee-only advisors likely have the least incentive to sell because they only charge for their advice and earn zero commission.
As a result of our experience, when my husband and I need help in the future, we will seek the advice of a fee-only financial planner, and thanks to the National Association of Personal Financial Advisors (NAPFA), it's easy to find which advisors consider ethics a higher priority than their paycheck.
When I spoke with Geof Brown, CEO of NAPFA, recently, he described the most notable difference between NAPFA and the other organizations he has managed throughout his 15-year career — the members actually embody the mission of NAPFA:To promote the professional success of fee-only, comprehensive financial advisors.
The work of a financial advisor is often equated to investment planning, which may or may not include a client's retirement goals. However, Geof told us members of NAPFA join because they believe in a holistic approach to personal finance, one of the tenets of the organization. To them, financial planning encompasses not only investment planning, but estate, retirement, education, and healthcare as well.
Right from the Start: How NAPFA Attracts Ethical Advisors
On our call, Geof described the association's origin story to illustrate how, since the beginning, NAPFA has been focused on keeping advisors accountable.

It was the '80s, the market was volatile, and a few industry innovators noticed an alarming trend: compensation was interfering with the fiduciary relationship advisors had with their clients. To provide what they believed was a better alternative, the group created NAPFA in 1983 as a way to identify and regulate other financial professionals who shared their passionate mission.
When Geof took leadership three years ago, he was surprised to find that the membership process is actually designed to keep people from joining NAPFA. The association requires strict adherence to its ethical standards, including renewing an agreement every year to its code of ethics and fiduciary oath. The process, means that only those who are truly dedicated to the mission end up joining, and the association is better for it — membership is also up 112% over the past 10 years.
A Unifying Mission Statement to Help Further Careers
While NAPFA's mission statement is centered on helping the development of financial planners and future fee-only advisors, those who join must live by the association's values. Geof said he was immediately impressed with how members actually do just that.
From committing to provide objective financial advice to being a representative of an ideal in their profession, prospective members all share the same goals. NAPFA, then, helps further these goals to ensure every generation of financial planners receives the education and has access to the resources necessary for their success.
Every Member Must Adhere to the Code of Ethics
All 2,700 members nationwide commit to the association's ethical standards — a list of eight guiding principles shaping the way the advisor behaves and assists clients.
Among these standards, the description for the "Integrity and Honesty" principle is the longest and details how the advisor is always to take the high road to ensure no one, client or otherwise, can question their intent. To help members live up to the standards they wish to embody through NAPFA, the association provides ongoing support and guidance through webinars and regional conferences.
Fiduciary Oaths are Renewed Annually
Just because an advisor is fee-only doesn't mean that his or her advice is foolproof or perfect. Furthermore, even though the advisor doesn't make a commission on assets sold to the client, it's still possible for a conflict of interests to arise, such as if a client wants to move funds completely away from those the advisor is managing (especially if compensation is based on a percentage of the total funds under management).
In an effort to curtail conflicts of interest, NAPFA members submit a lengthy example financial plan when under consideration for membership in the association. The membership committee then reviews the example plan to ensure members actually prescribe a holistic plan in the best interest of their clients.
Additionally, each year, NAPFA members are required to renew an oath to their fiduciary duty, which implies an ethical relationship of trust. In its simplest description, this responsibility means that clients must trust that their advisors will always act in their best interest, regardless of any benefit, or lack thereof, to the advisors.
NAPFA Provides Its Advisors Tools to Maximize Success
Geof explained that one of the unique ways NAPFA helps keep its members accountable is through ongoing support and guidance online with its learning center and in person with regular symposiums and conferences.
"We actually have membership categories and resources to cover someone's entire professional life cycle from students to practitioners to those who retire that no longer service clients but want to be a part of the advisory community," said Geof.
Professional development is a major component of NAPFA, and their two main annual conferences garner from 400 to 600 attendees. These events provide insight into advisory topics like tax, insurance, and financial planning as well as business tips for marketing, prospecting, among others.
Locally, NAPFA encourages members to gather for study groups, but don't mistake them for a book club. Geof said these groups meet to explore specific issues relative to financial planning within their local geography.
"I think one of the things that's often overlooked by advisors is the educational and developmental benefit of just interacting with other professionals," he said, and that constant networking is what helps keep NAPFA members accountable and up-to-date on best practices.
A Well-Rounded Resource, NAPFA Helps Educate Consumers
It would be difficult to sift through the nearly 300,000 financial advisors in the U.S. to find someone who has your best interest without the NAPFA member database.
Back in California, when we parted ways with our advisor, Russ, my husband vowed to learn what he could on his own. For now, that's working, and while I am confident in his abilities, I'm also certain there will be a time my husband will need more insight or clarification. At that time, I know we will be seeking a professional through the association's website.
Of course, this is simply the first step in finding the right advisor for us, as fee-only doesn't guarantee the advice will be the best, but a NAPFA-Registered Financial Advisor likely means their advice won't be influenced by a fatter paycheck.
Geof said that the database on NAPFA's website offers a robust search of its members across the country, and you can even zero in on specialties like planning for educational costs or wealth management for high net worth individuals.
"For consumers, we want to be a channel for them to engage with a financial advisor that's going to provide objective advice in the consumer's best interest."