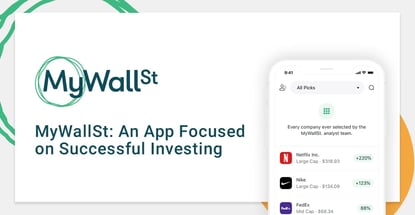 credit card news
Our experts and industry insiders blog the latest news, studies and current events from inside the credit card industry. Our articles follow strict editorial guidelines.
In a Nutshell: While some apps simply help people buy, sell, and trade stocks, MyWallSt focuses on educating investors for a successful financial journey. The company gives users access to its investment experts to help guide them to potential returns 50% above average. Learn by MyWallSt is a sister app that educates newcomers on everything they need to know before getting started in real-world investing. MyWallSt has also developed the six golden rules of investing which provide sound advice for brand new and seasoned investors alike.
Investing apps come in all shapes and sizes in today's competitive fintech marketplace. While many of these apps give users the power to invest as they see fit, they don't always guide the user in how to invest wisely.
MyWallSt, however, not only makes investing fast and easy, it shows people how to invest successfully through a number of tactics.

The company was founded in 2013 when Emmet Savage and John Tyrrell decided to leave their full-time careers and follow their passions of technology and investing.
Savage jokingly says MyWallSt was founded in 1974 because that's the year he was born.
"My dad had an interest in business, and, as a result, he used to speak to me about stock investing and explained it all to me in nice, simple language, which I guess got me interested," Savage said.
And he carried a passion for investing all those years, even running an early version of a blog in the mid-1990s that focused on investing. In many ways, MyWallSt is an extension of Savage's earlier forays into dispensing guidance on investing — but today, the technology is much better and the audience is much larger.
"Investing is for everyone," according to MyWallSt. "We show you how to succeed."
How MyWallSt Guides Investors and Assists Them in Making Smart Investment Decisions
Savage said that, when he and Tyrrell were conceptualizing MyWallSt it was at a time when the tech world was transitioning from web to mobile data.
"We met people like the founders of Robin Hood and the founders of a whole bunch of other businesses in the universe of stock investing," Savage said. "And the first thing we decided was that we were going to be mobile-centric."
The next major decision was the choice for MyWallSt to not be a broker. He said that, for MyWallSt, becoming a brokerage would have been a race to the bottom and it has no intention of ever becoming a broker.
So, MyWallSt's mission is simply to get the world investing successfully by delivering to people the world's best stock guidance, Savage said.
"So, what we actually do is deliver a suite of products designed to create successful investors," he said. "And successful investors are not made by finding a zero-commission brokerage and depositing money. That's just the mechanics."
Savage compared this scenario to a person going to the doctor with an injury. The doctor applies his or her expertise and advises on how to help the injury and sends the patient to the pharmacy with the prescription.
The pharmacy gives the patient whatever the doctor prescribed.
"The brokers of the world are like the drug stores," Savage said. "They don't care, they will hand you exactly what they are told to do — they fill a utility. And Robin Hood is the great utility — the great drug store — in the world."
But MyWallSt partners with a whole ecosystem of brokers to help users carry out their investments.
MyWallSt users gain access to the top 1% of investing opportunities handpicked by the company's analyst team and other expert guidance such as a stock of the month selection each month, according to the company
"Securely link your brokerage account for seamless buying, selling, and monitoring your portfolio," according to MyWallSt. And an investing team is always on-hand to answer any questions.
"Our stocks are up over 50% on average, easily beating the S&P 500," according to the company website.
Savage said MyWallSt also makes a point to educate people without using the overly complex and technical jargon that can be found in the investment ecosystem.
Learn by MyWallSt is a Sister App that Demystifies the Investing Ecosystem
While MyWallSt's mission is to provide users with high quality investing advice, the company also offers an app for people who are not quite ready to start their journey of investing in the real world.
"Shortly after the launch of the MyWallSt app, one of the first major decisions was made — a major redevelopment of the flagship app occurred — the splitting of the MyWallSt app into Learn by MyWallSt and Invest by MyWallSt," according to the company.
After much deliberation, the MyWallSt team decided that future investors would benefit more from two apps that are geared specifically toward different stages of the investing journey, Savage said.
"Learn by MyWallSt is completely free to use, free to download, has no ads, there's nothing to sign up for," Savage said. "It's just a good citizen product designed to demystify stock investing."
Learn by MyWallSt features 40 individual investing lessons written by MyWallSt's expert investing team and helps to put users on a clear path toward becoming an investor, according to the company.
The app also includes a progress wheel to track growth, night mode, and adjustable font settings.
"I've been investing for a long time now, and I've never seen such a simple and well-explained summary on investing," writes Learn by MyWallSt users Jonathan on the Learn website.
"This is an excellent introduction to the stock market for beginners and an excellent reminder for experts," writes Learn by MyWallSt user Matthew.
The app covers everything from why investing is important to begin with, basic terminology and strategies, how to find great companies to invest in, and finally, how to begin your investing journey.
MyWallSt's Six Golden Rules of Investing
"We are all about making sure you obey the six golden rules of investing, which we've designed," Savage said, before walking us through the six important guidelines.
He said the first rule is to simply get started in investing to gain real-life experience. He said he's gone through a wide range of different investing scenarios and learned important lessons from them.
"MyWallSt is committed to making it as easy as possible to get started in the world of investing, while guiding you every step of the way," according to the website. "Start with our free Learn app and progress to our MyWallSt app when you're ready to start investing."
The second rule is to think about things in the long term.
"We've modeled our investing philosophy on the proven long-term, buy-and-hold approach that is favoured by history's greatest investors," according to MyWallSt. "We will guide you towards developing the mind-set and discipline required to make the right investing decisions every step of the way, so that you can become a successful long-term investor."

Third, never borrow to buy, Savage said.
Borrowed money always comes at a cost, usually in the form of interest, according to the company. The interest rate will erode returns and you'll need to repay the principal amount in the future. The better approach is to save first and then invest with your own money.
Rule number four is to diversify.
"Diversification means accumulating a variety of stocks from different markets and sectors. This helps to reduce exposure to market volatility," according to the company.
Next, Savage said to buy what you believe in.
"Rather than just buying a coffee from Starbucks or sneakers from Nike, we show you how you can actually buy a piece of the companies that you know and love," according to MyWallSt. "And remember, when your favorite companies grow, your investments grow with them."
The final rule is invest what you can, when you can.
"Like most things in life, successful investing is built around good habits. We help you to incorporate the best of these habits into your financial life," according to the company. "Dollar Cost Averaging means investing a fixed dollar amount of a particular investment at the same time interval on a consistent basis, regardless of the share price."
With the expert guidance found in the MyWallSt app and following the six golden rules of investing, even the newest investors can enter the investing ecosystem prepared for success.