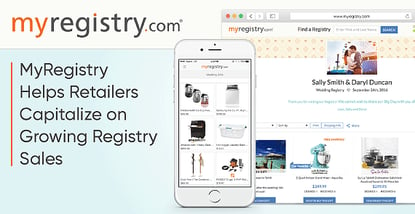 credit card news
Our experts and industry insiders blog the latest news, studies and current events from inside the credit card industry. Our articles follow strict editorial guidelines.
In a Nutshell: The estimated $35 billion a year in registry purchases are a growing part of overall retail sales, and MyRegistry wants to help retailers cash in. Simply put, MyRegistry wants to provide a single gift registry for all stores. By positioning multiple retailers in front of every shopper, MyRegistry finds that more registry purchases find something that they want to buy, and on average, 60% of sales originating from the universal registry site are new customers for that store. We caught up with Nancy Lee, president of MyRegistry, at a recent conference to talk about upcoming partnerships and the improved software offerings her company has been working on.
We were supposed to meet Nancy Lee for coffee at a hotel Starbucks, but given that we were in Times Square, the only space left for our meeting was a standing table outside the coffee shop.
She was in Manhattan, just 10 miles southeast of MyRegistry's headquarters in Fort Lee, New Jersey, for a conference to demonstrate how simple and effective her platform is to integrate. Nancy joined MyRegistry as president almost 10 years ago, and in that time she has worked to make the universal registry site a power player in the retail industry, providing hundreds of websites gift registry services.
"When I first started going to affiliate conferences, people told me a registry site didn't belong," she said. "But our goal is to show retailers just how much they stand to benefit from looking at us as a conduit for new business."
Nancy's team estimates that the gift registry industry drives more than $35 billion in U.S. sales annually, and because items on a registry are requested by the recipient, they're less likely to be returned, slashing the 8% of sales typically lost to returns to less than 2%.
The consumer side of MyRegistry's marketing plan encourages the use of registries for every gift-giving occasion, not just the wedding and baby milestones that have served as the industry's backbone. Nancy explained that using a registry means consumers never have to settle for an unwanted gift.
At the conference, though, Nancy is in full business-to-business mode. She pitches MyRegistry as a solution for e-tailers as well as brick-and-mortar outlets that results in new customers willing to pay full price for gifts on their friend or family member's registry. As we all took a sip of our coffee, Nancy launched into how MyRegistry was created and how it has evolved as a service for other businesses.
The Idea that Launched the Largest Universal Gift Registry
In 2005, MyRegistry CEO Oded Berkowitz purchased a gift for a friend's new baby. As many people do, he reviewed a list of requested gifts in a registry, picked out the one he wanted to give, and purchased it from the parents' chosen retailer. It was an easy and straightforward process.

A few months later, Oded was again invited to the same friend's birthday party. Short on time, he planned to pick something up the day of the party. When he arrived at the first store, his mind went blank standing among the aisles of gift options. He thought, Why can't we just use a registry for every occasion so I can buy a gift that he actually wants?
The idea of MyRegistry — a gift-giving method where everyone wins — was born the very next day. Nancy explained that registries offer benefits for everyone involved in the transaction. For retailers, registry buys tend to provide full-priced sales that don't often need to be returned. The gifter feels satisfied if the recipient gets what he or she desired, and because the recipient made the registry, it's nearly guaranteed to be the right item in the right color and size.
Oded decided the best way to convince others to use a registry more often and outside the traditional life milestones was to make it easy to do so. He launched MyRegistry with a browser button, a concept now used by other companies like Pinterest, to allow consumers to build a registry by piecing together a wish list that spanned all their favorite stores, not just those with a registry service and the most varied items.
A Universal Registry Helps Shine Light on Smaller Businesses
Boutique digital storefronts have faced the uphill battle of getting exposure in the shadow of big box retailers for years, but e-commerce has helped smaller businesses find their niche and shine. Because consumers can easily find specialty goods from all over the world via the web, the universal solution MyRegistry provides helps to level the playing field, according to Nancy.
"If a mom-to-be finds a stroller from, say, a site like Strollers.com, she can add it to a universal registry alongside items from other stores," Nancy said. "This way, she doesn't settle for something else from a larger retailer and her registry helps expose her friends and family to Strollers.com."
MyRegistry can both power a retailer's gift registry and sync with an existing registry system to provide a universal solution for shoppers. Proprietary software enables retailers to include an "Add to Registry" button alongside items on their website, and even if a company is unable to invest in the cost-effective software MyRegistry developed, consumers can install a browser button to add specific items to a universal list on MyRegistry.
Since the goods are added to a consumer's universal list on MyRegistry, sellers can expect to reach a new audience of buyers — the friends and family of the consumer who created the list. Nancy said that about 60% of purchases originating from her site are new customers for that retailer. Furthermore, sales from registries tend to be full-priced and boast a lower rate of product return.
In-Store Solutions Meet Traditional Registry Needs, Backed by the Power of a Universal Wish List
While the online solutions MyRegistry supplies are used on over 300 sites, the hybrid kiosk system the company developed can be found in more than 600 retail locations across the nation.
"Two years ago we introduced an in-store kiosk system that allows consumers easily create a gift registry in a retail store and then use our mobile app as a scanner on their phones to add items to their registry right in that store," explained Nancy.
The kiosk system rolled out to nearly 200 brick-and-mortar stores in 2014, and the number of retail outlets using this system, including Ethan Allen, Shopko, and Jonathan Adler stores, has since tripled.
"Companies that didn't offer a registry before now have the power to provide a seamless customer experience," explained Nancy. "Consumers can add furniture from Ethan Allen and tabletop items from Pier 1 to one universal list rather than having to settle on a single registry."
Changing the Gift-Buying World For Consumers & Retailers
Nancy checked her watch in the lobby — we were nearing the end of our scheduled meeting. She told us gift registries are growing in popularity and are being used for more occasions, from the traditional wedding and baby showers to housewarmings, anniversaries, and graduations.
As more consumers turn to registries, retailers stand to benefit from providing a shareable wish list solution. The software MyRegistry has developed can help retailers of any size — from an e-commerce website to a physical storefront — offer a fully integrated gift registry that places their goods in front of new shoppers. Add to that the fact that gifts purchased from a registry tend to be bought at full price and are less likely to be returned, and everyone wins with MyRegistry.