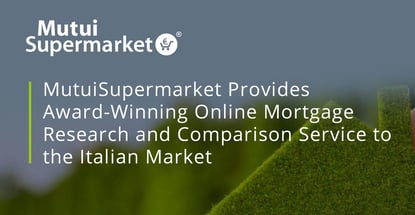 credit card news
Our experts and industry insiders blog the latest news, studies and current events from inside the credit card industry. Our articles follow strict editorial guidelines.
In a Nutshell: MutuiSupermarket is a provider of mortgage information for the Italian market. Its online listings compare offers from more than 90% of mortgage lenders in Italy. In addition, MutuiSupermarket acts as a loan broker by aligning the requirements and resources of its users with the underwriting standards of each lender. The company's professional consultants work with users to find the lender most appropriate for the user's unique needs.
American consumers have become accustomed to comparison websites that identify and review competing products and services. With a few clicks of a mouse or taps on a smartphone, anyone can easily compare, review, and access products and services for just about anything.
MutuiSupermarket brings this expertise and convenience to the Italian mortgage market with its comprehensive comparison website. Users can access information covering the banks and mortgage lenders representing almost all of Italy. In addition, MutuiSupermarket is a mortgage broker that helps users obtain their mortgages.
"Our users browse our website looking for a mortgage to finance the purchase of a first or second house or to refinance an existing mortgage," explained Guido Bertolino, Business Development Manager for MutuiSupermarket. "Basically, users indicate the value of the house and then find all the different offers from the banks we cover. Users can indicate the offer they prefer."
MutuiSupermarket was launched in January 2011 by founders who had long experience in the Italian mortgage market. It was designed to reflect the best features of similar sites in the U.K. and the U.S., enriched by a uniquely Italian approach.
From the start, MutuiSupermarket stressed three important concepts: competence, simplicity, and customer assistance. That's why the company requires all of its consultants to be registered in the OAM (Organismo di Agenti e Operatori) Register of Credit Brokers and to have at least five years' experience in mortgage brokerage.
MutuiSupermarket is a green company committed to the environment. It subscribes to Impatto Zero©, an organization dedicated to the creation of new forests to help offset carbon dioxide emissions. It also supports Green Cross International by arranging a donation for each mortgage granted by a partner bank.
Mortgage Comparisons are Easy on the MutuiSupermarket Website
The goal of MutuiSupermarket is to help users reach informed decisions. That's why the interactive website is structured to be easy to understand and up to date.
The process starts when an online user requests a mortgage. Online mortgage applications are free, and consumers have no obligation to accept a bank's offer. Users can apply for a new mortgage or refinance an existing mortgage. Alternatively, users can purchase a home at auction and then finance it through a mortgage. Depending on the type of loan they want, users will be directed to a list of competing mortgages.
"We compare different offers from different Italian banks," said Bertolino. "The pricing listed for each offer matches what you'll find at the lender's website. However, in some cases, our prices will be better than what you'll get directly from the bank."
It's easy to request a mortgage on the MutuiSupermarket platform. Users simply select the kind of mortgage they want and then inspect the list of competing offers. Each offer includes the loan's APR and the monthly payment amount.
In addition, users can select a preference for a bank based on user feedback. The MutuiSupermarket website contains complete profiles and user reviews for each of its listed banks which provide borrowers with high-quality research that can lead to potential savings. Applicants are required to provide basic information, including name, employment and net monthly income, and the home price, among other data, as part of the application process on the MutuiSupermarket platform.
MutuiSupermarket Acts as a Broker to Help Users Obtain the Right Mortgage
MutuiSupermarket offers services to help ensure that its users obtain mortgages. In fact, MutuiSupermarket acts as a broker to help applicants succeed in finding a suitable loan.
Loan requests do not immediately go to any of the lenders listed on the MutuiSupermarket website. Instead, the service starts with a follow-up interview between the applicant and a MutuiSupermarket consultant.
"Within 24 hours of applying for a loan, we call applicants and explore their financial situations," explained Bertolino. "We want to understand the financial status of our users in order to evaluate which banks have underwriting guidelines that suit the applicant. In this way, we can advise applicants on their chances of getting the mortgages they want."
Following the interview, MutuiSupermarket sends the user's application directly to the bank most likely to approve the mortgage. The bank will then contact the applicant to collect all the required documents and launch the underwriting process.
Sometimes applicants prefer loans from lenders that are unlikely to approve their loan requests. When this happens, MutuiSupermarket will suggest an alternative lender that better suits the applicant's financial circumstances. MutuiSupermarket follows up with phone calls to applicants to check on the progress of the loan application.
"We contact our clients in order to know how it's going with the bank," said Bertolino. "We do this because some problems might pop up. Maybe the bank chooses not to approve the mortgage. In that case, we can direct a user to another bank. Our main goal is to find a successful solution for our users because we only collect fees from lending banks, never from our clients."
Covering 500 Different Mortgages Across 66 Banks
More than 90% of the Italian mortgage market is represented on the MutuiSupermarket website. Users, who number more than 500,000 each month, can find listings for about 500 different mortgage offers from 66 Italian banks and other mortgage lenders.

The banks are sorted into about 20 groups, with each group offering multiple brands and deals. "For example, Banco BPM has two kinds of loan offers," observed Bertolino. "These are the online offers and the traditional offers you'd find at a Banco BPM branch.
The average home interest rate in Italy is currently exceptionally low — close to the lowest level in history since the Second World War. A 30-year fixed-rate mortgage in Italy can now be obtained with an interest rate of 1%, more or less.
The interest rate will partially depend on the loan-to-value (LTV) ratio of the mortgage. For LTVs of 80% and higher, borrowers can expect to pay a little above 1% for a 30-year mortgage. On the other hand, borrowers may pay 0.8% if their LTV is 50% or lower. Compare this to the 7% to 8% rates that prevailed at the inception of the euro in 1999. Even during the depths of the Great Recession, Italian interest rates on 30-year mortgages hovered between 3% and 4%.
One of the reasons for the success of the MutuiSupermarket platform is the availability of useful information.
"On our website, we have a lot of guides that explain the mortgage market, the home-purchasing market, and every mortgage market," said Bertolino. "Moreover, our consultants can talk to our users about the underwriting guidelines of banks. They can also provide suggestions to our users, plus important information on how to prepare the required documents, and how to properly portray the new house. In addition, we are improving our apps to make them more valuable and easier to use."