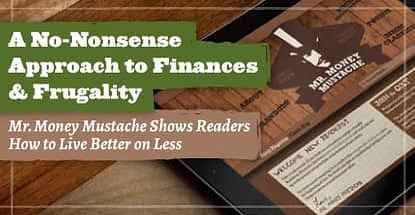 credit card news
Our experts and industry insiders blog the latest news, studies and current events from inside the credit card industry. Our articles follow strict editorial guidelines.
In a Nutshell: Mr. Money Mustache — funny name, not-so-funny insight into how you're overspending in your day-to-day. Through creative budgeting recommendations, savings plans, reading lists, and real-talk resources, Mr. Money Mustache teaches people how to live on less (approximately 50-75% less) without sacrificing quality of life. In fact, his entertainingly snarky life lessons and advice can show readers how their lives might just get a little — or a lot — better through frugality, like his did when he drastically changed his spending habits and retired at the age of 30.
I'm just like most Americans, and you probably are, too. In some cases, that's great. I love a good 4th of July barbecue. But in others — like credit card spending — there's definitely some room for improvement.
John Hoffmire, Associate Fellow at Saïd Business School, Oxford University, recently noted that "the U.S. is on track to break $1 trillion in outstanding credit card debt for the first time in history." Odds are good that most of us have contributed to that debt.
Racking up charges for dinners out or digging into savings to pay for an impulse buy is something most of us know well. We can spew off all the excuses and reasons we lack impulse control. But many can't speak with the same authority on finances and budgeting as Mr. Money Mustache.
The great thing about Mr. Money Mustache is that he's just like all of us except, well, he's figured the money stuff out. More importantly, he's created a site to share that knowledge. And that's why Mr. Money Mustache is exactly where you can learn to better your spending habits.
A "Freaky Financial Magician" Helping Others Focus on Happiness Itself
So what — and who — is Mr. Money Mustache? You could call it a blog by a self-proclaimed freaky financial magician. But, maybe it deserves a better title, given his site promises readers who act on his advice "early retirement through badassery." Sort of like a magic act that turns money problems into money freedom.
The site is divided into several sections, meaning you can take just as many paths toward achieving a savvier financial existence. It's almost like financial roulette — except no one loses. Pick your entry point, and Mr. Money Mustache will do the rest.
If you're completely new to money talk, you can go straight to "Start Here" to read the post that began the MMM empire. Or, you can explore MMM Classics for a mix of the site's most popular posts.
But if you're feeling wild, there's also a "Random" link to help you discover knowledge you didn't know you needed. In my case, that was a piece on how to stop the "electrical demons" that were upping my power bill by 80%. Count me in, and consider these reads Phase 1 of your personal finance overhaul.
Transparent, Authoritative Recommendations for Budgeting
If you've ever tried to navigate the countless budgeting apps, investing products, and savings accounts out there, you probably know you need help. Are you a Mint girl? A Moneydance guy? Do you even know what those are?
The MMM Recommends section will help you cut through the financial jargon and commercial noise. With sections dedicated to products and services, books, and credit cards, you've got clear insight into the best options from a voice trusted by millions.
Products and Services to Help Secure Financial Futures
One of MMM's main philosophies is actually pretty simple: don't buy unnecessary crap. Still, you've got to acknowledge that certain products really are worth it, especially given the time and money they save. The products and services listed here are ones that MMM actually uses himself so you know they made it through quite the rigorous testing phase.
Whether you're curious about what investment company you should use ("To me, Vanguard has always been THE one-stop shop for index funds of all types," says MMM), the best banking option (notably, MMM uses Capital One 360 as his primary account), or the cheapest car insurance (hint: guess that gecko really does know what he's talking about), MMM has suggestions and clear explanations to back them up.
The MMM Reading List — Knowledge for Living a Balanced Life
In addition to the countless blog entries on the site, MMM also keeps an ongoing book list culled from reader recommendations as well as what he's read lately.
If you know your investing knowledge is lacking (or nonexistent), there are books on the list that can help. MMM even throws some health and fitness and philosophy reads in the mix for the sake of pursuing a well-rounded education.
Travel Hacking With Credit Cards: Going Places on Rewards
All the money saving and investing and credit hacking isn't worth a thing if you wind up feeling like your life's devoid of fun. Fortunately, personal enjoyment and happiness are elements that underwrite most of MMM's advice, especially his steadfast commitment to travel hacking and maximizing credit card rewards.
Everyone deserves a vacation, even someone who's actively working on reducing excess spending. That's where rewards-based credit card strategy comes in.
Maximizing credit card rewards can make a major difference in what you manage to set aside. According to MMM, most of us can save at least $1,000 annually this way. And so MMM turns to a good friend, Brandon Cronan, who works part-time and travel hacks the rest of the year. Together, they provide recommendations on the latest and greatest credit card offers.
Mustachians Collaborate on Journeys To Early Retirement
Like many addictions, it's so, so easy to fall off the wagon when it comes to financial independence. If you find yourself reeling from another weekend racking up credit card swipes at hip taquerias and shopping malls, rereading blog advice may not cut it.
That's where the MMM Forum comes in. Think of it like a Mustachians Anonymous. Other fans of MMM gather there to share their best tips and keep each other on the path to financial independence. This empowers readers and gives them a sense of community.
While we all may be contributing to the U.S.'s $1 trillion credit card debt, we don't have to be bound by it. Mr. Money Mustache shows the way out and puts readers on the path to living better lives.