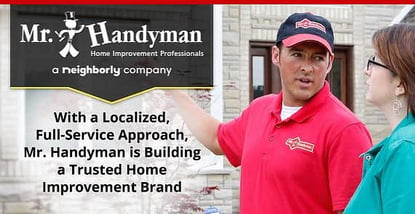 credit card news
Our experts and industry insiders blog the latest news, studies and current events from inside the credit card industry. Our articles follow strict editorial guidelines.
In a Nutshell: As the home improvement industry becomes more impersonal, consumers aren't always sure who they can trust to tackle repairs and projects. But Mr. Handyman — a home improvement service founded in 1996 — has built a customer-service culture and a local franchise business model to counteract that trend. Technicians are versatile and empowered to communicate with customers to see multiple projects through to satisfaction. And franchisees are members of their communities who give back through local and national service projects. Mr. Handyman continues to build one of the most trusted home improvement brands across the US and Canada with a localized, full-service approach.
Before the home improvement industry became highly commercialized, homeowners would call a skilled family member, friend, or a local handyman with an established reputation in the community when they needed help. Now, finding a good handyman requires more than thumbing through the local phone book.
Many searches begin online and end with booking an unfamiliar third-party contractor. The service approach has also changed for some businesses, with limitations on how extensively technicians can interact with customers or go beyond what's specified in a work order.
In this service landscape, many homeowners find it difficult to accomplish complex home repairs without the hassle of multiple visits or contractors they're not sure they can trust. Others decide to join the do-it-yourself ranks only to create more work for a professional. "It's not that easy — you don't have the tools or the skill set, and your patience runs out quickly," said J.B. Sassano, President of Mr. Handyman International.
Sending out a local technician to help a homeowner fix a botched DIY project is just one example of the personalized service provided by Mr. Handyman franchises — one of the largest home improvement brands spanning the US and Canada.
In an increasingly impersonal industry, Mr. Handyman stands out as an international brand with a small business model rooted in customer service. "We talk about it all the time with the technicians to make sure they understand the culture," J.B. said. "As a tech, they're going into places the customer's friends don't even get to see. Having the ability to instill confidence and trust in that relationship is key to making that first experience good and inspiring repeat business."
For more than 20 years, Mr. Handyman has been establishing a home improvement brand that empowers individually owned and operated franchisees to deliver trustworthy, hassle-free service to their local communities.
The 22-Year Brand has Grown from a Culture of Trust
Dave Lavalle founded Mr. Handyman in 1996 in Chelmsford, Massachusetts, to provide home improvement services to the Boston area. He started the company with a team of 18 technicians. In 2000, Michigan-based Service Brands International acquired Mr. Handyman and began franchising it.
Mr. Handyman — now part of The Dwyer Group's Neighborly family of residential and commercial service franchises organized in 2017— has been steadily expanding from its East Coast roots since 2013. Today, nearly one million customers have received service from one of Mr. Handyman's 200 locations stretching across 25 US states and into Canada.
Mr. Handyman provides a wide range of residential and commercial repairs and renovations — backed by the Done Right Guarantee. The company ensures consistency by selecting individuals who will represent the Mr. Handyman brand well. That responsibility is entrusted to individual franchise owners who complete background checks and verify that technicians are bonded, licensed, and insured.
Franchise owners choose technicians who have 10 to 15 years of experience but place equal emphasis on their fit within the cultural and service aspects of the business. "That's probably the number one reason we don't bring someone on board — if they can't absorb the culture of listening to the customer, providing great customer service, and determining their next needs," J.B. said.
After technicians are selected, many franchises put them through a three-day training program. This usually includes riding along with current technicians who monitor and provide feedback on the new tech's on-the-job technical and communication skills.
Mr. Handyman's emphasis on quality and hiring reputable technicians with both vocational and relational skills promotes a brand culture that continues to inspire consumer trust more than 20 years later.
Versatile Technicians Tackle Multiple Home Projects in a Single Visit
Mr. Handyman provides home improvement services that include maintenance, repair, carpentry, installation, painting, and even entire remodeling projects.
The average Mr. Handyman technician is a jack-of-all-trades who possesses a variety of skills, tackling many projects in as few visits as possible. The only type of work Mr. Handyman technicians don't do are projects that require a licensed electrician or plumber — depending on state law and the individual franchise. "Very few of our franchisees have those folks on staff," J.B. said. "For those projects, they'll bring in experts — many of which come from The Dwyer Group."
When Mr. Handyman technicians ask customers if there's anything else they'd like done while they're on-site, there's a full list of services they can perform. This stands in contrast to companies that limit technicians to work-order specifications and require customers to schedule new appointments for additional service requests.
"We schedule morning and afternoon appointments, which are anywhere from two to four hours," J.B. said. "If technicians are on-site two hours and have completed the job they've come to work on, they can stay another two hours after that or call the office and say they need to stay the rest of the day."
Mr. Handyman technicians use customer-provided supplies, but can make a stop on the way to pick up any project materials needed for an additional fee. Technicians can also start a project while the customer retrieves the supplies himself.
Many repair companies limit an on-site technician's ability to make decisions and give advice, but Mr. Handyman doesn't. "We want to make sure our technicians have the ability to talk to the customer." They are encouraged to answer customer questions and provide consultative services.
Mr. Handyman uses the Net Promoter Score for feedback — a loyalty metric based on customers' response to whether they'd recommend a service. "If customers like what we charge and what we do, they would recommend us to somebody," J.B. said.
The company uses the score at the local and national level to help coach technicians and create training programs that reinforce the importance of customer satisfaction.
Locally Owned Franchises Foster Community Involvement
In an industry that has largely shifted from long-standing local businesses to impersonal corporations and third-party contractors, Mr. Handyman's franchise model brings back the community presence and involvement that earns consumer trust.
And Mr. Handyman franchises provide an opportunity for individuals to pursue their dream of small business ownership with the backing of a well-established home improvement brand, access to national resources, and the support of other franchise owners.
Many franchisees are well-known in their communities and give back through special events and fundraisers that reflect the needs of their service areas. Mr. Handyman encourages local franchises to participate in the National Day of Service and Remembrance — an event started in 2009 to commemorate and honor those in military service by donating time and resources to improving veterans' homes.
"A franchisee will donate the time, technicians, and materials to fix a home. It's a big part of giving back to the community," J.B. said. "We've donated 7,000 total hours of service."
As part of a larger initiative this year, Mr. Handyman and other Neighborly brands plan to join forces to tackle more extensive home overhauls within their local communities.
Mr. Handyman fosters a sense of community and reinforces its culture of service and trust through its giving and empowerment of local businesses.