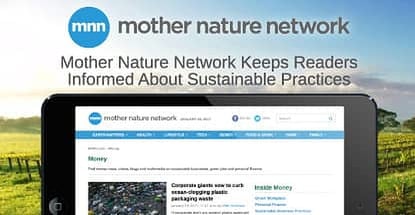 credit card news
Our experts and industry insiders blog the latest news, studies and current events from inside the credit card industry. Our articles follow strict editorial guidelines.
In a Nutshell: We all know it's important to take care of the environment, but many of us lack the knowledge to promote sustainability in every aspect of our lives. This can lead to practicing a limited environmental consciousness that acknowledges basics — like recycling — while neglecting important areas such as finances, green workplace practices, and sustainable business operations. Mother Nature Network is a one-stop, multimedia resource for environmental news and information that covers different areas of everyday life, making it easier for conscientious people to stay informed, engage in issues that affect their world, and live more sustainably.
As someone who grew up frequently hearing the mantra "reduce, reuse, recycle," I knew the importance of being environmentally conscious from an early age. But it hasn't always been easy to put that ideal into practice at a personal level.
At one point, I had a neighbor who religiously recycled and carried reusable shopping bags to the supermarket, which inspired me to pick up those habits. But the spark that most connected me to sustainability wasn't environmentalism — it was my finances.
What started as a desire to lead a simpler life and support causes I'm passionate about pushed me to learn about frugality, minimalism, and eco-conscious consumerism. Over a few years, I learned that how I secure, handle, and sustain my money can have a positive impact at a personal and global level.
Visiting Mother Nature Network helps connect the desire to live a sustainable life with the realities of a 21st-century lifestyle. The site delivers news and original content to answer questions about how each aspect of modern life impacts our world, which empowers visitors with the knowledge they need to make a difference and live responsibly.

At the very least, many of us desire to live an environmentally friendly lifestyle. Like me, you might even be developing a growing awareness that there's more to green living than remembering to take out the recycling bin once a week. But, it can still feel hard to connect to it on a personal level, especially when many of us spend more hours online, at the mall, or in offices than we do in the great outdoors.
Built to Inform and Engage the Eco-Conscious Community
Mother Nature Network curates the latest environmental news stories and resources from around the web, and its goal is to inspire eco-conscious people to stay informed and get involved in the issues that affect themselves, their communities, and their world.
Rather than politically-charged content you might find on other environmental sites, Mother Nature Network strives to provide content that's neutral, positive, practical, and relevant. The content they feature goes well beyond the stereotypical issues and into the nitty-gritty of everyday life.
To provide easy navigation through pages of content, Mother Nature Network organizes its media into eight channels: earth matters, health, lifestyle, tech, money, food and drink, home, and family. Within these channels, additional subcategories allow you to narrow down to the topics you're most passionate about.
For instance, if you're interested in learning about the latest news that could affect your finances, browse MNN's Inside Money section. There, you'll find articles and videos that cover three financial categories: personal finance, green workplace, and sustainable business practices.
Expert Advice on Personal Financial Sustainability
As I've been learning personally, conserving and wisely utilizing financial resources (for instance, by supporting eco-friendly businesses and products, or reducing wasteful spending) can have just as much of a global impact as conserving natural resources like water and energy.
The personal finance category within Mother Nature Network's money channel menu can help you put this concept into practice by learning from informative articles and videos on topics related to consumerism, budgeting, debt, saving money, retirement, and much more. The main page under personal finance highlights the most recent sustainability-focused stories and headlines.
These articles apply to everyday questions or concerns for those of us striving to live more sustainably. For instance, while many of us are trying to look for ways to make more socially-conscious purchases, Mother Nature Network shared the story of a browser extension called Do Good that can help.
If you're worried about the financial burden of college, the finance section has articles to help you develop a strategy to avoid excess student debt. For those with health concerns, articles on how to take control of insurance costs and medical expenses can be helpful. If you're in control of your finances and looking to invest, MNN will direct you to conscionable investment choices. Or, simply learn how to make or re-use everyday items to save money and reduce your carbon footprint
Covering the Emergence of the Green Workplace
Since most of us spend at least 40 hours a week earning our personal income in a place other than our homes, it's also worth considering how sustainable our work environments and employers are.
At Mother Nature Network, you can learn about the emergence of green and sustainable workplace trends. Sustainable workplaces take many forms, like a startup that's turning coal miners into programmers. Other business trends include telecommuting and co-working, which both aim to ease the distraction of the modern office. There is also intriguing research and practical advice on topics like boosting productivity, fitting exercise into your work day, and handling stress on the job.
If you're a business owner, Mother Nature Network covers news that affects your role in complying with policies and influencing efficient operations while promoting a greener workplace. Browsing sustainable business practices can keep you up to date on the latest news about global shifts in the job market, as well as industry-specific trends — like the use of earthworms to promote regenerative sustainability in wineries. You'll also find practical content to help improve everyday office operations, such as tips for enhancing an employee's work environment.
Content Variety Makes MNN an Environmental News Source
The different mediums and diversity of topics at Mother Nature Network help people connect personally with what it means to be environmentally conscious, going well beyond the stereotypical mantra "reduce, reuse, recycle."
Recognizing that we all learn and engage differently with others and our environment, the Mother Nature Network presents its content in a variety of ways. Besides reading news articles, MNN visitors can browse stunning photos and watch videos. They can grow more personally aware by taking quizzes in various categories, and checking out the leaderboard of sustainable visionaries to emulate. Those interested in debating opinions on hot topics can visit the latest posts from the MNN blog team or interact with others in the eco-conscious community on social media platforms.
The Mother Nature Network offers one of the most comprehensive resources for staying informed about green living and sustainable practices in every area of life through eight frequently updated categories that stretch from global environmental issues to the concerns that affect us on a personal level — money, home, and health.
For me, this means practicing frugality with my personal finances and being a more conscientious consumer. By visiting the Mother Nature Network, you might find this personal connection to sustainability that not only keeps you coming back to stay engaged, but offers encouragement to step out and take action.