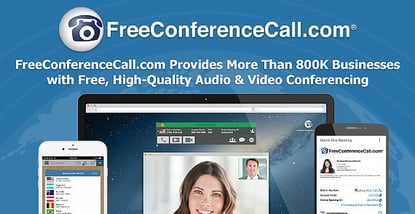 credit card news
Our experts and industry insiders blog the latest news, studies and current events from inside the credit card industry. Our articles follow strict editorial guidelines.
In a Nutshell: Telecommunication has come a long way since some of the first video-conferencing tools appeared in the 1990s, and one of the most disruptive innovations isn't a tool or product — it is a service. Traditional conferencing services require carrier or organizer fees, but FreeConferenceCall.com, created by CEO David Erickson, runs on a business model that eliminates the fees while still offering high-quality conferencing services. FreeConferenceCall.com provides free audio and video conferencing, screen sharing, a mobile app, and large-scale collaboration capabilities that span 60 countries, as well as premium administrative packages for large-size businesses and enterprises. Because of that quality and value, FreeConferenceCall.com is used by 800,000 businesses and continues to be a leader in telecom innovation.
In 1995, David Erickson first laid eyes on the Intel Proshare, a PC-based video conferencing tool with capabilities for fully-duplexed conversations, video at 20 frames-per-second, and active data sharing between two endpoints. That technology sparked his interest in telecom innovation.
"I just thought that was amazing," David told us. "I was looking at the future."
Over the next few years, David experimented with different creative projects –- including his own video, voice, and data call center. It was 2001, however, when he founded the innovative company that he still runs today — FreeConferenceCall.com,  a conferencing service that eliminates organizer fees and facilitates collaborative meetings at no charge.
"We didn't create conferencing; we created free conferencing," said David. "We think we're a force to be reckoned with because we provide the best service at the best price."
By 2004, FreeConferenceCall.com had achieved profitability, and between 2006 and 2008, David transitioned to creating all his own technology — building his own bridges and even his own network. "We not only own all the proprietary equipment that the applications run on but now we own a lot of the networks, too," David said.
Today, FreeConferenceCall.com serves more than 800,000 business customers and continues to add more than 1,000 new users each month. By offering free international voice or video conferencing and online meetings with mobile and business-friendly features, FreeConferenceCall.com makes large-scale collaboration easier and more affordable for both small and large-scale companies.
Professionals in Nearly All of the Fortune 500 Trust FreeConferenceCall.com
Instead of institutional investors and standard marketing, FreeConferenceCall.com relies mostly on the viral effect of word-of-mouth advertising, which makes the fact that 800,000 companies use and trust its services even more significant. That number includes nearly all the Fortune 500 companies and enough government agencies to fill a 79-page report.
"The biggest obstacle to getting an account is getting past the idea that this is a free service," David said. "We try to make free as easy as possible. Because it is free, it streamlines the process. And one of the biggest time elements cleared up by a free service is setting up an account."
In addition to standard free audio conferencing, online meeting, and meeting wall features, businesses have access to administrative functions that enable greater oversight of corporate conferencing accounts. FreeConferenceCall.com For Business offers StartMeeting, a tool that can be built directly into a company's portal using APIs and can be customized with features like custom greetings, hold music, and additional data storage.
"Because we provide more features for the big corporation, we have additional service fees for some of those things," said David. For instance, FreeConferenceCall.com's StartMeeting packages come in individual, team, and enterprise levels, with modest fees based on the number of users. This model is still far more cost-effective than business conferencing services that charge on a per-minute basis.
"And you don't have to buy some continual service from us," David said. "For instance, when you look at the charities that are doing business with us, it's a vast list. They don't want to spend money for a good reason — every dollar they save is like a dollar they raised."
Another advantage is ease of setup. Individuals or businesses can activate and begin using a FreeConferenceCall.com account in minutes with only an email account and password, unlike conferencing services that require payment processing.
Simple and Secure HD Audio Conferencing without the Access Codes
If you're getting a service for free, you might not expect high quality, but that is what FreeConferenceCall.com's business is built on — especially the quality of its most popular offering, audio conferencing.
"Strict audio conferencing is our biggest product," David said. "I think, mostly, people are looking for a very straightforward kind of audio."
Straightforward also means streamlined, and FreeConferenceCall.com audio conferencing has a feature that allows businesses to use one dial-in number that doesn't require an access code, which takes out an added step for businesses collaborations.
"Strict audio conferencing is our biggest product. I think, mostly, people are looking for a very straightforward kind of audio." — David Erickson, Founder & CEO of FreeConferenceCall.com
In addition to recording and storing interviews and meetings, FreeConferenceCall.com's audio conferencing product also gives conference hosts real-time control of their meetings from the web. It's fully integrated with organization tools, such as Outlook or Google Calendar, for convenient scheduling and allows users access to transcripts of calls, searchable by keyword.
Providing Video Conferencing, Screen Sharing, and Large Meetings Across Devices
FreeConferenceCall.com continues to develop in areas the industry needs, and the biggest trends are increased demand for video conferencing, cross-device access, and large-scale or global meetings.
"We see a big uptick in our video," David said. "We have picture-in-picture video so you can conference with 1,000 participants. Or use our multi-feed option, where you can see up to 5 people on the screen simultaneously with voice activation, so it's a very natural conversation."
FreeConferenceCall.com's Online Meetings deliver HD quality audio, video conferencing, and even screen sharing among conference participants. Just like audio conferencing, video conferencing features are available for up to 1,000 users per meeting, completely free of charge.
Another trend in both consumer and business verticals has been greater mobile engagement, and FreeConferenceCall.com is on top of that, as well. From its mobile app, users have full access to video, audio, and screen-sharing features while they're traveling or away from the office.
As global business and e-commerce continue to grow, FreeConferenceCall.com is creating a network that can support it, with the capacity to connect people from 60 different countries, and, most recently, local dial-in numbers in India.
"We're experiencing growth in India," David said. "India took over the US in the number of app downloads. That's a dramatic foreshadowing of what's to come. Roughly 75% of conferences are in the US; 25% are in the rest of the world."
Inspiring Worldwide Loyalty Through High-Quality Products
Although it was a telecom device that sparked David Erickson's interest in conferencing, it was an innovative business model, and not a machine, that became his greatest creation.
"We believe our high-quality, free service is disruptive and difficult for our competition to duplicate," David told us.
As a profitable but cost-conscious company whose marketing is its customer satisfaction, FreeConferenceCall.com has helped more than 800,000 users collaborate and build their teams.
By providing free, quality conferencing options that allow users to host video meetings, communicate with international partners, and participate from the convenience of a mobile device, FreeConferenceCall.com is a true innovator in the world of business telecommunications.