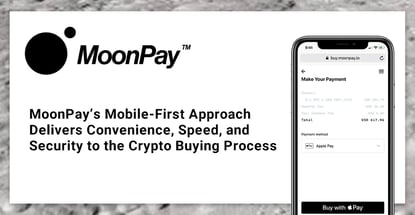 credit card news
Our experts and industry insiders blog the latest news, studies and current events from inside the credit card industry. Our articles follow strict editorial guidelines.
In a Nutshell: The cryptocurrency ecosystem has steadily evolved over the past decade, but it hasn't always been easy for users to purchase digital currencies. To remove this obvious — yet challenging — hurdle to adoption, MoonPay has set out to offer users a simpler, faster, and safer purchase experience. The company's mobile-first focus integrates seamlessly with web and native applications and allows users to purchase cryptocurrencies with their debit or credit card. Since it launched with Bitcoin.com as its first client, MoonPay has seen impressive month-on-month growth even against the backdrop of the global COVID-19 pandemic. As it has scaled to meet this growing demand, the company has established an industry-leading team to protect users against fraud and deliver peace of mind to its partners.
The advent of cryptocurrencies and blockchain technology in the past 10 years has created a decentralized financial ecosystem that exists outside the boundaries of traditional institutions.
This has opened up a world of possibilities for speed,convenience, and cost, when it comes to carrying out transactions around the globe.

Top cryptocurrencies like Bitcoin and Ethereum have already become ubiquitous names among retail and institutional investors, but some innovators, such as Ivan Soto-Wright, Co-Founder and CEO of MoonPay, think the adoption of digital assets could be happening faster.
Soto-Wright has had a longstanding interest in optimizing legacy FinTech systems. In 2015, he founded Saveable, a company that connected bank accounts to savings accounts and was an early competitor in the automated savings field, and was later sold to Plum, one of Europe's most popular AI-based automated savings apps.
As an entrepreneur particularly focused on disruptive financial technology, Soto-Wright said that he had been paying close attention to the evolving world of cryptocurrency since 2012, but by 2017, he could no longer ignore its potential ability to disintermediate legacy financial systems.
Soto-Wright explains that, for the longest time, the growth of the crypto market has been held back by the clunkiness and inconvenience associated with early cryptocurrency purchase infrastructure — a shortcoming that MoonPay set out to change in 2018.
"I imagined what a magical experience for purchasing cryptocurrencies would look like," Soto-Wright said. "Around the time I had the idea for MoonPay, it still felt like the exchange process on existing platforms was really cumbersome, time-consuming, and overall just painful. It just wasn't happening quickly enough."
How MoonPay's All-in-One Solution Streamlines the Purchase and Sale of Cryptocurrency
Soto-Wright said that when the MoonPay platform was still in development, someone shared an early version with Bitcoin.com, and the company was impressed. He explained:
"Bitcoin.com reached out to my co-founder Victor and I to see how we might be able to help improve their purchase experience on their mobile wallet. We ended up building MoonPay's API from the ground up for Bitcoin.com as our first client in Europe and the UK — it was only after launching that we realized how badly this infrastructure was needed by everyone else in the ecosystem."
MoonPay touts itself as the new standard for turning fiat into cryptocurrency. And its focus on convenience helps to support its claims.
Facilitating crypto purchases via credit card makes up the bulk of MoonPay's business, Soto-Wright said, although the company intends to expand its focus to include more payment methods such as bank accounts in the future.
"The main reason we started with credit cards was that we felt like it was the most convenient touch point to impact as many people around the world as possible because so many people already have debit and credit cards in their pockets," he said.
And as a platform made by developers for developers, MoonPay's APIs are intended to democratize all of the payment functionality of a platform like Coinbase, Soto-Wright said.
A Quality User Experience Has Resulted in Fast Growth and High-Profile Clients
Starting with a notable company like Bitcoin.com as your first client goes a long way toward establishing a solid reputation in the crypto industry. Add to that, MoonPay's demonstrated convenience and usability, and it's no wonder the company has seen substantial growth in just a short period of time.
"We've been finding product-market fit," Soto-Wright said. "In just over a year since launch, we've onboarded over 100 partners across leading exchanges, wallets, websites, and decentralized applications."
The focus of MoonPay's business is on B2B clients like Bitcoin.com but Soto-Wright said the company does have some individuals who go directly to MoonPay for their crypto purchases.
"Most of our new business has come through word of mouth," he said. "We are still very much at the beginning of our journey and always listening to partners and users to help guide our product roadmap."
MoonPay's experience is optimized for mobile use as people increasingly turn to their smartphones for everyday uses. It also integrates smoothly with web and native applications.
Soto-Wright said the company's growth in 2020 has been beyond expectations exceeding over 100% in some months. Since the onset of COVID-19, MoonPay has continued to scale its headcount across its engineering, fraud, and support functions.
He said he believes the increase in demand comes down to a number of factors, including a new wave of first time users discovering cryptocurrency while at home during social-distancing, and the world beginning to understand the benefits of open financial systems built on blockchain for faster and more cost-effective cross-border remittances.
Safety and Security Remains at the Top of the Priority List
Soto-Wright said that, with its focus on credit card transactions and the relatively new world of cryptocurrency, security is a top priority.
"Security and safety first," according to the company website. "We use best-in-class tools and practices to uphold the highest level of security for our users."
The company has also adopted a risk-based approach to combating money laundering and terrorist activity, which means complying with AML and KYC regulations for the safety of all parties involved.
"By adopting a risk-based approach, MoonPay is able to ensure that measures to prevent or mitigate money laundering and terrorist financing are commensurate to the identified risks," according to the website.
Soto-Wright said that when credit cards are involved, there is a certain risk of fraud and for chargebacks, and MoonPay works to strike the optimal balance of serving its clients and protecting all parties against fraud.
"We try to be as data-driven as possible, but fraud prevention is both an art and science," he said. "Cryptocurrencies by design are irreversible to prevent double-spending. This creates a unique challenge when connecting them to legacy payment networks which have chargeback functionality built-in. We offer all of our partners a 100% chargeback guarantee, which makes sophisticated risk management a key practice within our business."
Developing a Crypto-to-Fiat Feature to Allow People to Quickly Liquidate Their Crypto
MoonPay's initial focus was on making it as easy as possible for people to buy crypto. Now, it's looking at making it just as easy to swap their crypto back for fiat currency.
"We are very excited about our upcoming crypto-to-fiat capability, which will enable people to quickly cash out their cryptocurrency," Soto-Wright said. "We feel that there is a big opportunity to deliver this experience in a way that feels natural for our partners and end-users."
He said MoonPay is hoping to launch its new feature later this year.