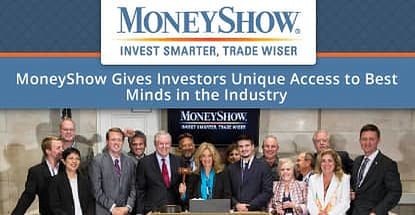 credit card news
Our experts and industry insiders blog the latest news, studies and current events from inside the credit card industry. Our articles follow strict editorial guidelines.
In a Nutshell: Few things are as important as healthy finances, so when it comes to finding a financial advisor, we all want the best of the best. While few actually have the ability to put together their dream-team of financial experts, you can get the next best thing — with MoneyShow. By hosting eight annual conferences, MoneyShow connects high-net-worth individual investors and active traders with some of the brightest minds in the industry. For a more intimate setting, MoneyShow offers seminars at sea, exclusive cruises where investors can meet, mingle, and learn with experts from places like Forbes Magazine. MoneyShow also works to educate the next generation of investors through MoneyShow University, a program aimed at providing college students with the knowledge to build solid financial futures.
Every industry has its bigwigs and heavy hitters, those who are simply the best at what they do — and that includes the world of finance. Though not always garnering the mainstream celebrity of their athletic or artistic brethren, the crème de la crème of finance are definitely considered hot commodities within their industry.
For instance, if you could envision your ideal financial advisor, who would it be? Do you daydream of sitting one-on-one with your favorite Wall Street Journal reporter? Or maybe you've wondered what Steve Forbes would say about your latest investment or the spread of your portfolio.
Unfortunately, the biggest problem with wanting the best of the best is, well, everyone else wants them, too. Few people likely have the ability to call Steve Forbes for a little friendly investing advice. However, connecting with some of the best minds in the business isn't as impossible as it may seem — thanks to MoneyShow.
"What we do is we connect high-net-worth individual investors and active traders, with the top speakers, experts, economists, and analysts out on Wall Street," explained Aaron West, President of MoneyShow. "Those top experts provide unbiased advice on what they see as going on in the markets."
Producing more than a dozen face-to-face networking events, including its namesake MoneyShow conferences as well as sponsored seminars at sea, the company gives investors and traders unique access to some of the brightest minds in finance. Can't make it to an event? Get the latest articles or webcasts from MoneyShow's network of more than 1,500 experts online at MoneyShow.com.
"It's not every day that you can get information from the very best in the investing and trading industry," said Aaron. "MoneyShow provides people with that access and information to help them become better investors, and make more money in the market."
Eight Annual Conferences Connect Investors with Top Speakers & Analysts
What do you get when you bring together more than 150 top financial experts, hundreds of workshops, and thousands of individual investors and active traders? You get a MoneyShow conference, of course.
"We produce eight events every year, either a MoneyShow for high-net-worth investors or a TradersEXPO for active traders," Aaron described. "We have more than 35,000 people attending our conferences each year, and we have a network of over 1,500 experts that we work with who come to our conferences."
Taking place in top destinations, like Orlando and Las Vegas, the MoneyShow conferences are usual three days of jam-packed financial fun. In addition to an opportunity to see the latest products and biggest vendors, the shows offer hundreds of educational seminars and workshops. The best part? The whole thing is free to visitors.
"While we're a for-profit company, our mission is to provide education to high-net-worth individual investors and active traders," said Aaron. "We have a small contingent of paid-for events, but the vast majority cost nothing. For example, our recent event in Orlando had 225 free workshops, and then we had 12 special paid-for sessions."
Seminars at Sea Take Investing Education to the Next Level — of Luxury
If the idea of a conference filled with thousands of your fellow investors sounds like a bit of a crowd, MoneyShow's white-label educational cruises might be for you. Part conference, part classroom, the seminars at sea are entirely luxurious. Produced for groups such as Forbes Magazine and the Young America's Foundation, they take learning to the next level.
"The seminars at sea are really interesting. Take the Forbes cruise, for example. We book a cruise on, perhaps, Crystal Cruise. Then, we ask Steve Forbes and some of the magazine's editors and columnists to join the cruise," explained Aaron. "During the days at sea, we have a series of seminars. We get on board and talk about what the experts see in the market, what they see in the economy. If they're an analyst or economist, they might also provide specific advice and recommendations."
Unlike MoneyShow's free conferences and online materials, seminars at sea attendees pay cruise fare, generally around $4,000, but enjoy a more intimate experience, with an average of only 50 to 200 people per voyage. In addition to seminars and discussions, the week-long trips allow investors and traders plenty of time to network with the experts.
"The cruises are a great way for individuals to network with people they wouldn't normally meet, like Steve Forbes," said Aaron. "It's also a great way for them to get actionable advice from some of the best experts around the world."
MoneyShow University Helps College Students Get Started on the Right Financial Path
Though the main focus of the MoneyShow conferences and cruises is on the high-net-worth investors and active traders, the MoneyShow team works to uphold its mission to educate. With that goal in mind, they began MoneyShow University in 2014.
"With MoneyShow University, we aim to educate the next generation of investors on money, business, and life," Aaron described. "To do this, every year we work with several universities around our conferences to gather together interested students. Then, we bus them to the conference where we've set up a room, and we bring in experts who can talk to the students about how to create a better financial future, how to manage their money, and how to manage their careers."
MoneyShow University has already been fairly successful, with over 1,000 students from more than 100 schools going through the program since 2014. But, according to Aaron, the team wants to see even more students join in.
"In 2017, you'll see us start to increase the number of students we educate," said Aaron. "Not only at physical locations, such as our conferences, but we're also building out a digital online platform to bring that education directly to the next generation of investors."
Streaming Free, Unbiased Information and Advice
As in any industry, the world of finance has its own celebrities, those experts everyone dreams of having in their corner. Sadly, few people can put together their dream-team of financial advisors, but there is hope. Those investors and traders who yearn for access to some of the best minds in finance can find it at a MoneyShow event. And for all those who can't make it to a conference or cruise, the team at MoneyShow is unveiling the next best thing.
"We've recently rebuilt our website, MoneyShow.com, so that we can take a lot of the content we're capturing on video at the conferences, place it on the website, and distribute it out, for free," Aaron said. "We're also building out our contributor network from all of those experts who come to the conferences. As with everything at MoneyShow, the site is about giving visitors unique access to people they would not normally have access to."