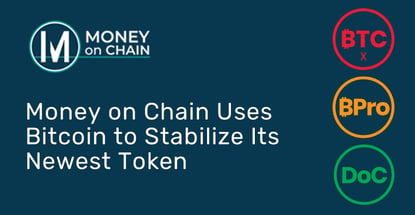 credit card news
Our experts and industry insiders blog the latest news, studies and current events from inside the credit card industry. Our articles follow strict editorial guidelines.
In a Nutshell: Money on Chain created the first stablecoin that's collateralized by Bitcoin. The three-tiered system includes a trio of tokens designed to solve Bitcoin's volatility problem, while providing rewards and interest for BTC holders who want to use their holdings to secure the platform. The project remains one of the largest undertakings on the quickly growing RSK Network.
A lot has happened in the cryptocurrency world in the last 10 years. Since 2010, the value of Bitcoin has ranged from a user paying 10,000 Bitcoin for two delivered pizzas to one Bitcoin having enough value for them to purchase a car to pick up a pizza themselves.
That quick ascent brought a lot of media attention — and many speculators — to the market. The volatility during the token's meteoric rise also made it difficult for many people to hold on during the currency's roller coaster ride to the top.
Many crypto newcomers shy away from Bitcoin today because the overall value of the token makes it a costly investment. But Money on Chain wants to change that.
The project has been many years in the making and officially launched in December 2019. Today, the Dollar on Chain (DoC) token remains the only stablecoin in the world that's collateralized by Bitcoin.
"We think that Bitcoin is a wonderful tool that eliminates a lot of friction and allows a lot of new business to take place," said Maximiliano Carjuzaa, Co-Founder and CEO at Money on Chain. "But Bitcoin has a lot of volatility — which is not going away. A lot of people say that the price of Bitcoin will stabilize next year, but that won't happen."
DoC is a dollar-pegged, Bitcoin-backed token that's part of a three-token strategy to split Bitcoin's volatility into two separate assets and a derivative financial instrument. Money on Chain hopes its platform attracts both newcomers to the crypto world as well as serious Bitcoin investors who want to earn passive income for their holdings, which is made possible through the Bit Pro (BPro) token.
Money On Chain designed this coin for risk-inclined Bitcoin holders who don't want to pay platform fees but still want to collect interest paid by traders using BTC2X — a 2x-long position on the price of Bitcoin against the USD.
"That's like a dream come true for a Bitcoin holder," Carjuzaa said.
The BPro token follows the volatility of Bitcoin's price. Token holders sell that volatility to traders who seek leverage in a decentralized derivatives exchange (DEX). This makes Bit Pro more volatile than Bitcoin, but the leveraged operations made by DEX traders earn investors a passive income.
To round out the platform, Money on Chain plans a third coin that ties its plans together.
MoC Governance Token on the Way
Carjuzaa said that the Money on Chain token (MoC) will launch in January 2021.
This token will provide governance over platform updates. Token holders can also earn platform fee discounts and staking rewards, which are earned by holding funds in a cryptocurrency wallet to support the operations of a blockchain network. Perhaps the most anticipated feature will allow MoC holders to run an Oracle node for an additional revenue stream.
"When we first started the project, we wanted to use Oracles," Carjuzaa said. "But when we started digging into it, we found that they were either not decentralized, didn't have proper security, or were too expensive. We had to develop a new one."
The Oracle (OMoC) provides data — initially the current BTC price — to the MoC protocol and any other smart contract that requires it. The hybrid protocol has one part on the chain and another off the chain. Users can update information in all blocks if there are variations.
The goal is for businesses to eventually adopt the DoC token as a primary cryptocurrency for transactions. In the past, this would have been a long shot for a stablecoin. But that's no longer the case thanks to a recent rush of non-custodial Bitcoin wallets that allow P2P transactions using stablecoins.
"One of our main objectives is to make it easy to use Bitcoin in everyone's day-to-day lives — even if you don't realize you're using Bitcoin," Carjuzaa said. "When you're using Dollar on Chain, you're using Bitcoin, but in a stable way. One way to do this is to have a good wallet."
Token holders can use one of these hardware wallets, such as Defiant's newly released product, to safely store, accumulate, and securely send tokens to other users.
"You can send it to anyone around the world in a matter of seconds or minutes, and the person who receives the coin doesn't have to trust you," Carjuzaa said. "That's because the value is known and stable."
An Early Proponent of the RSK Network
A project with the ambition, size, and scope of Money on Chain seems destined for one of the larger, more well-known blockchain platforms. Carjuzaa said he's often asked why the project chose Rootstock's RSK Network to build upon. He said the answer is simple.
"We looked at all of the big blockchains when we started developing this project, but the technology wasn't ready back then," he said. "There was no way to develop a stablecoin using Bitcoin as collateral at that point. We had to wait for Rootstock to release its data blockchain. Once the beta launched in early 2018, we started developing our platform."
At the time, the RSK Network was the only chain that provided Turing-complete smart contracts for Bitcoin. In many ways, RSK has always associated itself with Bitcoin without actually tying itself to the token.
RSK is associated with the Bitcoin blockchain, but it isn't a part of the chain. Instead, this sidechain branches off from the larger Bitcoin blockchain and issues Bitcoin IOUs to harness the power produced by bitcoin miners while managing a separate federation to run the sidechain.
"We could deploy on Ethereum or some other blockchains next week if we wanted to," Carjuzaa said. "The reason we chose RSK was that, when we started the project, the only way to make this kind of a stablecoin was on top of RSK. There were no other projects that ran Bitcoin tokens on top of a platform."
While tech advances could make it easy for Money on Chain to switch the blockchain it builds upon, Carjuzaa noted that RSK still provides advantages over the competition.
"Today, the advantages of building Decentralized Finance applications for Bitcoin on top of the RSK Network are far superior in terms of security and other features compared to putting it on top of Ethereum or another blockchain," he said.
At the end of the day, though, he said that the MoC project stands on its own as a superior product — regardless of which blockchain it sits on.
"If we're going to make the next generation's stablecoin, we think the best collateral we can use is Bitcoin," he said. "But, honestly, we don't care which blockchain we're running on top of. They're all basically the same."
"We can Make a More Inclusive Financial World"
While dozens of crypto tokens race to become the next generation's global currency, Money on Chain remains focused on a long-term goal — one that isn't simply fixed on dominating the current marketplace.
"We think that Money on Chain can be the cornerstone of the Financial World 2.0," Carjuzaa said. "One of the wonderful things that you can do with Money on Chain is to move much of the existing FinTech ecosystem and put it on top of Money on Chain. That will allow a lot of beautiful things."

An example of potential future advances could include someone sending money with Venmo or MercadoPago — a Latin American online payments system similar to PayPal — and the other person receiving it in Bitcoin or a stablecoin, without any friction.
"Someone can send remittances from Argentina to Bangkok and the companies sending and receiving the money don't have to trust each other," Carjuzaa said. "They know that when they receive the Dollar on Chain, they're receiving the actual money."
As new technology emerges, and Money on Chain adapts to allow more features, Carjuzaa said he sees the token helping people around the globe.
"We can improve the financial world, and we can make a more inclusive financial world," he said. "We can create opportunities for millions of people that today don't exist."