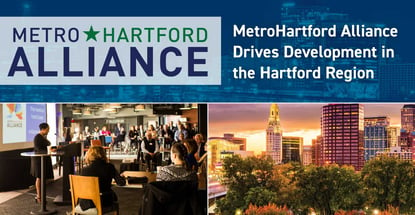 credit card news
Our experts and industry insiders blog the latest news, studies and current events from inside the credit card industry. Our articles follow strict editorial guidelines.
In a Nutshell: Situated midway between Boston and New York City, Connecticut's Hartford Region faces competitive pressures that pull in both directions. While managing shifts that have restructured its economy, Hartford also offers a compelling value proposition that retains— and continues to attract — talent. And the MetroHartford Alliance supports efforts to grow the area's influence in a globalized marketplace. The Alliance generates data and insights to provide crucial analytics to stakeholders dedicated to maximizing business and workforce development in the Hartford Region.
For many professionals, the right job opportunity furthers the chance to live a balanced life on the path to prosperity and security. But the challenge is finding job markets that foster success so working professionals can build the kind of lives they envision.
The MetroHartford Alliance understands that — and it's sending out a message to job seekers and employers that Connecticut's Hartford Region is a place where all the pieces needed to develop a strong economy come together. What's more, through its innovative approach to data analytics, it has the numbers to back up its assertions.
The MetroHartford Alliance is the Hartford Region's investor-based economic development organization. It was formed in 2001 through a merger of the Hartford Chamber of Commerce and the MetroHartford Economic Growth Council and has been headed by President and CEO David Griggs since 2018.

Hartford-area businesses, municipalities, and organizations come together through the Alliance to help companies grow, encourage professional development, and invite people from outside the region to participate in Hartford's success story.
According to Griggs, the Alliance understands that all the data in the world can't help people and businesses if it isn't used to make decisions. That's why the MetroHartford Alliance has earned recognition for its efforts to create value and drive change through active engagement with research and data.
"You have to understand who you're trying to attract and what's important to them," Griggs said. "And then ask, 'Where can we find that person?'"
Strategic Planning Built on Performance Analytics
The Hartford Region encompasses more than 50 municipalities in Hartford, Tolland, and Middlesex counties in central Connecticut, where and over 1.2 million people live. Up the highway to the northeast is Greater Boston, a commuting region of more than 8 million. A short drive to the south and west sits New York City.
For all its emphasis on innovation, the foundation of the Alliance's approach is simply about seeing the playing field comprehensively. To do that, it first turns to traditional economic analysis — including statistics on how Hartford industries change over time and how it compares to different parts of the country and the world.
According to Alliance Director of Research and Economic Development Jevon Gibb, putting those numbers in a growth and development context is what helps MetroHartford drive change.
"Because the goal of our organization is to map strategies that can improve economic outcomes in our region, we have to combine the economic analysis with business-style performance analytics to understand the best way forward," Gibb said.
That translates, for example, into targeting specific types of employees in particular industries — including insurance and financial services, Connecticut's largest industries. Connecticut Insurance and Financial Services (CT IFS) is a statewide initiative of the MetroHartford Alliance comprised of 32 member companies in Connecticut's insurance and financial services sector. The CT IFS Board of Directors engages around a shared vision: to create competitive advantages in business attraction and retention, to sustain recruitment and education of a trained workforce, and to increase public awareness of the industry's critical economic importance.
"If our companies can't find enough talent here, we use data to understand how many of those people we have here, where we can attract them from, and where we're losing them to," Gibb said. "Then, we can have a targeted strategy to attract people from other areas — including New York City."
Leveraging Hartford's Strengths to Target Talent in Relevant Industries
Indeed, the Big Apple is a large area of focus for the Alliance. The organization often illustrates Hartford's appeal to New York professionals best positioned to take advantage of its offerings.
That's because, as Griggs and Gibb point out, the data shows that Hartford has much to offer in quality-of-life areas where New York falls short.
"Big strengths in our market are health care and education, where we consistently rank as among the best in the nation, Griggs said. "And then there's home affordability."
While the median home price in Hartford — $228,000 — may not reach the lows experienced in less urbanized areas, the region certainly has a leg up on its immediate neighbors. At a median price of around $100 per square foot, homes in Hartford are significantly more affordable than Boston or Manhattan, which are 700% and 1300% more expensive respectively. That adds up to a significant value proposition for young professionals in family mode.
"The Hartford market really stands out when we look to our neighbors in New York who have a much higher cost of living, higher home prices, and challenges in the schools," Griggs said.
On the flip side, Gibb says, performance analytics also drive how the Alliance approaches competing cities — many located in the warmer South — that tend to pull native talent away.
"We know we lose people to places like Boston, Charlotte, and Atlanta," Gibb said. "So our acquisition strategies through our initiatives, including CT IFS and HYPE (Hartford Young Professionals and Entrepreneurs), center on directly targeting UConn grads who've relocated — they've got a strong connection to Hartford."
He said the Alliance believes it has a higher return-on-investment when it targets people who have lived in the region because they understand what makes it unique.
"So again, we're doing the economic analysis based on Census data, and then we do the business analysis and performance analytics to drive our activities," Gibb said.
Building on that analysis, the Alliance recently reorganized to align the interests of its business members more closely with those of the City of Hartford. As part of the Alliance's founding in 2001, the Hartford Chamber of Commerce was folded into the larger organization. Now, Griggs has overseen the reactivation of the Chamber and set up a shared office within Hartford City Hall.
"The Chamber will go inside City Hall to help the business processes along," Griggs said.
The MetroHartford Alliance: Integrating the City's Interests with the Business Community
On both sides of the recruitment equation, Griggs points out that the challenge is to reach the right people. So, the Alliance may look for a UConn grad who moved to Atlanta for work but has family in the Hartford Region. That could involve gathering profile data from LinkedIn and other platforms and directly targeting messaging to a specific individual.
And with business performance in Hartford's insurance industry and other strong sectors, including aerospace manufacturing, improving by leaps and bounds, the Alliance's message to those talented professionals keeps getting stronger.
Back home, another significant driver is the Hartford business community, which also has a success story to tell. Although productivity gains in industries like manufacturing and insurance have led to job cuts in Connecticut over the past 50 years, those same changes have also driven innovation and opened up new opportunities.
"Changes in industries and jobs have created challenges for the Hartford Region," Gibb said. "But we have six Fortune 500 companies in our Region — more than 27 entire states — that have become stronger and more efficient through those changes. Those companies now create tremendous opportunities for our economy and our workers."
That means the MetroHartford Alliance will need to attain an even higher level of effectiveness in communicating the region's value proposition to help grow its economy. It's a welcome challenge for an organization that has earned recognition for always putting its community's best foot — and numbers — forward.
"It's about telling the right story to the right people," Griggs said. "And when we do that, we know we can win."