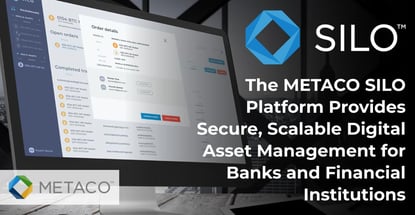 credit card news
Our experts and industry insiders blog the latest news, studies and current events from inside the credit card industry. Our articles follow strict editorial guidelines.
In a Nutshell: As cryptocurrencies and other digital assets gain relevance, banks and other custodians are looking for ways to differentiate themselves as service providers. That's why METACO developed SILO , a digital operating system to help financial enterprises integrate crypto and tokenized assets. Secure, flexible, and scalable SILO technology enables custodians to generate and manage tamper-proof keys for millions of wallets. The platform unifies digital asset management to run smoothly alongside core fiat-based services.
Unlike traditional fiat assets, Bitcoin and other blockchain-based cryptocurrencies don't physically live anywhere. They exist as data stored in ledgers and shared on public networks, but no central authority governs or secures them — which means limited liability if something goes wrong. But as recent crypto exchange breaches show, security needs to be addressed before digital currency can enjoy widespread adoption.
But crypto's inherent structural advantages — including efficiency and immutability — compel a more prominent role for it in the global financial marketplace. The European Union, Asia, and many emerging markets are increasingly receptive to digital assets.
As more global consumers are ready and willing to hold digital assets, they're looking for banks that can secure them while providing a seamless experience. Providers that can integrate digital management within their core platforms can differentiate themselves as demand approaches a critical mass.
Since 2018, the Swiss-based fintech firm METACO has helped financial services providers accomplish that task with its SILO platform.

"SILO is a digital asset operating system for banks," METACO Business Development VP Seamus Donoghue said.
SILO allows providers to offer an emerging customer base something that neither crypto exchanges nor traditional fiat-based banks can — a unified platform. That means consumers can securely and effortlessly manage their fiat and crypto assets through one institution.
"It was clear there was an infrastructure bottleneck — there were no mature solutions for banks that wanted to get in the digital space," Donoghue said. "Now they have something specifically designed for their needs."
Turnkey Crypto Management Installations within Traditional Custodial Platforms
All digital assets use cryptographically secured keys to prove ownership and authorize transfers.
With unified hot-warm and deep-cold storage implementations, SILO is flexible enough to support any key management strategy and use case that a bank chooses. Its connected hot wallets accommodate environments where liquidity and automation are at a premium. In contrast, fully air-gapped disconnected wallets serve high-net-wealth private-bank clients looking for more dedicated storage solutions.
Meanwhile, cold storage options serve use cases in which long-term housing of critical reserves is necessary.
In all installation scenarios, flexibility is paramount. Clients also are increasingly seeking a full-stack solution. SILO incorporates an advanced entitlement framework that supports customizable authorization workflows including integration with KYC and AML procedures but also enables the secure interaction with a growing ecosystem of essential services such as liquidity access and order management, borrowing and lending, crypto and fiat settlement networks, core banking interaction and reporting including multi-jurisdictional tax support. Workflows are customizable to the banks requirements through SILO. And the system is also compatible with more than 100 widely used crypto tokens and the major tokenization protocols.
Full hardware security, tamper-proof processing, and authentication technology ensure secure hash generation and backup for disaster recovery. Customizable governance tools control signatures, velocity limits, time-locking, whitelisting, role-based access, and order validations. Plus, all assets housed in a SILO system are protected via a METACO partnership with insurance provider Aon.
Appropriately, all of those customizations are self-sufficient. METACO supplies everything from the servers that store the software and data to the APIs that integrate the system into the client's platform, as well as all the required indexers and nodes. Although on-premise hardware is the preferred deployment of Tier 1 financial firms, METACO also offers partially managed hybrid installations, as well as others that are fully managed by third parties.
"We provide an infrastructure that delivers customizable segregation of duties and roles based on the bank's internal risk and control framework," Donoghue said. "And that's a strong proposition."
Thriving in Enterprises and Markets Receptive to Crypto
METACO has gained traction in international markets, including Germany, where BaFin, Germany's banking systems regulator, has established a clear licensing protocol for custodians.
"They've encouraged banks to get in the space," Donoghue said.
SILO also sees deployments through METACO's partnership with Swiss core banking provider Avaloq, which supplies infrastructure to more than 150 private banks in Western Europe, Singapore, and Hong Kong.
"They were an investor, but they are also a partner," Donoghue said. "They decided they wanted to offer a full crypto stack as an integrated module within their core banking system, and SILO is their custody solution for that. SILO is the only digital asset operating system that has been deeply integrated into a core banking solution. That was a huge starting point in building our credibility in the institutional space."
Swisscom, another investor, works with METACO through its Custodigit subsidiary. As a telecommunications company, Swisscom provides infrastructure and services to regulated banks and insurance companies.
"The objective of the Custodigit-SILO partnership is to provide key management as a service in the crypto space to regulated firms," Donoghue said.
Despite gaining popularity throughout Europe and Asia, METACO sees the U.S. as a market ripe for growth.
"One of the things that has prevented a lot of U.S. banks from getting involved is that there are a myriad of federal regulators that cover the banking community," Donoghue said. "The major banks are looking at the space closely and keeping up to date with what the opportunities are. But a lack of regulatory clarity has so far stopped them from directly launching initiatives on their own."
Donoghue sees U.S. banks eventually partnering with fintech companies that offer custody technology infrastructure instead of building their own solution as most banks simply do not have the resources to keep abreast of the security and functional requirements in this rapidly evolving sector.
"If you look at traditional custodians, no major U.S. bank has yet launched a pure-play custody solution," he said. "That may change once there is a clear message from U.S. federal regulators, meanwhile in Europe, interest is accelerating."
METACO: Integrating Asset Tokenization into the Global Financial Marketplace
According to Donoghue, as more institutions adopt crypto platforms in the EU and Asia, that will lead to massive growth around the world. That is because with banks, there's always safety in numbers and "fear of missing out", aka FOMO, also drives new business build out for banks, Donoghue said.
Another contributing factor is that tokenization is maturing. With a decade-long development path under its belt, crypto is poised to make its mark on global finance. Digital assets are projected to grow to encompass as much as 10% of capital markets by 2027, according to METACO.
But, if the tokenized economy is going to reinvent finance, providers need ways to interact with digital assets securely in real time.
"Our strength has been to provide strong security guarantees while still giving banks a secure connected environment so they can respond to market conditions and client needs," Donoghue said. "That has also been extended to also offering a full air-gapped and disconnected offering so that banks can cover all real time accessibility requirements as well as secure long terms storage.
That benefit applies not just to the private banking niche represented by the Avaloq partnership but also to all sectors — including retail banks, global custodians, API banks, online-only providers, and even crypto-native services.
"The banks we've seen embrace this space have viewed crypto as a way to differentiate," Donoghue said. "There's a narrative in the market that the banks getting involved are all private, but that isn't the case. We work with every type of institution we have in the market now."
And that dynamic bodes well for METACO and its innovative SILO platform.
"As regulators embrace digital assets, they're going to require integrations where digital is managed not as an exception but just like anything else," Donoghue said. "That means with the same integrated risk and control approach for every other asset class. With SILO, institutions can securely manage, execute, and report holistically across all digital assets. METACO's SILO delivers next-gen security in a flexible and resilient full-stack digital asset management solution so that our clients can securely realize their business objectives now and in the future."