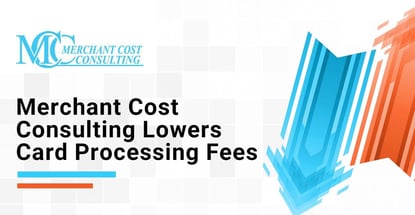 In a Nutshell: Maintaining the services of a credit card payments processor is essential for businesses in nearly every industry. And companies often accept whatever rates and fees the processing companies charge them as the cost of doing business. But Merchant Cost Consulting represents companies of all sizes and negotiates lower rates from payment processors. The company evaluates clients' current processing fees and charges, then contacts the payment processor directly to obtain a lower rate. Merchant Cost Consulting also provides monthly monitoring services to ensure the negotiated rates remain in place.
There's no getting around it — businesses in nearly every industry must accept credit cards to remain competitive. And long gone are the days when credit cards were swiped with a manual imprinter on carbon paper to be accounted for at the end of the day.
Companies and clients expect transactions — whether in-person or digitally — to take place in seconds. These quicker and easier transactions come with distinct benefits for both parties. But they wouldn't be possible without the services of a credit card payments processor.

Payments processors are the often invisible entity that serves as a go-between for businesses, consumers, and banks. They ensure that transactions can happen quickly and conveniently, and they help identify and resolve any problems that may arise.
But all of this comes at a premium for businesses that have to pay credit card payment processors for their services.
Of course, this is just one more expense a business has to take on to be competitive in today's marketplace. And many companies simply accept the rates given to them by the processing companies and go on about their business.
What these companies may not know is that they may be paying higher rates to payment processors than they need to.
Merchant Cost Consulting helps businesses negotiate lower rates from credit card payments processors and continually monitor rates. This valuable service helps companies save money and increase their bottom line.
We recently spoke with Merchant Cost Consulting Vice President of Sales and Business Development Matthew Rej about the company's origins and how it works on behalf of businesses to help them save money on processing fees.
Creating a Solution To Help Merchants Save Money
Rej said he saw firsthand how the payments industry worked when he started out as a salesperson for processing companies.
"When you're in that industry and you're selling merchant accounts, you see how it works," he said. "You see how pricing works. The whole goal is, the higher you set the rates on the merchant the more money you make as a sales rep and so does the processor."
Rej said because of this model, processors are not incentivized to give merchants the best rates because it directly impacts salespeople's paychecks and the processing company's bottom line.
"As a sales rep, you don't really have any control over pricing — you pitch the pricing that you're told to pitch," Rej said. "And you don't have any control over whether the processor raises the rates or adds hidden fees — whatever the case may be."
He said this was a pain point for many sales reps because they were dealing with clients, yet they were generally powerless to offer them better prices. At the same time, they were working to maintain a strong relationship between the payments processor and the client.
The founding team at Merchant Cost Consulting decided there must be a better way.
"That's where the idea came from — it was like, 'Why don't we leverage the knowledge of interchange rates and fees, the service market, whatever. Let's just help these businesses actually negotiate their contracts without having to change processors,'" Rej said.
Merchant Cost Consulting launched in 2016, and Rej said the business has been steadily growing and helping more and more companies save money.
How the Platform Works on Behalf of Clients to Lower Credit Card Processing Fees
Rej said Merchant Cost Consulting's services can be applied to companies within any industry because the potential always exists of being taken advantage of when it comes to rates and fees.
But industries that commonly integrate with a backend software platform are among the consulting service's top clients.
"As an example, all orthodontic practices have a practice management software to keep track of records, billing, invoicing, all that stuff. It makes their lives easier." Rej said. "A credit card processing company also integrates with the practice management software that the orthodontic practices use. And those businesses that have that integration typically would need our services the most because they get taken advantage of the most."
He said the integration with payment processors is seen as a value-added service, so some processing companies will boost rates higher than if they were offering a standalone service.
"Those companies can get hammered, and they don't even know it. They just think it's the cost of doing business," Rej said.
Merchant Cost Consulting seeks to reduce merchant service fees to bottom line, wholesale pricing, on the client's behalf. The process is simple and requires minimal effort on the client's end, according to the company.
"Three to six months' worth of statements will be analyzed that allows Merchant Cost Consulting to identify hidden fees, surcharges, unethical pricing, and overall costs of the current situation of the client," according to Merchant Cost Consulting.
The company will then renegotiate monthly rates with the client's existing credit card processing company. The entire process typically takes between five and seven business days.
Monitoring Services Help Ensure Fees Stay Low
Rej said the other major component to Merchant Cost Consulting's services is monitoring rates after they are renegotiated.
"It's probably the biggest reason the industry has a black eye, to say the least," he explained. "The issue here is that probably 10% of all the processing companies and ISOs (independent sales organizations) that are in the world actually keep their word on what the pricing is. The other 90% raise the rate."
Rej said that, in many ways, the whole pricing model is like the Wild West.
"We see rate increases more from the big companies than we do from the ISOs," he said. "A lot of times the big guys are just raising the rates because they can. And they know if they raise the rates and just make an extra $100 a month on each of their accounts, maybe 30% of those merchants will leave and go elsewhere. The other 70% probably won't even notice or they won't care enough to actually leave."
Watch on
Merchant Cost Consulting's monitoring services can identify and put an end to these sudden rate increases.
"As a client's credit card processing consultant, obtaining savings is only half the battle. The most value MCC's clients experience is the peace of mind that they are processing credit cards at the lowest possible rate obtainable based on the metrics of their business," according to the company website.
Each month, Merchant Cost Consulting will audit clients' credit card processing statements to ensure the rates are never increased and no additional hidden fees are added.
"Should increases occur, MCC obtains refunds and credit to its clients for overages that should have never taken place," according to the company.
Whether you're a small business or large enterprise, Merchant Cost Consulting may be able to offer significant savings with its payment processing negotiation and monitoring services.
Advertiser Disclosure
CardRates.com is a free online resource that offers valuable content and comparison services to users. To keep this resource 100% free, we receive compensation for referrals for many of the offers listed on the site. Along with key review factors, this compensation may impact how and where products appear across CardRates.com (including, for example, the order in which they appear). CardRates.com does not include the entire universe of available offers. Editorial opinions expressed on the site are strictly our own and are not provided, endorsed, or approved by advertisers.