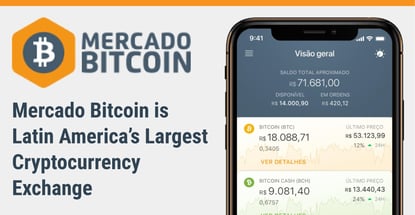 credit card news
Our experts and industry insiders blog the latest news, studies and current events from inside the credit card industry. Our articles follow strict editorial guidelines.
In a Nutshell: Participating in the global marketplace is easier than ever with the advent of the decentralized cryptocurrency marketplace. Mercado Bitcoin is a Brazil-based crypto exchange geared toward helping Latin American consumers take part in the world of cryptocurrency investing. Consumers deposit Brazilian reais into their account to purchase Bitcoin, Bitcoin Cash, Ethereum, Litecoin, or Ripple. The company prioritizes providing a straightforward, quality user experience, which includes implementing best security practices.
Global commerce is nothing new.
For more than 1,000 years, the ancient spice trade routes and the Silk Road connected the East with the European countries in the West. Western cultures placed significant value on what were considered exotic goods that spent months in transit from Asia.

In more recent times, the Industrial Revolution and more efficient modes of transportation made the world just a little bit smaller and exponentially increased the speed and frequency of cross-border commodity exchanges.
But even today, tariffs, trade deals, and other legal guidelines can present significant barriers to a truly global marketplace.
Cryptocurrency has the potential to change all of that.
Digital currencies exist in a decentralized and truly global structure that is unencumbered by many of the legal restraints traditional commerce routes and financial institutions are subject to.
Mercado Bitcoin — which translates to Bitcoin Exchange — is helping more than 1 million consumers in Brazil and Latin America play a role in this new global marketplace.
The cryptocurrency exchange provides a platform for consumers to invest in Bitcoin, Bitcoin Cash, Ethereum, Litecoin, or Ripple using Brazilian reais.
An Exchange Geared Toward Latin American Consumers
While many cryptocurrency exchanges that have appeared on the scene in recent years are aimed at capturing consumers from all parts of the world, Mercado Bitcoin is truly focused on consumers in Latin American countries.
The platform has received several notable accolades for standing out among other exchanges and Brazilian companies, said Reinaldo Rabelo, Mercado Bitcoin's General Director.
"In 2018, Mercado Bitcoin was elected by the Blockchain Transparency Institute (BTI) as the most reliable Brazilian exchange," Rabelo said. The BTI sought to identify possible discrepancies in the volume claimed by exchanges around the world. The Mercado Bitcoin and other exchanges considered to be reliable held 20% to 35% of their trading volume by APIs, he said.
The company was also named by LinkedIn as one of the 25 most sought-after startups in Brazil.
"In an unprecedented study, the Passfolio, which has been producing a series of information about the crypto market, brings the Mercado Bitcoin as the most liquid Brazilian exchange," Rabelo said. "The analysis researched more than 30 exchanges to bring a vision of which company can bring more speed to the best possible price to exchange Reais for cryptocurrency."
He said Mercado Bitcoin also engages in a customer-centric decision-making process, listening to the voices of its Latin American base. The company makes it a point to listen to feedback from its users to not only make improvements to existing products but to help create new products as well.
A Simple Onboarding Process that Prioritizes Security
Rabelo said the process for new users to get started on Mercado Bitcoin is quick and easy — customers just need valid Brazilian identification and to be of legal age to join the exchange.
"Security is our priority, and it starts at the time of registration," Rabelo said. "By completing the mini form and agreeing to the terms of use of the service, you must prove that you are a person through a ReCaptcha Test. In terms of safety, we recommend creating passwords of 15 characters or more by blending numbers, symbols, uppercase, and lowercase letters."
After clicking "register," a new screen will appear informing users that they are now registered, he said. The user will then receive a confirmation email.
"By clicking on the link you will receive by email, your account will be active and you will be ready to use the Mercado Bitcoin platform," Rabelo said. "We recommend that you enter the security menu in the profile settings on the site and activate all factors indicated to have an even safer account."
He said the company receives the highest scores on some of the most rigorous tests that evaluate the communication between customers and the platform. Additionally, sensitive data is encrypted to ensure safe storage and transit of information.
"For security, we do not keep all Bitcoins in the wallet online," Rabelo said. "The vast majority of Bitcoins are stored on a device not connected to the internet. This strategy, called cold storage, is a good security practice used by all major Bitcoin exchanges."
As part of a strategy to further strengthen Mercado Bitcoin's security, the company announced in 2018 a partnership with HackerOne, a global leader in security and vulnerability testing.
"Under the agreement, a group of invited experts has been constantly challenged to find flaws in the systems used by our platform," according to the Mercado Bitcoin website. "And we passed all tests."
Mercado Bitcoin's Robust Website Provides an End-to-End Customer Experience
Brazil's largest cryptocurrency exchange not only prioritizes security but, by visiting the platform website, it's clear that the company values providing a quality user experience as well.
Upon opening the platform's homepage, visitors are presented with the current Bitcoin exchange rate in Brazilian reais and a button that takes them to a page where they can create a new account for free.
Users can also read a tutorial or watch a video explaining the basics of Bitcoin, and a simple infographic illustrates the process to create an account and begin purchasing cryptocurrencies.
The website also provides information on how to become an OTC customer for clients interested in trading large volumes of cryptocurrencies. OTC customers can secure better prices and liquidity as well as gain access to Mercado Bitcoin's specialized customer service team.
Additionally, the website hosts a blog full of valuable resources addressing cryptocurrency trading and market news as well as a customer help center and details about the platform's security credentials.
Mercado Bitcoin's emphasis on the user experience can also be interpreted much more broadly — providing an alternative to traditional commerce and improving consumers' lives are among the key motivations behind bringing an efficient cryptocurrency exchange like Mercado Bitcoin to Brazil.
The Exchange Expands Further into the Market with the Launch of Its iOS App
Rabelo said Mercado Bitcoin is always looking at ways to improve the user experience and reach more customers in the Latin American market.
"We recently launched the iOS app for all iPhone and Mac users," he said. "The new app is part of Mercado Bitcoin's strategy to further expand its leadership in the Brazilian cryptocurrency market and includes a long-term plan to expand the brokerage's operations in the country."