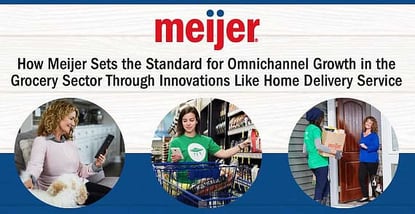 credit card news
Our experts and industry insiders blog the latest news, studies and current events from inside the credit card industry. Our articles follow strict editorial guidelines.
In a Nutshell: The ship-to-store and curbside pickup options brick-and-mortar retailers offer these days demonstrate the growing demand for shopping platforms that cater to a busy, mobile lifestyle. In response, some stores have begun piloting the ultimate shopping convenience: home delivery service. Meijer, a retail chain founded in 1934, continues to set the standard for omnichannel growth by providing grocery delivery through its partnership with Shipt. Just as it has with other innovations, Meijer puts customers and community first by racing to expand this service to all its stores while continuing to provide the quality products, customer experiences, and community engagement that the company is known for.
Today's consumer likes to have options about how and when they shop. E-commerce revolutionized the shopping experience by introducing the convenience of the online marketplace, but customers miss the speed of fulfillment and guaranteed quality of the traditional brick-and-mortar shopping experience.
"There's a lot happening in the world we're living in — the role of technology, the adoption of shopping online, and the fact that US consumers are always time-starved," said Art Sebastian, Vice President of Digital Shopping for Meijer, a Michigan-based retailer with over 230 stores spread across six Midwestern states.
The convergence of technology and blended shopping trends is, in turn, changing the face of the retail industry. An increasing number of big-box retailers are looking for ways to improve their omnichannel presence, integrating the convenience of online shopping with ship-to-store options, curbside pickup, and most recently, even home delivery.
Alongside pilot programs launched by major e-commerce and big-box retailers, like Amazon and Wal-Mart, Meijer's partnership with Shipt home delivery is leading the way for grocery retailers by effectively merging the convenience of online shopping with grocery store necessities. Meijer has grown from a small, community-oriented store into an omnichannel innovator that continues to meet customer desire for shopping convenience and versatility.
Advancing Grocery from the Introduction of Shopping Carts to Providing Home Delivery
Meijer's partnership with Shipt isn't the only retail innovation the plucky company has been known for since its inception in Greenville, Michigan, in 1934, when barber Hendrik Meijer purchased $338 worth of merchandise on credit and launched the first Meijer's grocery store.
Four years later, during the Great Depression, Meijer was one of the first grocers to purchase the latest retail innovation — the shopping cart — and in 1954, he adopted automated conveyor belts to further streamline his customers' shopping experience.
Meijer can also be credited with one of the most notable innovations in the retail space: the American concept of the superstore. "A lot of people say we're responsible for being the pioneers of the supercenter, so we have a pretty good reputation, a humble reputation, of innovating to meet customer needs," Art said.
Adopting a concept that had emerged in Belgium the previous year, Meijer opened "Thrifty Acres" in 1962, the first store in the US where customers could shop for groceries and general merchandise in one location. The supercenter concept quickly caught on with other retailers.
Fast-forward to the explosion of e-commerce and the mobile revolution, when Meijer also led the way with curbside pickup. Grocery Express, its own version of the practice, developed in a Grand Rapids location in 2008. This program laid the groundwork for its first pilot partnership with Meijer Curbside in early 2015.
"We launched Meijer Curbside in 2015 and we now have that offering across 29 stores in four states," Art said. "We took a lot of 2016 to learn about how our customers want to shop with us digitally and the different levels of convenience they look for. A lot of people would look at Meijer as one of the first retailers in the US to step into curbside pickup. We took all that learning and momentum and went full steam ahead with home delivery, as well."
By being quick to adopt changes as simple as the shopping cart to as technologically complex as home delivery, Meijer continues to innovate the shopping experience in ways that offer greater convenience and cater to the consumer.
Partnering with Shipt to Give Customers New Ways to Shop
While some retailers have experimented with curbside pickup in select locations, few have committed to home delivery. Meijer sees it as a way to make another level of commitment to its customers.
"The area that we're stepping into here is giving the customer many ways to shop. We're able to unlock our physical store and bring those orders to our customer's home," Art said. "The customer can now shop with us any time, from anywhere, and have their orders delivered to them when it's convenient. As a customer, it's the freedom and convenience to manage your time."
Partnering with Shipt, the online grocery delivery service through which customers place their orders, Meijer has gained a partner that shares its core values.
"We share this common view of customers first — building capabilities that simplify their lives. Shipt is good at providing this personalized shopping experience, and they've put in place the tech to build all these features and functionality," Art said. "Ultimately, what this partnership with Shipt does is combine the best of both companies."
From the Shipt app, customers can choose from over 55,000 groceries, home, health, beauty, and even back-to-school items and have them delivered the same day, in as little as one hour, seven days a week.
Once an order is placed, Shipt's network of personal shoppers fulfill it from a local store and send it out for delivery. Orders over $35 are delivered free to members — who pay a subscription fee of $99 per year.
"What Shipt does best is enable, through technology, personal shopping," Art said. "They're able to shop our stores, engage with customers, get them what they need when they need it, and deliver this very high-touch customer service."
Currently, Meijer's home delivery program through Shipt is an option for select cities in Michigan, Ohio, Indiana, Illinois, Wisconsin, and Kentucky and the company is working quickly to expand the program to more areas. So far this year, Shipt has made more than 250,000 deliveries from Meijer stores.
"We've heard a lot of good customer feedback about the convenience and being able to take the time saved from grocery shopping to do other things — spend time with family, work, or take on hobbies," Art said.
A Family-Owned Business that Puts Consumers and Community First
Although Meijer has been setting the pace for grocery retailers with its omnichannel innovations, its focus isn't on innovation for innovation's sake. A quote from Hank and Doug Meijer on Meijer's community page expresses the company's guiding principle: "As we grow, we follow a simple philosophy established by our grandfather and father 80 years ago: 'take care of your customers, team members, and community… and all of them will take care of you, just like a family.' "
Meijer credits its success on keeping its focus on its patrons. "One of the most important things to us here at Meijer is listening to our customer. We spend a lot of time with them — understanding their pain points, what they like, what they don't like, and how they live their lives. We take that information back and figure out ways we can better serve our customer," Art said.
In addition to offering Meijer Curbside and home delivery services through Shipt, Meijer is known for its wide selection of fresh produce and other ways it helps customers save – including its mPerks mobile app, weekly sales ads, and promotions. "We offer customers many ways to save money, and we're proud of that," Art said.
Communities are another major focus at Meijer, and this shows through the company's involvement in various food relief programs through its Simply Give initiative, which donates to food banks, and Simply Cook, a resource that educates families about nutrition and helps them prepare healthy meals.
Other programs include health and wellness advisors, disaster relief through the American Red Cross, and funding scholarships for team members and their families through the Fred Meijer Foundation.
Racing to Bring Home Delivery Convenience to Every Shopper
Consumers now demand multiple options for an integrated, versatile, and personalized shopping experience. By offering more ways to shop through expanded curbside service and Shipt home delivery, Meijer is setting an example for omnichannel growth in the grocery industry that is responsive to the needs of the connected shopper.
Although its partnership with Shipt puts it a step ahead of many retailers in its space, Meijer continues to look for ways to improve it. "We're constantly looking at the tech and the data and saying, 'How do we better serve the customer?' We spend all of our time thinking about how to make it easier, convenient, how to get the orders to the customer faster so that we deliver a really good experience," Art said.
Just as it quickly moved beyond curbside pickup into home delivery, Meijer is racing to expand this new convenience, working hard to make the service available to all shoppers.
"We think it's quite simple: make this service available to as many customers as possible. If we spend our energy focused on them and we move quickly, the customer wins," Art said. "At the end of the day, as a retailer, that's what matters to us."