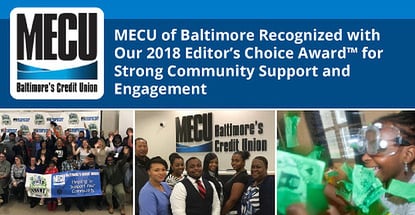 credit card news
Our experts and industry insiders blog the latest news, studies and current events from inside the credit card industry. Our articles follow strict editorial guidelines.
In a Nutshell: Credit unions are often known for their personalized services and community involvement. But MECU of Baltimore, which has giving back as a core tenet to its mission, is a credit union that stands out from the pack for its generous support of the local community in a number of ways. MECU sets an example for other credit unions by supporting local schools, providing financial education, and helping to fund community events. For these reasons, we are awarding MECU of Baltimore with our 2018 Editor's Choice Award™. 
My very first bank account was with a large national bank. I was surprised to learn that I was only allowed to have a face-to-face interaction with a teller two times per month before I would be charged for this seemingly simple service. Over the years, these types of policies and increasing fees have led me to seek out my local credit union, where I now do all my banking.
The personal touch these types of institutions deliver means local credit unions typically provide a far better customer experience. And, in some cases, credit unions go above and beyond providing great customer service by supporting their local communities in a variety of ways.
MECU of Baltimore (originally known as Municipal Employees Credit Union) does just that with its exceedingly generous support of the local Baltimore community.

Established in 1936 for city employees, MECU has greatly expanded its customer base over the years while offering services, rates, and fees that compete with some of the largest financial institutions in the country, according to the MECU website.
The credit union has also taken it upon itself to give back to the Baltimore community, which it does in a plethora of ways.
"It's really core to our mission as a local credit union," said Tom Poe, Vice President of Marketing at MECU. "We are a community development financial institution so giving back to local communities, and also supporting the underserved is really key for MECU."
Poe said MECU not only supports the community directly through a number of initiatives but they also partner with numerous non-profits and other organizations in various ways.
MECU Supports Education through Book Donations, Scholarships, Teacher Recognition & Arts Funding
Teachers and educators make up a large part of MECU membership, Poe said, so supporting education and local public schools is a high priority for the credit union.
"Last year we actually donated 3,600 new books to elementary schools across Baltimore as part of a literacy program," he said. "So we were really excited to be able to do that."

MECU has also demonstrated its strong support of education by awarding more than 100 college scholarships — totaling $110,000 — to high school juniors and seniors since 2007. Poe said MECU really likes to recognize students who are excelling in academics as well as community service.
One of MECU's longest running efforts in supporting education is the Teachers Are Heroes program. Poe said it partners with the local ABC news affiliate for the popular program and always receive numerous nominations from teachers, local students, and family members of teachers.
Each month during the school year, one teacher is selected for the Teachers Are Heroes honor, and, in addition to being highlighted in a local news segment, the winners receive a check for $250 toward classroom supplies and a plaque acknowledging his or her achievement. Then the monthly winners are entered in the running to be selected as the annual Teachers Are Heroes winner by a panel of judges. The annual winner receives a personal award of $1,000 plus $1,000 for use in the classroom.
"It's hard to pick just one because they're all phenomenal," Poe said. "It's just a way to recognize all the great work our teachers are doing to help shape the future minds here in our schools."
Finally, Poe said they in the process of establishing an arts impact grant fund by partnering with the local non-profit, Arts Every Day. As part of the program, MECU has committed $200,000 over the next four years to directly help expand access to arts and music education in public schools.
Financial Literacy Outreach is Practiced Year-Round with Community Seminars, MECU at Work  & Money Power Day
Another key component to MECU's community engagement is a robust offering of financial education opportunities to various communities across Baltimore.
"We do a number of different financial education workshops throughout the year on homebuying, building and managing credit, and other topics of that sort," Poe said. "Last year we had over 2,000 people who attended those financial seminars."
That's not even counting the participants in the MECU at Work program.
"We have over 300 select employee groups — organizations, companies, nonprofits — that have partnered with MECU to offer membership benefits, including credit union products and services, to their employees and staff," Poe said.
One of the perks of this partnership is having access to the MECU at Work program, in which MECU team members will make on-site visits to deliver free financial literacy seminars.
"We'll customize the seminars to anything that the organization is looking for, but what we're typically talking about is homebuying, budgeting, savings, and credit," Poe said.
MECU is also a founding sponsor of one of the biggest and most well-attended free financial education events in the region — Money Power Day — held each year in early April.
Poe said the event, which consists of various workshops and exhibits from co-sponsors and other financial institutions, usually draws around 1,000 people. They also host a Youth Zone to give minors an early assist in developing the necessary skills to manage their money.
MECU's Community Grants Program Helps Nonprofits Hold Events Throughout Baltimore
Baltimore is a big city with hundreds of neighborhoods. Community-building events are common and MECU even has a hand in these.
"We have a program called MECU Neighborhood Event Grants, and it's a really cool program we've been doing for about seven years now," Poe said. "The grants go to local nonprofits around the city that are putting on free events for their communities and neighborhoods."

Poe said the credit union is currently in the application phase of this year's grants, during which the organizations tell MECU about their event, how the event makes a difference in their community, and how it brings people together.
"There are a lot of really positive things going on, and it just helps build stronger communities," Poe said. "It's a great program. We've given out a ton of grants over the years and everyone enjoys getting that extra boost to make their event possible."
The grant program is brought to fruition with cooperation from the Baltimore Office of Promotion and the Arts and the Baltimore City Department of Housing and Community Development. In 2016 alone, MECU distributed grants to 103 neighborhoods throughout Baltimore.
I have no regrets about leaving the big banks and putting my money into my local credit union. And it's nice to know that folks in the Baltimore area have an option like MECU for their banking needs. With their strong support for local education, multiple financial literacy programs, neighborhood grants, and other initiatives, including Meals on Wheels and the Maryland Food Bank, MECU stands out as an example among credit unions for maintaining its mission of giving back for more than 80 years.