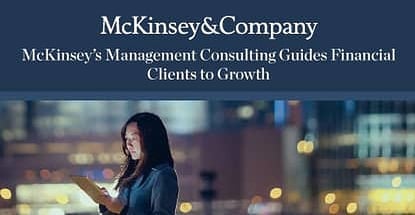 credit card news
Our experts and industry insiders blog the latest news, studies and current events from inside the credit card industry. Our articles follow strict editorial guidelines.
In a Nutshell: Success cannot be measured solely by looking at a company's bottom line. Many global financial service providers boast long histories and client lists, but struggle to achieve the growth needed to compete with modern online and non-traditional service providers. Consulting giant McKinsey & Company uses decades of experience and a database of objective information to help clients assess their current business performance, and compare their achievements with those of their competition. The company's two main program suites for financial clients, Finalta and Performance Lens, help identify weak points in their operations and build a plan to increase growth and profitability in a shorter timespan.
The old adage that with age comes experience is true in many facets of life — especially business.
Statistics show that about two-thirds of businesses with employees survive beyond their second anniversary. Roughly half are still operational after five years. After those formative years, survival rates tend to become steady.
But survival doesn't always equate to success.
Many global financial service providers boast long histories and a large customer base, but struggle to get the most out of their employees and corporate operations. For older companies, cultivating growth can be as tricky as running a startup. Managing a brand, as well as large amounts of customer data and sensitive financial information, takes a sizeable team with experience and expertise in the latest trends and technology.
Not every company has that type of team on staff. Those that do not often turn to consulting services to get the guidance and advice needed to spur growth.
Since 1926, McKinsey & Company has helped businesses of all sizes unlock their potential by implementing cutting-edge strategies and technologies. The firm's financial services arm works with an array of institutions to analyze clients' current practices and create a strategy that moves the business toward a sustainable growth model.
McKinsey's global customer base is served by over 25,000 employees that speak more than 130 languages. The company does not have a traditional headquarters, but covers more than 120 cities and 60 countries through its worldwide offices. Financial clients range from corporate and investment banking to insurance, retail banking, wealth management, and corporate finance, among others.

The company's history of success, and its employment of many of the leading business strategy minds, led The New York Times to call McKinsey the "most prestigious consulting firm of them all," in a 2011 story about the state of consultancy industry.
The company uses its homegrown programs like Finalta and Performance Lens to benchmark financial service clients' data and obtain an objective perspective on industry growth and profitability potential. These tools allow clients to make decisions on strategic growth and resource allocation that have a track record of accelerating growth and improving profitability.
McKinsey invests more than $600 million annually into capability building and knowledge development – more than the research budgets of the Harvard Business School, Stanford Business School, and the Wharton School combined. That knowledge, along with decades of experience in the financial sector, helps the company provide a wealth of information and business solutions to its client base.
Performance Lens Uses Data to Reveal Growth Opportunities
McKinsey focused on its ever-growing wealth and asset management client base when creating its Performance Lens suite of products.
The suite provides fact-based, actionable insights that improve asset managers' business performance by combining industry-leading data, analytics, and tools. Part of the suite's offerings, the Global Growth Cube, assesses a company's market share within a group of 44 regions and countries.
"The Global Growth Cube has given us an accurate picture of the drivers of growth, which we use with our executives around the world to review and refine our strategic direction," said a McKinsey client employed as the Head of Strategy at a Global Asset Management firm.
Performance Lens Sales Alpha is included in the suite and works to evaluate the effectiveness of sales and marketing efforts — independent of investment performance — to help clients improve resource deployment and distribution coverage.
The Sales Alpha tool conducts detailed fund-level analyses of gross sales, redemptions, and net flow metrics that can be aggregated at the channel and company level to help identify specific opportunities to improve distribution and stimulate growth.
"Sales Alpha has raised some interesting questions regarding our firm's distribution effectiveness compared with that of our peers and what we need to do to capture better retail flows going forward," said the head of retail sales at a US asset management firm that uses Performance Lens.
The suite also includes the Global Asset Management Survey that aggregates data from more than 300 participating global firms that represent $40 trillion in total assets under management — or 60% of the global market. The 8,000 metrics used in the survey track growth, flows, profitability, revenues, costs, and productivity.
The Insurance General Account Survey provides investment managers with a thorough assessment of their business performance. The report includes detailed cost and productivity benchmarks of front-, middle-, and back-office activities, transparency into the organizational design choices impacting costs, and an assessment of investment performance.
Finalta's Studies Guide Banks to Superior Performance
Large financial service firms around the globe often look to their peers to find ideas for building growth within their own corporate framework. A roadblock in that strategy is often an inability to find objective data that compares the company's performance with that of its competition.
Finalta by McKinsey takes the guesswork out of the data collection process with a database of information from 250 global financial institutions in more than 50 countries. Finalta compares client companies to the database and provides best-practice recommendations to accelerate performance improvement.
Benchmarks are available for banking, insurance, and telecom. Each diagnoses the client's performance, identifies improvement opportunities, provides actionable initiatives that can be implemented using proven best practices, and measures each action's progress so clients can fine-tune their approach based on the latest performance indicators.
Consulting Services Uncover a Company's Hidden Potential
McKinsey & Company has provided market-leading business consulting services for nearly a century and boasts a network of successful alumni that continue to thrive in the business world today.
Among the list of notable former McKinsey colleagues is current Facebook COO Sheryl Sandberg, as well as James McNerney, CEO of Boeing, and Vittorio Colao, CEO of Vodafone. McKinsey currently has more than 25,000 employees who provide clients of all sizes with the type of advice and expertise that led The New York Times to call the company the globe's most prestigious consulting firm.
For financial service providers, McKinsey offers its Finalta and Performance Lens suite of products that use detailed information to compare a company's current performance with that of its peers and assesses ways of using best practices to spur rapid growth and increased profits.
Previous clients have used McKinsey's services to introduce lean management to IT to improve productivity, design online business tools for client customers, and save hundreds of millions of dollars in operational costs by streamlining operations.
So while it's true that experience comes with age, it's never too late to teach an old dog new tricks. Since 1926, McKinsey & Company has worked with some of the largest and oldest names in the global financial space to assess their business practices and spotlight new operational opportunities that save clients time and money and keep them a step ahead of the competition.