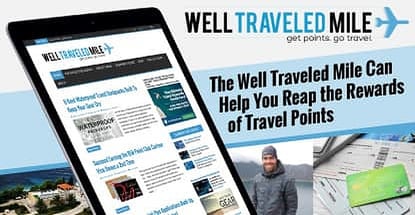 credit card news
Our experts and industry insiders blog the latest news, studies and current events from inside the credit card industry. Our articles follow strict editorial guidelines.
In a Nutshell: Many of us dream of taking trips to exotic locales, visiting the places we've only glimpsed in advertisements. With the magic of credit card rewards, and some helpful advice from the Well Traveled Mile, that dream can soon become a (completely affordable) reality. With guides, charts, and a lot of expertise, the articles from the Well Traveled Mile can take you from rewards novice to seasoned expert in no time. Pack your bags — and your credit card — and get ready to maximize your rewards with the Well Traveled Mile.
When people talk of the places where they'd love to travel one day, the answers often include sandy beaches or mountains covered in fluffy snow. My destination of choice has always been the Chajnantor plateau in northern Chile, home to the world's largest telescope array, capable of gazing into the very heart of the cosmos.
Regardless of the destination, most of us have at least one place we'd like to visit, but travel is often cost prohibitive. Hotel costs keep going up, and just looking at airline prices can make the hardiest traveler blanch. Flying to Chile and back would cost me upwards of $1,800. Ouch!
For the savvy spender, however, there is a secret to making travel not just less expensive, but downright affordable: credit card rewards. Rand Shoaf, founder of the Well Traveled Mile, has spent years learning to get the most travel bang for his buck and sharing that wisdom with you.
"I started back when I was in college," Rand said. "I saw an offer for an airline credit card and 50,000 bonus miles for signing up." With nothing to lose, Rand filled out an application — and was approved. He earned two free flights with those bonus points, and realized he'd found something amazing. "I got more into researching cards, just learning about the different offers and how to get the maximum value from them."
In 2012, Rand was inspired to share his hard-won knowledge; at the same time, he entered a master's program in which he was learning digital design techniques, and he had the idea to mix the two passions. "I read some of the other blogs out there and thought, 'Well, maybe I can add something, maybe I can bring something else to the table.'"
Travel Well With These Tested Strategies & Up-To-Date Deals
The result of lots of research and a little art, the blog posts, graphics, and guides on Well Traveled Mile are full of helpful, practical information. The topics cover everything from how to get started with credit card rewards, to the latest (and greatest) sign-up offers.
If you're brand new to the world of travel rewards, Well Traveled Mile will introduce you to the fundamentals in the Beginner's Guide. "It's kind of like breaking it down to the basics," explained Rand. "When I was first learning about credit card rewards and airline miles, I knew nothing. These deals all sound kind of foreign to the average consumer."
There is plenty of advice for the more advanced miles master, as well. The "Tools & Guides" section includes descriptive charts and infographics, such as an illustration of the way points can be transferred between companies. It also contains comprehensive lists of stopover rules and airline awards fees.
Everyone can benefit from the blog articles, which are packed with helpful advice and detailed explanations of the latest rewards card offers from banks, airlines, and hotels. Offers often change monthly, and Rand personally curates a list of the latest cards (and their bonuses). "Every month I review what's out there, looking for the new, exciting offers."
Readers can also take advantage of Rand's travel experience in an entirely different way by visiting the "Gear" page. Here, readers can find the items that go on every Well Traveled trip, from outerwear to underwear. As Rand explains, "a huge part of traveling and setting off on adventures is packing quality gear."
3 Tips for Your Travel Rewards Journey
The most effective travel rewards pros are those who have made miles more than just a short-term goal. "Someone that's looking to maximize their rewards is going to do so throughout their financial life," said Rand. "It's definitely a marathon, not a sprint."
To get started on the route to rewards — and world travel — here are three of Well Traveled Mile's best tips for your travel rewards journey.
1. Plan Ahead — Way Ahead
One of the most important parts of making the most of your miles is good planning. Knowing your goals ahead of time can help you determine the number of miles you'll need to save, and the best strategy to get there. With so many cards available, knowing which ones will help you reach your travel goal can be key. If you're overwhelmed by all the options, try asking Rand for a free consultation.
Of course, planning ahead will also help you avoid one of the biggest complaints in travel rewards: blackouts. Blackouts, or the inability to redeem miles for the time or place you want to go, are the thorn in the side of miles users everywhere.
First, research your card beforehand, to know about blackout policies. Additionally, purchase your airline tickets and hotel rooms as soon as possible. The earlier you book your plans, and thus redeem your rewards, the more options you'll have available.
2. Use Sign-Up & Spending Bonuses
For many modern rewards cards aficionados, the focus is on sign-up bonuses. Averaging around 40,000 points, and going as high as 100,000 in some cases, sign-up bonuses can be worth a free flight or two just by themselves. Not all bonus offers are the same — even for the same cards — so make sure to do your homework.
"Definitely shop around," Rand advised. "You might come across a website that offers a bonus of 30,000 miles, but if you dig a little deeper, you might find a 50,000-point offer for the same card."
So, what's the catch to all these "free" points? Usually, a minimum spending amount. You'll need to spend $1,000 or more on your new card within the first few months to earn your sign-up bonus. On the plus side, you'll earn your regular rewards on those purchases.
Also keep an eye out for bonuses on your spending; some rewards cards offer extra points on certain types of purchases, such as gasoline or groceries. Cycling your rewards cards to maximize spending bonuses can add up to some serious rewards in no time.
3. Keep an Eye on Your Miles & Credit Score
While planning is an important part of starting your journey, make sure you also stay fully informed for the entire trip. Keeping track of the miles you've earned, and those you've redeemed, is critical to success. Not only do some rewards have expiration dates, but sign-up bonuses often come with spending requirements that must be met within a certain time frame.
Additionally, never forget that all these miles and points are connected to credit cards, and credit cards affect your credit — so check your reports regularly. While always paying your credit cards in full, on time, can have a positive credit impact, multiple credit report inquiries or opening several new cards at once can negatively impact your credit score.
You're Now Free to Travel About the (Well Traveled Mile) Blog
With a brand new travel rewards card, and one hot sign-up bonus, I've started building my arsenal of miles. I'm already a third of the way toward my trip to Chile, where I can peer into the vast cosmos and see eye to eye with the universe.
Even if your ideal vacation involves drinking cosmos, rather than staring at them, travel rewards are a great way to get there — without draining your bank account. Rand's favorite destination? "That would have to be Argentina," he said. "Good food, good wine, the mountains, it's wonderful."

Travel rewards have certainly become a way of life for Rand, who has racked up around 3 million miles since his first college credit card. With the help of those miles, he's managed to visit more than 40 countries around the world. He's also helped tens of thousands of readers realize their travel dreams.