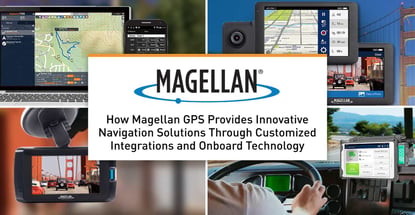 credit card news
Our experts and industry insiders blog the latest news, studies and current events from inside the credit card industry. Our articles follow strict editorial guidelines.
In a Nutshell: While the Global Positioning System (GPS) has been around for decades, navigational software has transformed it into much more than just a mapping technology. Magellan, the creator of North America's first portable GPS device, is innovating software that not only navigates users to their destination but also keeps them safe in the process. The company's technology even makes it easy for travelers to map their own trails and share them with fellow adventure-seekers. Whether users are looking for an uncharted path or trying to find the most efficient route around an accident, Magellan's responsive GPS devices and software can help them arrive safely at their destination.
Trucking companies must prioritize both driver safety and fleet efficiency. That means drivers not only need to know the routes that will maximize fuel economy, but also have the ability to accurately track their time and mileage.
Fleet managers know that many surprises pop up on the open road, including unsafe detours that lead to accidents, which is why professional truck driver remains one of the deadliest jobs in the US. Lengthy delays can also lead to increased idle time, higher fuel consumption, or even more accidents.
Through its cutting-edge GPS navigational software, Magellan is working to solve those problems — saving time, fuel, and possibly even lives. By providing real-time navigation, guidance, and smart routing technology through products, Magellan keeps fleets — and drivers — safe.
The company also offers products that deliver truck-specific navigation and tracking solutions that are Electronic Logging Device (ELD) compliant. An estimated 51 million hours each year are dedicated to reviewing and storing log records, but Magellan's revolutionary ELD devices cut that time dramatically as driving hours and reports can be saved instantly.
Fleet drivers aren't the only beneficiaries of Magellan's advancements in GPS, as the company's technology assists and enhances the navigational demands of travelers and adventure-seekers around the world.
Ensuring Safety and Efficiency Through Precise GPS Routing
Magellan has been developing innovative navigational software and devices since 1986 to help improve safety and efficiency for users throughout the world. The company's precise routing software is customizable for the individual user and leads the industry in route libraries and mapping information, offering specific data sets through its automotive, off-road, and fleet navigation product lines.
Users want personalized information, and Magellan delivers with customized data based on their needs. Alerts about an upcoming height clearance issue can be relayed to a truck driver or a mother in a minivan can be warned of an upcoming red light.
Magellan helps drivers make better decisions on the road by relaying accurate, relevant information in real time. The software is integrated across numerous car platforms, which allows drivers to choose how information is delivered straight to them on the road.
The software also allows users to precisely plan routes, and even adjust them on-the-go. Magellan's Return to Route solution gives drivers or fleet managers the ability to plan multiple stops along the route, incorporating optimal navigation to ensure that drivers are always on the safest, most efficient path — while never missing a stop.
Magellan TRX Series: Record Your Travels and Share Personalized Adventures
While Magellan's innovations help the trucking industry deliver goods safely and efficiently, the company also ensures more personalized travel for adventure-seekers. As the maker of the first portable consumer GPS, Magellan has strengthened its brand with travelers over time, including delivering unique products like its eXplorist TRX line of off-road navigational devices.
The latest device in the line, the TRX7 CS, lets travelers record their adventures with HD photo and video capabilities built directly into the hardware. Video and photos can easily be updated to social media and even with the TRX Trailhead Community, a comprehensive, crowdsourced trail database that users can add to.
Thousands of trail maps, landmarks, and street maps come preloaded on the device, providing region-specific navigation and a high-resolution, 3D terrain view.
Magellan GPS products are compatible with an array of vehicles, from ATVs to mountain bikes. Users may also download one of Magellan's navigational apps — like the eXplorist TRX-specific app — on their mobile device to have routes delivered straight to their phone or tablet.
Strategic Partnerships Lead to Award-Winning Products
With its groundbreaking product lines, it is no surprise that Magellan has earned many honors, including at the TU-Automotive Awards for innovation in the automotive technology industry. The company was specifically recognized as the 2016 Best Aftermarket Telematics Product for its off-road navigation.
Many of Magellan's award-winning products are the outcome of key partnerships with popular corporations, including Jeep, Samsung, and Subaru.
Samsung and Magellan have worked together to deliver top-of-the-line fleet navigation products that improve the way trucking companies are managed and operated. The partnership allows Magellan's software to be available on Samsung devices, including Samsung Galaxy phones and tablets. Magellan and Samsung were united through a shared commitment to deliver practical solutions to the fleet trucking industry.
Magellan has also partnered with Jeep as the official navigation partner of Jeep Jamboree USA. Through this partnership, Magellan offers educational workshops and training seminars to help improve driver safety and the overall off-road experience.
In 2017, Magellan announced a partnership with Subaru that will bring satellite navigation to select 2017 Subaru models as part of the Subaru Starlink multimedia system. Through the Magellan Navi app, cars maintain a connection to accurate routing and voice-guided navigation.
Navigation That Empowers Businesses to Be More Innovative
Fleet companies are ensuring the safety and efficiency of their drivers through the use of Magellan's ELD-compliant products and Return to Route technology. Magellan is also helping adventure-seekers find their paths — or blaze their own trails.
But whether it is helping drivers save time and money or allowing users to share their adventures with friends, Magellan GPS software continues to design practical products for a diverse set of travelers around the world. Its unique features empower users to solve problems and improve experiences during their journeys.
Magellan's partnerships with companies like Subaru ensure integrations with the latest hardware and technology. And as Magellan continues to create new and advanced solutions, it will continue to push the boundaries of navigation well down the road.