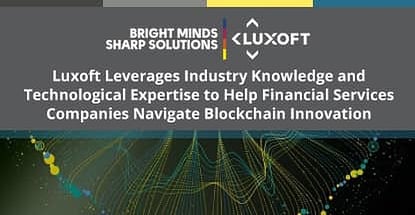 credit card news
Our experts and industry insiders blog the latest news, studies and current events from inside the credit card industry. Our articles follow strict editorial guidelines.
In a Nutshell: Finance's biggest media darling of 2017 was cryptocurrency. But it is blockchain, the infrastructure of digital currency, which looks to claim that spot in 2018. Blockchain's distributed ledgers, which record transactions between two parties efficiently, verifiably, and permanently, are the current buzz of the finserv community — and technology Luxoft has been investing in for years. Luxoft dedicates a team of technology incubators to develop expertise in emerging innovations before there's a demand for them. The company's thriving consulting business and technology solutions arm partners with many of the largest global financial service providers to integrate technology into their offerings.
In December 2017, the price of the popular Bitcoin cryptocurrency eclipsed $19,000, making instant millionaires of investors who had started with only a few thousand dollars in seed money.
But the cryptocraze wasn't limited only to investors. The blockchain technology that provides the digital currency's infrastructure received the biggest boost from media attention. Today, blockchain is a buzzword among financial service providers — as in, "How can we incorporate blockchain technology into our company?"
Most are finding that there isn't a set answer to that question. While the technology doesn't provide a one-size-fits-all solution to every problem, financial service providers are intrigued by its open, distributed ledger that records transactions between two parties in an efficient, verifiable, and permanent manner.
Before blockchain became the "big thing" among financial heavy hitters, Luxoft had already invested resources into understanding and building uses for the technology. Today, the company's clients leverage that knowledge and are considered groundbreakers in their industries.
Luxoft, an international custom software services company, headquartered in Zug, Switzerland, has lived most of its life two steps ahead of the cutting edge. The globe's largest financial firms are drawn by Luxoft's innovative thinking, which leads to partnerships that develop products featuring the latest tech.
"We have a long-term technology strategy, where we look at the market and monitor what's going on with different technologies and computer science in general," said Vasiliy Suvorov, VP of Technology Strategy at Luxoft. "We use that information to try and decide where things are going and where they will be in 3 to 5 years. That's how we decide which technologies are important and which we need to invest in."

Suvorov pointed to the company's expertise in current and emerging technology, as well as a deep understanding of the industries they serve as two of the reasons Luxoft is ingrained in the financial services, automotive, healthcare, telecom, travel, energy, and manufacturing sectors.
"We always try to take on projects that have high technology risks," he said. "That's our specialty."
With emerging technologies regularly shifting focus, Luxoft has created a healthy consultation business on top of its thriving technology services.
"We come in with an understanding of the client's business goals and we create technology strategies for people to engage in a project, develop it, build prototypes, and then go from there," Suvorov said.
AI and Machine Learning Among Technologies in Incubation
Suvorov's team runs an incubator that builds expertise in technologies before they have mainstream demand. Blockchain has long been a staple of the incubator and is currently joined by cloud-native architecture, edge processing for the Internet of Things (IoT), artificial intelligence, and machine learning.
"We see all of these things as one entity, not separate entities," Suvorov said. "We typically don't go into a job to just do a blockchain project. Blockchain may be a part of it, but we look at the bigger picture of how all of these technologies can make a company better."
Within financial services, Luxoft creates solutions that improve the customer experience and increase engagement with products and services.
"There's a lot of friction currently in the investment banking system when it comes to trading and transferring value — whether it's trading bonds or other financial instruments," Suvorov said. "Blockchain can help to orchestrate the process as part of a backend office to take care of friction, create new products, optimize processes, and reduce costs."

Luxoft consults with many clients within the financial world to help them understand not only what the technology is, but how it can improve their business operations. Suvorov said the demand for blockchain consultants has grown in tandem with the buzz around the technology — especially within larger financial institutions that have the most to lose by arriving late to the party.
"They don't want to be designed out by the fintech start-ups and grassroots movements that promote Bitcoin and other cryptocurrencies as an alternative banking system," he said. "They certainly see that as a threat, and that's why they're looking very closely at what's going on."
Blockchain is Expected to Overcome Resistance to Change
A 2017 survey by Luxoft's financial services division —Excelian, Luxoft Financial Services — revealed that many European Information Technology (IT) executives are growing frustrated by what they see as unrealistic demands to innovate on tighter budgets while also battling senior executives who do not understand technology.
Those frustrations are likely felt by IT executives around the globe, but Suvorov said he's finding interest in blockchain coming more from those senior executives than from IT professionals.
"The consultation requests we're getting are not only coming from IT people, but rather from the business side," he said. "When you read about blockchain, business people automatically see more value in it than the technology people because the technology people tend to get lost in the nuts and bolts of a technology. The business people see how the technology lets them exchange value faster and engage better."
Luxoft is finding interest in the technology from beyond financial services and is consulting heavily with the healthcare and automotive industries to incorporate it into products and services.
As consultants, Luxoft works to educate its clients on different technologies but also attempts to temper expectations of instant impact stemming from immediate change.
"Very often, people get excited about technology for technology's sake," Suvorov said. "They want to quickly introduce a chatbot or blockchain or deep learning. Experienced people step back and wonder what business value will come from adding the technology."
Suvorov said clients searching for a solution to an existing problem often turn to blockchain. Since the conversation starts from a problem and works its way to the technology, instead of vice versa, Suvorov said blockchain has held steady against any senior executives' resistance to change.
Firms Shouldn't Watch Innovations from the Sidelines
A decade ago, financial services were abuzz with emerging cloud technology and all it could offer to their business models. Today, most people access the cloud from their phones or personal computers to store all sorts of data and digital keepsakes.
Suvorov said he sees a similar future for blockchain, where it is taken from a buzzword to commonplace over time.
"When we look into the future, in about seven to 10 years' time, we will see that people are not just talking about blockchain anymore," he said. "The technology will be a given. We'll almost certainly see a lot of different ledgers existing together."
Those blockchain ledgers could include specialized chains that deal with identity, or IoT use cases, as well as public ledgers that are resistant to global censorship. Who will lead the way toward those innovations is still undecided.
"In the next few years, we will certainly see the emergence of leaders in those spaces who produce specialized ledgers as well as general ledgers," Suvorov said. "The thing about designing blockchain, from a computer science standpoint, is that you cannot make one that will satisfy everyone's needs. But you can make design trade-offs, like more centralized or less centralized, or more or less secure."
As these technologies become part of consumers' everyday lives, the institutions that are first to market with user-friendly applications for the advancements will be the ones reaping the greatest rewards. Suvorov pointed to those companies on the fence in regard to technology adoption as the ones that will suffer the most.
"If you wait, other people will move in and start creating the centralized ecosystems that will be specifically designed for the companies that move first," he said. "The data structures and the way things are governed will be decided for them. It's important to start learning about the technology now and building the skill sets because it's nearly impossible to hire people who already know it.
"You have to train these people in your specific ecosystem to help define your future."