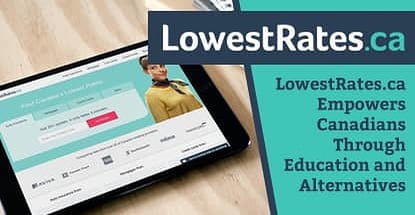 credit card news
Our experts and industry insiders blog the latest news, studies and current events from inside the credit card industry. Our articles follow strict editorial guidelines.
In a Nutshell: Competition usually leads to better prices, which is a concept that LowestRates.ca helped usher into the Canadian personal finance space in 2012. LowestRates.ca is helping Canadians understand that, to truly achieve superior rates, they must do their homework and challenge the nation's traditional banks. The company is accomplishing this with its focus on technology, financial literacy education, and side-by-side rate comparisons for auto insurance, mortgages, credit cards, and other financial products. When financial institutions compete for your loyalty, consumers are the winners, and millions of Canadians have turned to LowestRates.ca to ensure they're getting the best deals.
Justin Thouin, Co-Founder and CEO of LowestRates.ca, didn't set out with the goal of changing the way Canadians approach personal finance decisions.
No, he just wanted to get a better rate on his mortgage.
"My mortgage was being renewed, and the bank was jacking up my rate," Justin explains. "I asked them, 'Are you sure this is the best you can do?' And they said, 'This is the best we can do.'"
Not content to take the bank at its word, Justin decided to conduct his own investigation. He called around to a few other institutions, asking what sorts of rates they could offer him.
"Lo and behold, I was able to get a way better rate," he recalls. When he presented this number to his current bank, it was suddenly eager to likewise proffer a more competitive rate.
"This is insane," was Justin's conclusion. "Mortgage interest is where people spend more of their money than any other thing in their life, typically — and yet, people are getting ripped off by the banks because they just don't know that it pays to compare."

Justin had recently returned to Canada from the UK, where he noticed how people overwhelmingly begin shopping for financial products by comparing prices online.
This sort of comparison shopping was not unheard of in Canada. For example, he knew that Canadians tended to book travel and lodging through sites, like Expedia and Trivago, rather than dealing directly with airlines and hotels. It is, quite frankly, the easiest way of getting the best prices.
So why not do the same thing when shopping for loans, mortgages, and every other financial product? Justin had stumbled upon a new project.
"Let's start something in Canada. Let's start a personal finance rate comparison site."
Shortly after, LowestRates.ca was born.
Spreading the Word About the Perks of Rate Comparison
In 2012, Justin started the service with just $150,000 and a few domain names — LowestRates.ca, LowestRates.com, and LowestRates.co.uk (for Canada, the United States, and the United Kingdom, respectively). Due to the limited resources and stiffer competition in the United States and the United Kingdom, he quickly moved away from developing services for these markets. Luckily, he found much greater opportunity in Canada.
Beyond developing the website, though, Justin was faced with a dual dilemma.
"We needed to find ways to get consumers to find out about us and come to our site," Justin explains. "And we needed to find financial partners."
He tackled the latter challenge directly by reaching out and forming relationships with banks, mortgage brokers, insurance companies and brokers, credit card companies, loan companies, and other financial institutions as a means of growing the site's product portfolio.
The challenge of increasing brand awareness among consumers proved a thornier matter.
"Financial literacy was a massive problem in Canada," Justin explains. "Canadians really didn't know how to make smart financial choices because it's not something that the government or the education system taught."
Thus, before he could get consumers to use LowestRates.ca, he had to explain to Canadians why such a service was valuable.
"We spent a lot of time and effort on writing educational pieces," Justin went on. "Core content that allowed people to learn about how to make smarter financial decisions, arm them with the information to make smarter financial decisions, and really allow them to make the right choice for their unique needs, regardless of what personal financial product they were looking to learn about."
The Future of Canadian Finance, Now
Most Canadian consumers didn't realize what they were missing by always going straight to the banks and believing that they were getting the best deals.
Justin reasons, "The banks have so much trust in the minds of consumers that Canadians don't know that there's another way."
The five most profitable companies in Canada (as of 2016) were the nation's five biggest banks — Royal Bank of Canada, Toronto-Dominion Bank, Bank of Nova Scotia, Bank of Montreal, and Canadian Imperial Bank of Commerce.
"They've been around for so long," Justin said. "Canadians have been doing things this way for so long."
Justin explains that, because the banks are so large, profitable, and powerful, they dominate advertising in the realm of personal finance.
"It's difficult for companies like ours to really do an advertising campaign big enough to let Canadians know that there is a better option," he adds. "You can actually go and compare personal financial products the same way that you do for flights and hotels."
On a budget that lacked funds for marketing, LowestRates.ca depended on organic growth through Google searches.
"Our domain was a massive help in allowing us to rank highly in the organic Google search rankings," Justin said.
As consumers discovered the site, reaped its benefits, and told friends and family members, LowestRates.ca gradually moved up the search rankings. Five years of word of mouth and snowballing later, Justin's brainchild now serves millions of consumers each year.
The service initially launched mortgage, car insurance, and credit card comparison tools. It anticipated making most of its profit from mortgage rate comparisons; instead, it makes close to 90 percent of its revenue through car insurance, Justin said.
"Car insurance is really where we've helped the most Canadians," Justin said proudly, but admits, "It's largely just because that's where we rose in the Google rankings the quickest."
How quickly? Well, for the last two years, LowestRates.ca as one of the 50 fastest-growing companies in the nation. In 2017, Justin was a finalist for the Entrepreneur of the Year in Canada.
"We're saving [Canadians] money," Justin says with conviction, "and we're saving them time where they spend most of their money."
The Generation Gap (or, Keeping Up with the Millennials)
Despite the company's growth and all the progress LowestRates.ca has made, the company still faces an uphill battle that revolves around financial education.
According to a May 2017 report, nearly 60% of Canadians lacked acceptable proficiency in personal finance. Of the age groups surveyed, baby boomers scored the highest, with a 52% literacy rate. Gen X was close behind with a 45% rate.
Millennials ranked the lowest with a paltry 31% pass rate. They were the group most likely to rate their financial literacy as "excellent." However, more than the other generational groups, they failed to demonstrate such excellence.
According to another survey, just over 54% of Canadians have actually used online price comparison tools and services when selecting financial products. This same survey indicates that millennials are more likely to be aware of online price comparison tools — but less inclined to actually diversify their individual consumption. Instead, the younger demographic prefers to keep all their financial eggs in one banking basket.
Which, of course, gives LowestRates.ca plenty of room for growth.
"The banks have such a dominant place in the Canadian psyche, [people] just don't think that there's a better way," Justin believes. "[But] future generations are going to be more comfortable going online, and that's why we're doing this."
Lowest Rates, Loftier Goals
As of now, LowestRates.ca is driven by one, overriding question:
"How do we become the first place that Canadians go to when they have a financial decision to make?"
One of the company's current ambitions is to save Canadians $1 billion on financial services and fees. Justin believes his company can achieve this through a three-pronged approach:
Expanding its product offering to everything a bank would offer;
Partnering with all major financial institutions so that the service can provide truly comprehensive market comparisons;
Continuing to produce and promote educational content that will make finance more interesting and approachable for Canadians.
In short, LowestRates.ca aims to be Canada's one-stop shop for all things concerning personal finance.
"Our goal is to be the first place Canadians go when they have a financial decision to make," Justin says. "Right now, that first place is the banks. They just go to their bank and they take the first offer that they're given by their bank. And they're wasting their own money."