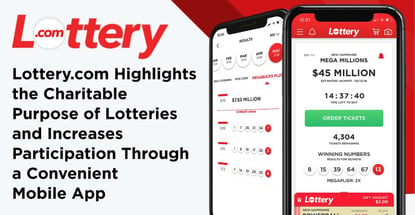 credit card news
Our experts and industry insiders blog the latest news, studies and current events from inside the credit card industry. Our articles follow strict editorial guidelines.
In a Nutshell: Lotteries benefit worthy causes — 44 U.S. states use them to generate funds for education, the environment, and much more. But when people don't play, their money goes elsewhere — and millennials tend to play less frequently than previous generations. Lottery.com is reimagining the lottery by highlighting its charitable purposes and creating an app that makes the experience of playing more fun and convenient. The company is giving the lottery a new lease on life for the next generation of players, and putting more money into state initiatives that make life better for everyone.
Lotteries are games of chance. The odds of winning the big prize may be long, but it's fun to play, and when you do, we all win together.
That's the message the team at Lottery.com wants to get across — playing the lottery is a great way to contribute to worthy causes. Education, environmental preservation, veterans assistance, elderly care, support for the homeless, and other social issues receive financial support from lotteries.
Lottery drawings started in a few U.S. states in the 1960s before really catching on in the '80s. A total of 44 states plus the District of Columbia, Puerto Rico, and the U.S. Virgin Islands now operate lotteries and participate in Mega Millions and Powerball, massive games offering huge prizes often amounting to hundreds of millions or more.
And it all adds up — Americans spent $80.8 billion on lottery games in 2017 — translating to $22.3 billion in revenue for state and local governments.
If that sounds like a lot, it is. U.S. lottery sales generate more annual revenue than movie tickets, music, and concert sales combined. But lottery operators and state legislators are seeing a worrisome trend — although older Americans continue to boost overall ticket sales, lottery purchases by millennials are declining.
The problem is that, in many ways, U.S. lotteries are relics of a bygone, pre-digital age. Old-schoolers play the lottery by buying scratch-offs, watching the local TV news to learn whether they've won, and manually cashing in their winning tickets. It's the antithesis of what millennials tend to go for.
Lottery.com aims to reverse that trend.
"Our goal is to make it convenient for people to participate in the lottery," Lottery.com President Ryan Dickinson said. "We also feel we have a social responsibility to highlight that playing is no different than making a donation to a worthy cause."
And, of course, you just might win a lot of money.
Use the App to Play and Follow Lottery News Nationwide
Lottery.com is a website and mobile app that brings all things lottery under one electronic umbrella. The service is not directly associated with any lottery-operating entity and does not speak on behalf of any lottery organization, but instead acts as a courier between lottery players and organizations.
Users can track jackpot sizes and follow nationwide lottery news both over the web and on their phones. Set up a profile and authorize location services and notifications on your mobile device and you can have lottery results delivered to you directly, win or lose.
Alerts can be set to remind users to play before every upcoming draw or only when the jackpot reaches a certain threshold. In the highly regulated world of lotteries, most states still require the purchase of physical tickets, but the app uses an image scanner to input numbers. If you win, the app enables additional conveniences.
"We'll notify you, and if it's under a certain amount of money as determined by each state's regulations, we'll immediately deposit the money for you into an account you've provided to us," Dickinson said.
Lottery.com is active in five states and counting, and its users can also play Mega Millions and Powerball directly within the app. The company has plans to expand the number of states it operates in but cautioned it's been a slow-moving process due to individual state regulations.
"We've spent a lot of time to make sure we're working with each state to get explicit permission to do what we're doing," Dickinson said. "We've taken a slower approach because we want to ensure we're not causing any conflicts with the state's regulations, or really anything else."
A Fun Way to Support Local Economies and State Initiatives
Playing the lottery on the Lottery.com app is safe, easy, and convenient. As Dickinson stresses, it's also essentially a philanthropic act.
"I think that, historically, the lottery maybe hasn't had the greatest reputation, but the reality is that funds generated by lotteries are used directly to help your community," he said. "In Texas, where we're headquartered, a large portion of lottery proceeds go to help education, and a certain percentage goes to veterans assistance.
"Each state has its own agenda, and we want to make that a little more apparent for those who maybe haven't thought about participating, and highlight that you're still doing something good. And you might get rewarded for it, and there's nothing wrong with that," he said.
A blog entry on the Lottery.com website gives additional examples, many focusing on education. In California, 95 cents of every dollar spent on lottery tickets goes directly back to the state, generating more than $1 billion per year in supplemental education funding.
In South Carolina, more than $5 billion has gone into the Education Lottery account since the lottery began in 2002, with additional lottery proceeds generating almost $3.5 billion for scholarships and grants.
Environmental preservation is also often a priority in the states. Colorado, for example, typically generates more than $100 million a year in lottery ticket sales, and devotes all of its lottery profits to the environment.
States including Nebraska and Arizona join Colorado in its commitment to the environment, while Pennsylvania, Oregon, Illinois, and Texas support veterans through the lottery.
Meanwhile, a small amount of the proceeds from every lottery ticket purchase goes back to the retailer selling the ticket. When retailers participate in the Retailer Incentive program, they earn a portion of every jackpot-winning ticket — up to $1 million — which helps local economies benefit from the lottery.
Reinventing the Lottery for a New Generation
Lottery.com also partners directly with charities, acting as a platform for staging sweepstakes and raffle games as fundraising tools, and extending its mission as a promoter of the social utility of lotteries.

One such partnership is with the
Clara Lionel Foundation
, a supporter of education, health, and emergency response programs around the world. Founded by pop star Rihanna, the foundation worked with Lottery.com on its Diamond Ball Sweepstakes.
By associating contests with a social mission in this way, Lottery.com raises consciousness about how lotteries function, making them more attractive for a new generation of players looking for communal experiences.
"We think the more we can get that message out, the more people will see that there's a direct relation between lottery and impact," Dickinson said.
Ultimately, then, Lottery.com is reimagining the lottery experience, presenting it in a new way and connecting it more explicitly to aspirational social causes. It hopes to influence the demographics around lotteries and drive lasting support for the good work governments do.
"Our goal here is to make people feel as though giving is not exclusive to those who only participate in philanthropic contexts," Dickinson said. "You have to have a certain amount of wealth to be able to do that."
"Instead, we want to incentivize participating in contests by giving people a chance to be awarded for doing good," Dickinson said. "And I think that opens it up a bit to people who wouldn't participate otherwise."
Just a tap away on the App Store and Google Play, Lottery.com is encouraging people to think differently about the lottery. The results can only be positive for areas in need of secure sources of revenue.